A writer never stops learning, no matter how 'seasoned' or 'experienced' they might be. Like everyone else, I strive to improve on a daily basis and as I research around the web or read through textbooks, helpful pointers are noted down and will be shared with everyone.

My hope is that they can be of use to you as they have been for me.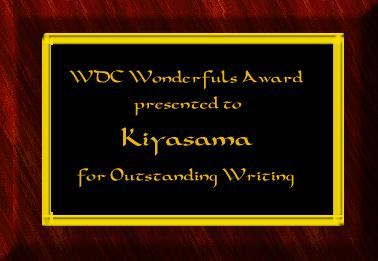 Award given by
Raider Capt. J.R.
Thank you!!
And thank you Katherine for the lovely awardicon!!

© Copyright 2015 iKïyå§ama (UN: satet at Writing.Com). All rights reserved.
iKïyå§ama has granted Writing.Com, its affiliates and its syndicates non-exclusive rights to display this work.
Printed from https://www.writing.com/main/books/item_id/1299892/action/archive