Printed from https://www.writing.com/main/campfires/item_id/1657673-Undead-Musicians-Society
[Introduction]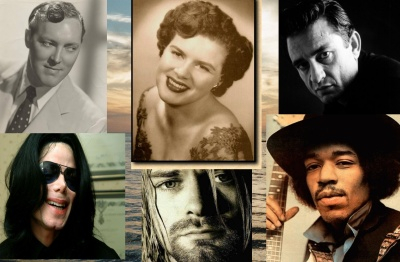 The Undead Musician's Society

The Musicians of the sixties and seventies are undead and well in La La land, until a brave soul dares to go through "The Gate" into the real world.

Join the mayhem as these unfortunates cope with the problems of being Undead in a living world.

Sadly, these aren't flawless, powerful aesthetically pleasing creatures, as imagined in modern undead lore.

These grotesque creatures have to cope with rotting skin, falling appendages, and those pesky maggots; while trying desperately to fit into modern day society.

Each invitee gets to choose his or her own dead musician. The basic rules are:
1. The musician you choose has to be dead,
2. It helps to know a lot about the musician you are portraying,
3. You can add and kill off any character you create, but no killing off another member's character.
4. Have fun with the story; romance, intrigue, swordfights, anything that comes to mind will be welcomed into the "Undead Musician's Society"



Important Note
If it has been your turn for over two days, your turn will be passed on to the next person in the campfire.
Now a quote from Kurt Cobain, aka
lizco252
"Formaldehyde... does a body good,"
Printed from https://www.writing.com/main/campfires/item_id/1657673-Undead-Musicians-Society