<< Previous
•
Message List
•
Next >>
BR:The Late Princess Starlight
Queen Fuzzy had just announced that the additional rooms of Fuzzy Castle were open to her guests.

There now seemed to be a new calm and quiet to the once chaotic scene.

sweetcandy4 stood with a bag of chocolate confections in her hand, when the air around her became an eerie, icy cold.

With a rush of motion, the candies darted out of the bag, and danced above her dark black curls. Suddenly, the action ended with each tiny skittle raining down on the Lady.
Again Queen Fuzzy was sure that this most supernatural display was the lost spirit of
Maryann
desperately searching for her murderer and the peace to which such discovery would release her. And, again, Queen Fuzzy was quite sure of the honor and innocence of her guest
sweetcandy4
.
10,000 gift points have been deducted from the prize pot and sent to Clockwork
. Maryann
you have one remaining guess.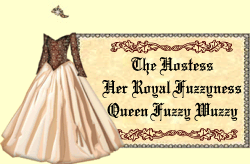 MESSAGE THREAD
BR:The Late Princess Starlight
· 01-19-03 2:30pm
by
♥Pay It Forward♥