Printed from https://www.writing.com/main/handler/item_id/1618331-Teen-Writers-Info-Sharing-Team-TWIST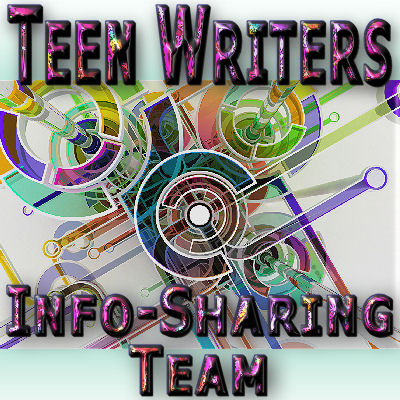 T
W
I
S
T
!
The
Teen Writers Info-Sharing Team
, or
TWIST
is a brand new networking group for Writing.com's teen members AND adult members committed to supporting our young writers.
TWIST
membership is obligation-free -- there's nothing you have to do!
Join this group to receive regular, bi-monthly
TWIST
emails alerting you of the site-wide contests and activities geared toward teen writers. Don't miss out on another opportunity to grow in your craft and meet other young writers in our community!
You are never too old, or too young, to benefit

from the networking power of this group!
Here is an example of the emails you will receive as a T

W

I

S

T

!

member
Most Recent TWIST Newsletter ~ 8/10/2011 (E)
Monthly Newsletter alerting teen TWIST members about contests and activities around WDC
#

1758922

by NickiD89
Groups that T

W

I

S

T

!

include:
Invalid Item
This item number is not valid.
#

1552639

by Not Available.
TWIST members receive regular updates about contests and activities geared toward teen members.
Want to T

W

I

S

T

?
Email NickiD89
and Join Today!
Group Members: 102 Members
Group Gift Point Balance: 347,890 GPs
This group has 102 members.
Printed from https://www.writing.com/main/handler/item_id/1618331-Teen-Writers-Info-Sharing-Team-TWIST