Printed from https://www.Writing.Com/view/727073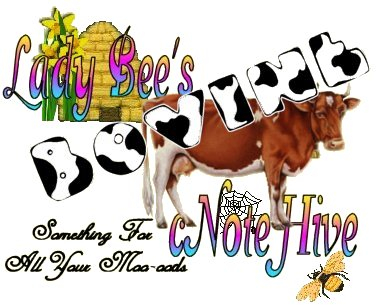 Welcome to my "Bovine Hive of cNotes" in honor of all
Writing.Com members who love cows.

If you don't find the perfect Bovine cNote, please e-mail me and let me know what you are looking for and I will do my best to provide a cNote for all your "Bovine Moo~oods!"

NOTE: Using cNotes not only helps the owner increase their GP count but also supports our community, Writing.Com. If you don't find what your looking for here,
you could do a seach for all cNotes available in Writing.Com.

"Thank you for visiting my Bovine cNote Hive.
Please feel free to come visit again soon."
Log in to Leave Feedback
Printed from https://www.Writing.Com/view/727073