Printed from https://www.writing.com/main/images/item_id/1576721-Post-Surgery-Kayla-1
Our yellow Lab had surgery last Friday, June 26, for Laryngeal Paralysis -- these are a few shots of her post surgery. They did an EXCELLENT job with the surgery -- not so well with shaving her to prep for the surgery on her neck (and an earlier ultrasound of her belly).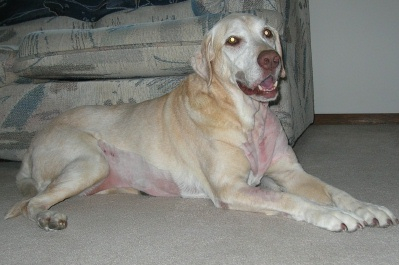 © Copyright 2009 Sophy New Year! (UN: sophie at Writing.Com). All rights reserved.
Sophy New Year! has granted Writing.Com, its affiliates and its syndicates non-exclusive rights to display this work.
Printed from https://www.writing.com/main/images/item_id/1576721-Post-Surgery-Kayla-1