Printed from https://www.writing.com/main/images/item_id/1600985-Pruning-Poetry
(8)

by

Dan Sturn

This is what writing is about.
I originally called this image "Writing Poetry." But it only illustrates one part of the process.

To write means to struggle, to constant edit, to change and change again. In my manifesto on poetry, "Multivalence"
, I call this "the pruning process" because I believe that good writing is organic, and thus grows in both meaning and mechanics.

This is an image that illustrates that.

NOTE: The size restrictions makes this very difficult to read. If you zoom in to expand to your screen size it should expand well. For example, Firefox offers a plug-in that allows you to zoom in on a web page using "

<CNTRL> +

" . . . if this doesn't work using your photo tools, let me know and I'll e-mail you the original.

Dan Sturn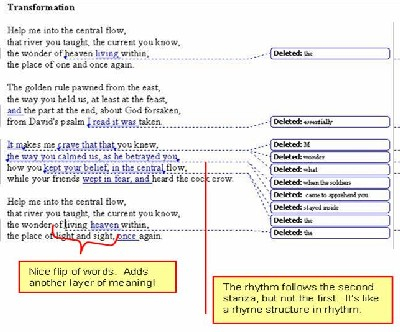 © Copyright 2009 Dan Sturn (UN: dansturn at Writing.Com). All rights reserved.
Dan Sturn has granted Writing.Com, its affiliates and its syndicates non-exclusive rights to display this work.
Printed from https://www.writing.com/main/images/item_id/1600985-Pruning-Poetry