Printed from https://www.writing.com/main/images/item_id/1978156-Blood-Magic-comes-from-the-Heart
(1)

My first official attempt at watercolors.
I write dark fantasy, and my stories focus on blood magic. I've been practicing water color for an art challenge, and this was my first real attempt. I used a thick sharpie and cheap water colors and just went with it.
Gallery here: http://tinyurl.com/l6o5cdr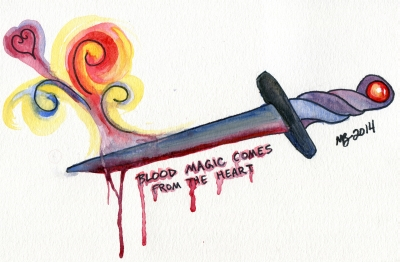 © Copyright 2014 MichelleWriteMeow (UN: shellz at Writing.Com). All rights reserved.
MichelleWriteMeow has granted Writing.Com, its affiliates and its syndicates non-exclusive rights to display this work.
Printed from https://www.writing.com/main/images/item_id/1978156-Blood-Magic-comes-from-the-Heart