Printed from https://www.writing.com/main/images/item_id/2010551-Certificate-awarded-for-Hon-Mention
| | |
| --- | --- |
| | Honorable Mention win, Shadows and Light Poetry Contest; poem, "This Is Not A Sad Song" |
An Honorable Mention win for
This Is Not A Sad Song (E)
You are always in charge of those things in matters of the heart. Just believe it.
#

1647491

by turtlemoon-dohi


submitted to
Shadows and Light Poetry Contest (E)
Do you love the challenge and creativity of free verse poetry? This contest is for you.
#

1935693

by Choconut
2014.

The image certificate was redeemed with ENB
:
Invalid Item
This item number is not valid.
#

1980736

by Not Available.


I send my gratitude to S&L and ENB.
See image below.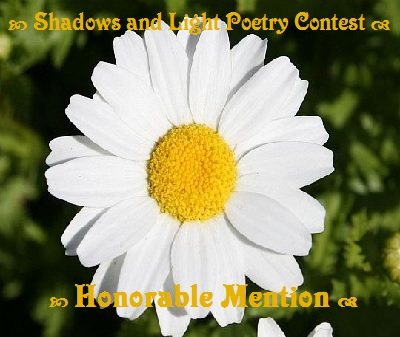 © Copyright 2014 turtlemoon-dohi (UN: susanjwelker at Writing.Com). All rights reserved.
turtlemoon-dohi has granted Writing.Com, its affiliates and its syndicates non-exclusive rights to display this work.
Printed from https://www.writing.com/main/images/item_id/2010551-Certificate-awarded-for-Hon-Mention