Printed from https://www.writing.com/main/images/item_id/2116941-Jay-OToole--Jade-Amber-Jewel-Acting
Jay O'Toole played the part of Mr. Anagnos in The Miracle Worker in June of 2016.

Mr. Anagnos was the director of the Perkins School for the Blind in Boston, Massachusetts during the time that Ann Sullivan attended the school. He discovered Ann Sullivan and suggested her as "a suitable governess" for Helen Keller, who gained world-wide fame as someone, who learned to succeed in the face of both blindness and deafness.

Jade Amber Jewel is the young, blind school girl, who is on the opposite end of the photograph from me. She is first on the right. I'm the first person on the left.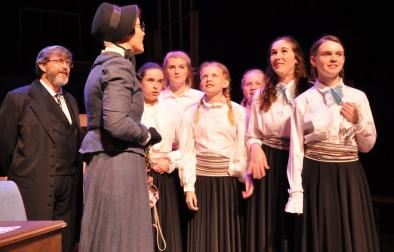 © Copyright 2017 Jay O'Toole (UN: 777stan at Writing.Com). All rights reserved.
Jay O'Toole has granted Writing.Com, its affiliates and its syndicates non-exclusive rights to display this work.
Printed from https://www.writing.com/main/images/item_id/2116941-Jay-OToole--Jade-Amber-Jewel-Acting