Printed from https://www.writing.com/main/images/item_id/2157020-Heres-a-photo-of-my-dog-Dottie-Ruth
About My Dog


Hey everyone, I'm Dottie, the Border Collie. The water was cold when I went in and it felt good because that day was hot. We walked and I saw lizards climbing on rocks and squirrels running on the pavement but my pet mom didn't want to let go because we were in the mountains. I had to be on the leash but it was really fun and I love the outdoors.

Here's my mom:
Well, I hope you enjoyed reading about Dottie and she is so funny in so many ways. We love her and we show her that we do. I'm happy to have Dottie as my dog and she's a Border Collie.

thanks for reading.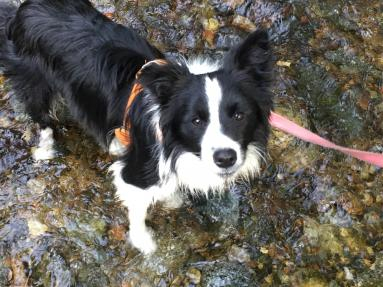 © Copyright 2018 Beacon-Light🌕 (UN: lighthouses.37 at Writing.Com). All rights reserved.
Beacon-Light🌕 has granted Writing.Com, its affiliates and its syndicates non-exclusive rights to display this work.
Printed from https://www.writing.com/main/images/item_id/2157020-Heres-a-photo-of-my-dog-Dottie-Ruth