Printed from https://www.writing.com/main/images/item_id/2205796-New-Old-Desk
While shopping for nightstand at a used furniture store, I came across an interesting old desk in pretty good shape. I didn't really need a different desk, but it reminded me a lot of a desk my grandparents used to have. The desk closes up and the door creates the writing/working surface while it's open. Inside, there are many compartments for papers, letters, etc... There are also some small drawers for misc. items, one little storage area with a door and two hidden compartments. Under the desk, there are four drawers, like a chest of drawers.

My grandparents, with limited space, used the desk for business, bills, and records. The drawers under provided my grandfather with storage for his socks, under ware, ties, etc... After he passed away, my grandmother moved the desk out of their bedroom and set it up in the dining area by her sewing machine, using the drawers for sewing supplies, while the desk was still used for home business as before.

I didn't know much about the desk before my grandfather passed away, but after my grandmother brought it out, I always admired it. I thought it was very unique, providing both a chest of drawers and a desk. I had forgotten about it as time passed and after my grandmother had joined my grandfather. I don't know what happened to the desk and hadn't really thought much about it until I seen a similar desk earlier this year. We had thought about getting it for my foster daughter, but it was in pretty rough shape.

A few days ago, I came across another similar desk, but this one is older, fancier, and in pretty good shape for all the years of use someone has gotten out of it. I admired it, then moved on to look for something to use for a bedside stand, only to find myself again looking at the desk. My wife told me to get it, to set it up for my writing desk, and now it sits in my dining room.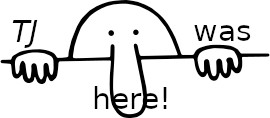 © Copyright 2019 Tj Jingleheimer-Demented Elf (UN: callmetj at Writing.Com). All rights reserved.
Tj Jingleheimer-Demented Elf has granted Writing.Com, its affiliates and its syndicates non-exclusive rights to display this work.
Printed from https://www.writing.com/main/images/item_id/2205796-New-Old-Desk