Printed from http://www.writing.com/main/newsletters.php/action/archives/id/1329-.html
Drama: October 18, 2006 Issue [#1329]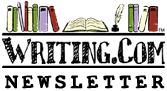 Drama





This week:

Edited by: Nikola-Melts in Summer
More Newsletters By This Editor



1. About this Newsletter
2. A Word from our Sponsor
3. Letter from the Editor
4. Editor's Picks
5. A Word from Writing.Com
6. Ask & Answer
7. Removal instructions





Writers will happen in the best of families.
~Rita Mae Brown

Write what matters. If you don't care about what you're writing, neither will your readers.
~Judy Reeves

My most important piece of advice to all you would-be writers; when you write, try to leave out all the parts readers skip.
~Elmore Leonard



Writing.Com presents "Writing Prompts", the app with an endless supply of creative inspiration for writers!

Get it for Apple iOS, Android or Kindle Fire.
Creative fun in the palm of your hand.



Are you planning to NaNo this year? What? You've no idea what I'm writing about? NaNo is the abbreviated version of National Novel Writing Month (http://www.nanowrimo.org)

The idea is to write a 50,000 word novel during the month of November. In other words, thirty days! Participants are in no way expected to write a complete and polished novel. This will be a very rough draft at best. The idea is quantity over quality. If one plans to make something salable, they should expect to spend many hours doing rewrites and edits.

When it comes to planning a novel, different writers run the gamut of how much or how little. Several things may be considered in the planning stages:

Plot: This is the basis for your novel. Some writers put together elaborate storyboards with the plot neatly lined up. Other authors choose to merely go with the flow and let their characters write their own stories. Yet others fall somewhere in between.

Conflict: This is really the meat of any story. Something needs to take place to shake things up and keep your readers hooked. Again, some writers are very detailed about their conflicts in the planning stage. I often stumble upon what my conflicts will be as I write out character sketches.

Setting: Where your novel takes place. It may span the globe or take place in a single room. When I get ready to write, I have to know my place, it's name and what it looks like. If I don't have this clear in my head, I have trouble letting my story unfold.

Characters: Whether your tale is moved by people or animals, to my way of thinking, they are what moves the story forward. Conflict propels them. As with my setting, I need to know who my characters are before I can write. I want their names, who they are, where they come from, what they like and hate and what they ate for breakfast. I write out a sketch for each character. Often I will find a plot or conflicts when I do this.

These are the very basics of novel writing. Planning can be whatever you need to do to get you started. Each author is unique in their methods.

Put these ideas and any of your own to work and join the madness of NaNo!

** Image ID #934357 Unavailable **

Till next month!
Nikola-Melts in Summer

Invalid Item
This item number is not valid.
#1162013 by Not Available.
Thales (E)
the betrayl of a brother is something you never get over
#1161910 by kevin
Invalid Item
This item number is not valid.
#1161587 by Not Available.
Invalid Item
This item number is not valid.
#1160325 by Not Available.



Have an opinion on what you've read here today? Then send the Editor feedback! Find an item that you think would be perfect for showcasing here? Submit it for consideration in the newsletter!
http://www.Writing.Com/main/newsletters.php?action=nli_form



Don't forget to support our sponsor!






From deev23
: Nikola, I really enjoyed reading about your event-filled night at the fair! :)





Tell me how you go about planning for a novel!






To stop receiving this newsletter, click here for your newsletter subscription list. Simply uncheck the box next to any newsletter(s) you wish to cancel and then click to "Submit Changes". You can edit your subscriptions at any time.



Printed from http://www.writing.com/main/newsletters.php/action/archives/id/1329-.html