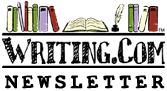 Poetry





This week:

Edited by: Kittiara
More Newsletters By This Editor



1. About this Newsletter
2. A Word from our Sponsor
3. Letter from the Editor
4. Editor's Picks
5. A Word from Writing.Com
6. Ask & Answer
7. Removal instructions





Is it not a wonderful feeling when you connect with a reader through your poetry? It is truely an incentive to keep learning and growing as a poet, in order to make your writing more accessible to a wider audience.

Your Guest Editor for this week,

kittiara



Our art prompt generators use various mediums, time periods, art styles, colors, sketches, genres and words, unleashing an endless supply of fantasy to fuel your muse. Now you can have instant artistic inspiration and ideas right at your finger tips, whether online or off!

Get it for Apple iOS.
Creative fun in the palm of your hand.



When I first started writing poetry, I had no idea about all the different forms. I had no idea about imagery, nor did I know that the different "sections" of my poems were called stanzas. I wrote poetry because I enjoyed it and because it was an emotional outlet. Pouring my thoughts and feelings into verse proved to be therapeutic. I didn't write with readers in mind. Indeed, I never thought I would ever share these pieces with the rest of the world.

This changed when I joined Writing.Com. Suddenly I had an audience, and it was quite terrifying that someone out there, possibly on the other side of the world, would be reading something so personal. Sharing poetry sometimes can be like sharing a piece of your soul, laying it bare, vulnerable to criticism. But when I started to receive positive and helpful feedback, it was a wonderful feeling. There were others out there who could relate, and who somehow connected with what I had to say! I knew, then, that I wanted to learn and grow as a poet, and improve this connection.

When you write for a contest with specific guidelines, it is obvious what is expected of you. You write for a very select audience – the judges of the contest, and you probably have checked out the type of poems that have won in the past, to get an idea of what they are looking for. It is different with the wider audience because just as poets differ, so do the people who might read your poems.

On a single item posted online I've received feedback from those who were truly touched, down to those who wrote to me that they "didn't get it". This happens, and it just goes to show that there is beauty in variety and that it is wonderful that we don't all like the same things. The world would be a dull place if we did.

What we can do is improve our writing overall – analyse the weak spots in our items (personally, I am still struggling with my imagery – I am more of a straightforward poet) and work on those through practice. It can make our items more accessible to our readers. This is where feedback comes in handy. Though, as said, not everyone will "get" your poem, if several reviewers tell you that your rhyme is a bit off, it probably is and it's worth looking into.

Working to improve your poetry does not mean you should strictly write with others in mind. Poetry is personal, and if we worry too much about feedback, it can impair the development of our own style and own poetic voice, which can lead to the dreaded writer's block. I know this from experience. If something feels right to you, go for it. Try it out, experiment and don't be afraid to go for what might be seen as unconventional.

Don't be shy to just sit down and go back to basics either, and write something just for yourself. If the reasons you started writing poetry become overshadowed and possibly even suffocated by all the new things you've learned and feel you should use, you may stop enjoying writing altogether. That shouldn't ever happen.

Connecting with your readers is very encouraging, but above all, writing should be fun. If you truely enjoy what you do, in all likelihood others will, too.

kittiara





For this issue I have chosen some poems about writing, writer's block and reviewing. I have also added works where poets were trying out something new, and couldn't resist adding a poem of my own which pretty much sums up some of what I said in my editorial. I hope you will enjoy these items.


Invalid Item
This item number is not valid.
#492188 by Not Available.
Invalid Item
This item number is not valid.
#700543 by Not Available.
THIRST (ASR)
Reading gave me wings. All of you please keep on writing.
#192204 by Joy
Invalid Item
This item number is not valid.
#909841 by Not Available.
Invalid Item
This item number is not valid.
#903251 by Not Available.
Invalid Item
This item number is not valid.
#560687 by Not Available.
Invalid Item
This item number is not valid.
#452275 by Not Available.
Invalid Item
This item number is not valid.
#1060294 by Not Available.
Invalid Item
This item number is not valid.
#859311 by Not Available.
Invalid Item
This item number is not valid.
#958817 by Not Available.



Have an opinion on what you've read here today? Then send the Editor feedback! Find an item that you think would be perfect for showcasing here? Submit it for consideration in the newsletter!
http://www.Writing.Com/main/newsletters.php?action=nli_form



Don't forget to support our sponsor!






I am just a guest Editor, so there are no questions and answers in this Newsletter. Don't be shy to write in though! I am sure that your regular Editors would love to hear from you
.

Your Poetry Newsletter Editors are:

terryjroo, Stormy Lady
, Jay
, Red Writing Hood



To stop receiving this newsletter, click here for your newsletter subscription list. Simply uncheck the box next to any newsletter(s) you wish to cancel and then click to "Submit Changes". You can edit your subscriptions at any time.