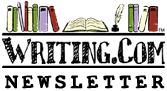 Noticing Newbies





This week:

Edited by: Puditat
More Newsletters By This Editor



1. About this Newsletter
2. A Word from our Sponsor
3. Letter from the Editor
4. Editor's Picks
5. A Word from Writing.Com
6. Ask & Answer
7. Removal instructions



Welcome to the Noticing Newbies Newsletter!


The goal of this newsletter is to showcase some of our newest Writing.Com Authors and their items. From poetry and stories to creative polls and interactives, you'll find in here a wide variety of items to enjoy. It will also feature "how to" advice and items that will help to jump start the creation process on Writing.com.

We hope all members of the site will take the time to read, rate, review and welcome our new authors. By introducing ourselves, reviewing items and reaching out, we will not only make them feel at home within our community, we just might make new friends!


Your editor this week is: Puditat

Our writing prompt generators use current events, scene elements, words, sketches, colors, genres and writing types, unleashing endless random bits of fantasy to fuel your muse. Plus, we've included our database of 600 creative writing prompts so you've got them right at your finger tips!

Get it for Apple iOS, Android or Kindle Fire.
Creative fun in the palm of your hand.







Learn With Our Newsletters



If this is your first time reading the Noticing Newbies Newsletter, welcome! You are about to enter a world of fun and information. For those of you who are reading this newsletter for the 2nd, 20th or 100th time, you will know most of what I'm about to present.


Writing.com has an array of newsletters available for you to freely subscribe to, sent out every week to your Writing.com Inbox. Each newsletter has a team of editors who take turns to write and compile the information and selected items within the newsletters. Most newsletters are genre-based, but some are not.

So just what is available for you to subscribe to? Here is the list of official site newsletters:

Action/Adventure

Comedy

Contests & Activities current activities and how to run them

Drama

Fantasy

For Authors general advice/information about all aspects of writing

Horror/Scary

Mystery

Noticing Newbies aimed particularly at new members of Writing.com

Poetry

Romance/Love

Short Stories not genre specific

Spiritual

Subscriptions to these newsletters is entirely within your control. You may unsubscribe to them at any stage and re-subscribe at a whim. This means your reading list can adjust with your time, interests, and needs. Just head to your "My Account". Scroll down to where you see "Manage Newsletter Subscriptions". Place a check mark beside any you want to receive (or uncheck any you want to stop getting), save the changes and sit back to wait for the next weekly mailing. That's all there is to it.

Part of the aim of newsletters is to transmit information to help us all become better writers or information of interest. They also include featured items (usually between 5 and 10) picked by the editor from work on Writing.com. You can submit items for consideration by using the feedback form found at the bottom of each issue. This does not guarantee inclusion as editors may be looking for a certain theme or item type. Don't let that deter you, though. Just ensure your item is as polished as you know how to, and have a go at submitting.


To support today's topic, I have developed a quiz. I am offering 20 gift points for each correct answer for all respondents (whether new or established members). That's a potential haul of 220 gift points per person to be sent within a day or two of you completing the quiz. Many answers are found right here in this newsletter, but some you may have to search a bit harder for. Good luck!



Thanks for reading.
Puditat

Helpful Links




Have an opinion on what you've read here today? Then send the Editor feedback! Find an item that you think would be perfect for showcasing here? Submit it for consideration in the newsletter!
http://www.Writing.Com/main/newsletters.php?action=nli_form



Don't forget to support our sponsor!




~~
~~
Thanks I learnt a lot, I have always felt that whatever you do anything,the more you put in the more you get out, one way or the other. I have been here alittle over a month and it is GREAT !!
Stan Stanley


It's awesome to hear such positive feedback! Thank you.


Hi, I don't have a problem getting reviews and most that I do get usually rate 4.0 and above. However, I have never been featured, received any type of merit badge, awardicon or any other type of recognition beyond my reviews. Does one have to pay for a membership in order to receive more significant recognition? Also, there is a story contest I would love to enter but it is only open to paid memberships.
SimplyBlue


It's nice to hear you're getting reviews. The other rewards are available to anyone, no matter the membership level. It is a combination of time, relationships you make here, and work. Keep entering contests and polish your writing skills. The awards are given out by members of Writing.com for many reasons, and that is where friendships and participation truly help. Rewards are just that - a surprise for excellence, achievement, or any of those positive attributes. Just keep getting out there and enjoy the experience. Anything on top of that is the oh-so delectable icing.
Writing.com is a very large community and so there is a lot of competition for newsletter features and contests. Don't be discouraged.


I was very impressed with the way you handled the comments above. I am new, but have enjoyed the site. I see that others weren't so lucky, but your advice was both kind and sound. Well done.
collins96


Thank you for your very kind show of support.


Thanks for your wonderful newsletter on networking! However, I've not always benefited from networking as I've run into many journalists and writers who quit their their jobs because they couldn't get what they wanted out of writing.

And this often tends be a turn-off for me and my interest in writing. Please help!

Thanks once again for sharing your newsletter! :)
pooja_sr

Hmm, that is a shame. In the world of business things can move very quickly, especially when it comes to how long a person stays at a particular job. There will be many personal circumstances influencing why they've moved on. Networking is not a "done it once, never do it again" thing. It is a continual effort in an ever-changing environment, just as it is in any other sphere outside of writing. Try not to take on board other's lives and reasonings. Decide what writing is to you and then pursue your dreams. Others may give up too quickly, not be passionate enough, come across dire personal troubles, or a dozen other reasons. Don't let other people's negatives turn you away from what you want. The only way to not succeed is to quit. I wish you all the best.


Hello Puditat,
Thanks for the newsletter on Networking. I've been at the site since May and do want to develop writing/workshop relationships with others at the site. I'm in at least one group and have marked as favorites many others (there is just not enough time in the day!). What's the protocol for giving reviews? I've seen some people mention they won't "raid ports." Is it considered bad form to just randomly review someone's work? There are many review forums as well, so is it okay to noodle around in those?
Thanks again for the newsletter.
Fallser


100% true. There's never enough time in the day to do all the writing things I want to. As far as reviews go, the only rules are to be polite, helpful, and constructive. The majority of people who post writing here are looking for feedback. Feel free to review at random or what's been posted in a review forum. Good reviewers are always sought after. Happy reading.



~~
~~
Any

queries

,

problems

,

praise

, or

advice

?
Send it to one of the Editors via the feedback form on this newsletter,
or direct to their email by clicking the wee envelope after their handle.



To stop receiving this newsletter, click here for your newsletter subscription list. Simply uncheck the box next to any newsletter(s) you wish to cancel and then click to "Submit Changes". You can edit your subscriptions at any time.