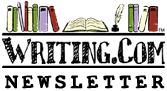 Drama





This week:

Edited by: Joy
More Newsletters By This Editor



1. About this Newsletter
2. A Word from our Sponsor
3. Letter from the Editor
4. Editor's Picks
5. A Word from Writing.Com
6. Ask & Answer
7. Removal instructions



Before everything else, today we welcome our adorable story baby,

Jack.

Congratulations, SMS, SM, Jane and family, and the Writing.com family.




*~*~*~*~*~*~*~*~*~*~*~*~*~*~*~*~*~*~*~*~*~*~*~*~*~*~*~*



"Drama is life with the dull bits cut out."
Alfred Hitchcock

Hello, this is Joy
, this week's drama editor.

Drama exists everywhere,and its existence often fills us with tension and excitement. Drama can be tragedy or comedy, and it can come in the shape of a play, movie, fiction, real life story, and poetry. Let us look into some ways that may enhance the drama in our writing.






Writing.Com presents "Writing Prompts", the app with an endless supply of creative inspiration for writers!

Get it for Apple iOS, Android or Kindle Fire.
Creative fun in the palm of your hand.






Since a few of you have suggested that we touch the subject of playwriting, in this newsletter we shall discuss the importance of dialogue. This is assuming you have already mastered the story form. At least in outline, your story must have well-formed characters, a solid conflict, an exciting storyline, and an effective ending. In other words, you have to become the able architect of a good story, to write a play that may be acceptable to critics, directors, actors, and the audience alike.

In a play, practically the entire story is carried out on the shoulders of the dialogue. Here, a writer who writes in many mediums needs to note that a dialogue in a short story or a novel tends to be quite different from the story told on stage or screen. Stage and screenplay dialogue has to fit the tone and the pacing of the entire work, and it must be written in a way that it can be uttered much more easily when compared to the dialogue in a story or a novel.

First and foremost, dialogue reveals character. A playwright needs to have a good idea who his main players are and who they will become at the end of the play, inside and out. Characters in a play speak through their own vocabulary, accent, and life experiences.

Let's look at a famous play, Ibsen's Nora. See how in the beginning of the play, the husband plays the upper hand and Nora answers meekly.

Helmer: Oh, Nora, Nora, how like a woman! No, but seriously, Nora, you know how I feel about this. No debts! Never borrow! A home that is founded on debts can never be a place of freedom and beauty. We two have stuck it out bravely up to now; and we shall continue to do so for the short time we still have to.

Nora: Very well, Torvald. As you say.

Helmer: Now, now! My little songbird mustn't droop her wings. What's this? Is little squirrel sulking? Nora; guess what I've got here!

Nora: Money!

Helmer: Look. I know how these small expenses crop up at Christmas.

Nora: One -- two -- three -- four. Oh, thank you, Torvald, thank you! I should be able to manage with this.

Helmer: You'll have to.

Now look at the end of the play, how the dialogue has changed with the evolution of the plot and the characters.

Nora: Listen, Torvald. When a wife leaves her husband's house, as I'm doing now, I'm told that according to the law he is freed of any obligations towards her. In any case, I release you from any such obligations. You mustn't feel bound to me in any way, however small, just as I shall not feel bound to you. We must both be quite free. Here is your ring back. Give me mine.

Helmer: That too?

Nora: That too.

Helmer: Here it is.

Nora: Good. Well, now it's over. I'll leave the keys here. The servants know about everything to do with the house -- much better than I do. Tomorrow, when I have left town, Christine will come to pack the things I brought here from home. I'll have them sent on after me.

Helmer: This is the end then! Nora, will you never think of me any more?

Nora: Yes, of course. I shall often think of you and the children and this house.

Helmer: May I write to you, Nora?

Nora: No. Never. You mustn't do that.

As you are making your characters speak, make sure they are using their own words and not saying a pretty or clever idea the writer has put in their mouths. Even in plays written to underline some serious perspective or undertaking, like protesting social injustice, a player's dialogue should not consist of long tirades with excess verbiage.

To illustrate this point, let's look at an example. If you have a farmer Uncle John who is about to lose his farm and is only educated in the ways of the farm, he would not give a big speech with long words underlying the farm economy. Uncle John would not say in one breath, "Forming an equitable system of high-quality government is an imperative, for a good government must formulate farming to become profitable for whoever is disposed to be trained and is eager to exert bodily effort. The plight of the poor farmers is obvious or else most of the population will starve to death, and this capitalism will not save us from the farmer's predicament." Uncle John would be more likely to say, "Oh, my back! I'm bushed. Dangit! Too much...everything's too much. Hope it can be saved...the farm, I mean."

In the same vein, a dialogue has to be actable. Think of the actor on stage. He does not only utter the lines you wrote, but he acts them out with his mimics and with his body language. Give him words to work with.

Then, too many wisecrack answers in any one character's speech-just for getting laughs-can destroy the continuity of the story. The gags, even in a comedy script, must be compatible with the character, and the humor usually hides in the flow of the plot. In Shakespeare's All's Well That Ends Well, the gags are uttered by the clown, fitting well with his character.

PAROLLES: Why, I say nothing.

Clown: Marry, you are the wiser man; for many a man's tongue shakes out his master's undoing: to say nothing, to do nothing, to know nothing, and to have nothing, is to be a great part of your title; which is within a very little of nothing.

PAROLLES: Away! thou'rt a knave.

Clown: You should have said, sir, before a knave thou'rt a knave; that's, before me thou'rt a knave: this had been truth, sir.

PAROLLES: Go to, thou art a witty fool; I have found thee.

Clown: Did you find me in yourself, sir? Or were you taught to find me? The search, sir, was profitable; and much fool may you find in you, even to the world's pleasure and the increase of laughter.

Talking about Shakespeare's clown, a writer needs to pay attention to the speech of the minor characters, because their words are crucial in developing and advancing the play. Their dialogue, for creating drama and for pushing the plot forward, needs to be brief and to the point.

Observe how the parlor-maid advances the play in Pygmalion by George Bernard Shaw, in the beginning of Act V.

THE PARLOR-MAID [at the door] Mr. Henry, mam, is downstairs with Colonel Pickering.

MRS. HIGGINS. Well, shew them up.

THE PARLOR-MAID. They're using the telephone, mam. Telephoning to the police, I think.

MRS. HIGGINS. What!

THE PARLOR-MAID [coming further in and lowering her voice] Mr. Henry's in a state, mam. I thought I'd better tell you.


Then, be careful with too long sentences. People, in real life and especially on stage, do not use long sentences. If they use compound or complex sentences, it is because they are the better-educated college professor type of characters who can get away with the gobbledygook.

For a similar reason, beware of the usage of all conjunctions. In a play's dialogue, the conjunction 'and' is usually there to highlight the idea coming after it. Look! The clouds! They're gray...and so is that tornado. It's coming our way!" Also, the conjunction 'and' is not used in a series as is done in writing prose. In proper prose, it is, ~~ I came, I saw, and I conquered.~~ In stage language, the actor would say, "I came...I saw...I conquered!"

The conjunction 'but' is usually used when a character is on the defensive or is contradicting another character; however, it is rarely used as a conjunction in a long sentence. A character would not say, "Richard gestured your mother in, not with an extremely warm gesture, and he slammed the door behind her, but your mother turned around, and her eyes throwing beams of kindness, she rushed to him to hug him, thinking perhaps what was there was all wrong." That same character would probably tell the same story like this: Richard gestured your mother in...Coldly, mind you. Then, he slammed the door behind her, but your mother turned around. She rushed to him. She hugged him. She must've thought it was all wrong. I mean, she didn't like what's been happening between them. She is so kind, you know." On the other hand, it is okay to write a short sentence compounded with 'but'. Something like "You say I don't care, but I do love you...I do!"

To sum it up, the dialogue must fit in with the story of the play smoothly, must suit the character's personality, must be capable of being uttered fluently, and must be understood easily. The world of theater today has only a few good playwrights. May you all become the ones to fill in that need.



Here is an item a beginning playwright might find a use for:


Invalid Item
This item number is not valid.
#1355286 by Not Available.


Now, a few plays by budding WC stage and screen writers. Enjoy!



Invalid Item
This item number is not valid.
#1277961 by Not Available.
Invalid Item
This item number is not valid.
#1411466 by Not Available.
Captain Tory (13+)
A script I wrote for theatre class in 8th grade. Part of the Harris Burdick project.
#1419676 by Lola Blue
Do not forget these contests:
Invalid Item
This item number is not valid.
#1382917 by Not Available.
Invalid Item
This item number is not valid.
#1161788 by Not Available.



Roads Short Story Contest for this newsletter:

Prompt: Write a short story, a play, or a narrative poem, as short or as long as you wish, with the setting as an actual road. It may be any kind of a road: an alley, a path, an interstate, main street, a street you lived on, etc.
Post a link to your entry in
Drama Forum (13+)
For those of us drama queens and kings, a forum to swap writing ideas and post questions
#1394242 by Joy

Deadline: July1, 2008, 11:59 PM.
Prizes are 100 K for first, 80 K for second 60 K for third with honorable mentions, too, and top three entries will be showcased in this newsletter.







Have an opinion on what you've read here today? Then send the Editor feedback! Find an item that you think would be perfect for showcasing here? Submit it for consideration in the newsletter!
http://www.Writing.Com/main/newsletters.php?action=nli_form



Don't forget to support our sponsor!




Cubby camping again!

I loved your editorial on roads! My wheels are turning now!
~Cubby ")

Thank you very much, Cubby.
I'd like to read where your wheels take you.
emerin-liseli

Oh, man - when I read the title of this week's featured article, I was immediately reminded of Cormac McCarthy's The Road - great book for anyone who hasn't read it. And I think they're making it into a movie, too!
Thanks for a great, thought-provoking newsletter.
Hugs,
Em

Thanks, EM. Yes, Cormac McCarthy's "The Road" is on my reading list. I hope I can get to it, before I see the movie.
Elisa the Fish Stik

When you talked about how to gather information for a real road, I'm glad you included capturing all applicable sensory details as well. I actually wrote a newsletter about that a while ago. And wouldn't you know I actually wrote a poem about good ol' Flagler Street in Miami. I forgot about it until I read this newsletter.

Oh, yes. Flagler Street. I know the place, and I loved your poem.
And again yes, you are right. Sensory details are very important, mostly because they make the readers feel our stories.
Your poem "Urban Fantasy"
demonstrates that beautifully, because through its vivid descriptions, it suggests the internal drama.
Thanks, Stik.



To stop receiving this newsletter, click here for your newsletter subscription list. Simply uncheck the box next to any newsletter(s) you wish to cancel and then click to "Submit Changes". You can edit your subscriptions at any time.