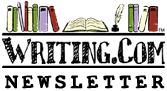 Horror/Scary





This week: All The Time In The World

Edited by: W.D.Wilcox
More Newsletters By This Editor



1. About this Newsletter
2. A Word from our Sponsor
3. Letter from the Editor
4. Editor's Picks
5. A Word from Writing.Com
6. Ask & Answer
7. Removal instructions




Our art prompt generators use various mediums, time periods, art styles, colors, sketches, genres and words, unleashing an endless supply of fantasy to fuel your muse. Now you can have instant artistic inspiration and ideas right at your finger tips, whether online or off!

Get it for Apple iOS.
Creative fun in the palm of your hand.




Time



I wasted time, and now doth time waste me.
-Shakespeare (1564-1616)



There was a time when I believed that Time did nothing more than age me, wear me down like the pounding waves erode a cliffside. I found myself barely conscious of the people and things around me; they were like figures standing at the fringes of a dream.

But now I realize that with age also comes wisdom, and Time is but the smithy that hammers us into what we were intended to be. We need Time to grow.

And above all else, time allows us to heal.

Like as the waves make towards the pebbled shore,
So do our minutes hasten to their end.
-Shakespeare (1564-1616)

In writing, I have discovered how to slow Time down, how to make each mere moment, minute, second, stretch into infinity. When I apply this to my life, I begin to appreciate every instant, as if Time itself stood still and I was encased within its cocoon, able to see everything unfolding before my very eyes.

Time is but the stream I go fishing in.
-Thoreau (1817-1862)

The secret is this . . .

To slow down Time we must do the opposite of how we perceive it. We must speed it up, create urgency.

A dark outline of a man materialized in the doorway, rushing into the room and approaching fast behind her. She never saw him coming. In an instant, the stranger had lowered his shoulder and crashed into her. She fell hard against the table. Dishes clattered across the room. The candle toppled to the floor, still burning.

Notice the short choppy sentences at the end. You can feel the events happening very fast, yet every detail is described.

The urgency is created by the writer: the 'rushing', the 'approaching fast', the 'in an instant', are all techniques used to make the reader believe things are spiraling out of control, yet in reality, the writer is taking his time to describe each minor detail.

It is an illusion, smoke and mirrors. It is how we perceive extreme danger when we are caught in its grasp: bit by bit, frame by frame. Time has slowed down.

Shakespeare said it best:

Time is the king of men;
he is both their parent,
and he is their grave,
and gives them what he will,
not what they crave.

Until next TIME,

billwilcox





Let's Do The TIME Warp Again!
Invalid Item
This item number is not valid.
#798716 by Not Available.
Invalid Item
This item number is not valid.
#548363 by Not Available.
Invalid Item
This item number is not valid.
#1017037 by Not Available.



Have an opinion on what you've read here today? Then send the Editor feedback! Find an item that you think would be perfect for showcasing here? Submit it for consideration in the newsletter!
https://Writing.Com/main/newsletters/action/nli_form



Don't forget to support our sponsor!








DEAD

LETTERS


Cassie Kat

Meows:
Bill, your newsletters are the greatest, and this one was no exception. I'm fascinated by how words can convey an idea (I mean, isn't that part of what makes writing so fantastic?
), and it hadn't occurred to me how just by using a stronger verb can invoke fear in the reader.


kristiana
Squeaks:
A movie I've seen lately depicts a serial killer who cuts the tongues from his victims and collects them in a quest for silence. A book I've enjoyed, the main character is a split personality who thinks his other side is a serial killer, but he is actually capturing and killing serial killers who are demons while he struggles with his own inner termoil....
I was just wondering, is there a trend toward serial killer stories?

Kristy,
There have always been serial killers, and there always will be. The question is, will the one you write about be the one to catch your reader's imagination, or will you settle for just the same-o-same-o serial killer?

Mr. Quill

QuizzicallyPonders:
I have always been partial to the plain old simple crazy cannibals living in the place the group of teenage college coeds in teh mini van blew a tire at...it's one thing(usually the expected thing in most horror stories) to die horribly at the hands of a gang of brain eating zombies, but, being eaten alive by the hot chick you were trying to bang all semester(who suggested taking the trip to begin with) adds just a little more of a suprising jolt of brutality...

Mr. Quill,
You're a sick, sick man.
Kotaro

BoneDiggers:
Thanks for the reminder, Bill. I went back to my story and found a couple of places for stronger verbs.
ŴickedŴiɫch of the Web

Conjures:
Verbs that paint horrible pictures--essential for a horror story! Great Newsletter, Bill.
Thanks for the vivid imagery, I think. Except, now I feel that an orifice check is in order!
(spiders, centipedes, beetles and worms--OH MY!) On the bright side, I could make a potion out of them and do some WW magic.

-WW

Thanks Witchypoo, but you've already put a spell on me.
Nomar Knight

Jousts:
Awesome newsletter! I always enjoy a good lesson on imagery. Yes, power verbs rock!
SHERRI GIBSON

TrysToGetOnMyGoodSide:
As always, your newsletter is great, Bill. You pointed out some crucial things writers should know about penning a horror story. Thank you for including my story as one of your picks this week. Coming from a superb writer like you, I was honored.








To stop receiving this newsletter, click here for your newsletter subscription list. Simply uncheck the box next to any newsletter(s) you wish to cancel and then click to "Submit Changes". You can edit your subscriptions at any time.