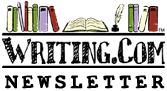 Drama





This week: Is Real Life an Anti-Climax?

Edited by: Thankful Sonali-Happy 17 WDC!
More Newsletters By This Editor



1. About this Newsletter
2. A Word from our Sponsor
3. Letter from the Editor
4. Editor's Picks
5. A Word from Writing.Com
6. Ask & Answer
7. Removal instructions





How much reality is good for Drama?



Writing.Com presents "Character Prompts", an exciting twist on traditional writing prompts... Generate billions of unique character profiles!

Get it for Apple iOS, Android or Kindle Fire.
Creative fun in the palm of your hand.



Hallo, Folks!

I watched the movie 50 First Dates [http://en.wikipedia.org/wiki/50_First_Dates] on TV last night - and found myself thinking about 'real' life v/s. 'reel' life Drama.

Basically, the story is about Lucy (Drew Barrymore), who has been in an accident and suffered memory loss. She cannot convert short term memory to long term memory while she sleeps - cannot remember the people she has met, or the things she has seen or done post the accident.

Henry (Adam Sandler) falls in love with her, and gets her to fall in love with him afresh each day. The plot goes through its twists and turns, and ends with the two being married, and being parents, though Lucy still has to be reminded of her identity and personal history at the start of each day.

The thing is - throughout the movie, I kept waiting for 'the dramatic moment' when things would change, and she would regain her memory. During a scene in the rain, I thought 'now she'll trip because it's wet, and fall on her head and get her memory back'. In one sequence, she beats Henry up, and I anticipated that she would hit herself by mistake, and regain her memory. So, I waited and waited - and at the end, found that 'the dramatic moment' hadn't happened the way I wanted it to, and that, perhaps, I had missed some real 'dramatic moments' in waiting for that expected one.

Frankly, I wasn't sure how I felt about that. In one sense, I felt a bit cheated. I had invested my time and my emotions in the protagonist and hoped for the 'best' for her, which didn't happen. One part of me wanted everything to be okay, because, hey, Drama is escapism in a sense, and you switch the TV on to shut real life off, don't you? Plus the little adrenaline rushes as I anticipated the return of her memory, which didn't lead to the big adrenaline rush as it happened, and the nuances I might've missed along the way, left me kind of empty.

I was a bit peevish - why did they make me think it's going to be a happy ending, if I was going to be at square one as the credits rolled up?

On reflecting more, though, I felt that Lucy getting her memory back would've been too 'pat'. Life isn't always fair, and maybe Drama has to reflect life. I'll probably think about the movie a lot more, and recall it for a lot longer, because it didn't give me what I'd expected. It did have a happy ending in a sense - the happiest ending it possibly could have - so my emotional investment in the protagonist 'paid off' in that sense. Maybe I'll watch the movie again, without the distraction of anticipation, and catch the real 'dramatic moments' and the real happiness in it.

Also, Henry's character - completely persistent, loyal and committed, shone through because Lucy didn't get her memory back. Maybe he would've looked a bit 'pat', too, if he just got what he wanted and then all was well with the wave of some magic wand.

Sigh - I still wish she had got her memory back, though!

As a writer of Dramatic Fiction, what does this mean? I guess, if you analyse it, it would mean:
1. Reflect real life, or escape from it, or a balance?
2. Build toward an incident and surprise the audience with another, at the risk of disappointing them?
3. Character or plot - which is the focus?

I'm not sure how this particular writer went about creating this story/script, but I do know that as a viewer, I was left with a mixed bag of feelings - I felt cheated, peevish, thoughtful, happy, sad, empty, fulfilled ...

And maybe that's what good writing is all about, evoking several feelings!

Thanks for listening,
Sonali



By Our Authors
Creativity (E)
Some creative ideas, and resources how can any one become a creative writer.
#1782940 by Sarder
Invalid Item
This item number is not valid.
#1664122 by Not Available.
Please add to my in-and-out!
An interesting activity!
All Time Favourites!



Have an opinion on what you've read here today? Then send the Editor feedback! Find an item that you think would be perfect for showcasing here? Submit it for consideration in the newsletter!
http://www.Writing.Com/main/newsletters.php?action=nli_form



Don't forget to support our sponsor!




Thanks to those who responded to "Drama Newsletter (October 27, 2010)"
Jay

Great NL, Sonali!! The best protagonists REQUIRE some sort of motivational factor-- that "want." I recently read a few stories about characters who didn't appear to have any motivation at all and boy was it frustrating to read! I had a lot of trouble putting my finger on what was not "clicking" for me but when I stopped to think about it, the characters in question simply didn't WANT anything. Which is fine, if someone wants to write about nothing of consequence, but having characters with no motivation--nothing that drives them forward-- does not make for a good story! Great anecdotes and advice.
SHERRI GIBSON

As always, great newsletter.
Thank you for including Simply Positive.



atwhatcost
Thanks for the reminder. I get so focused on the obstacles and the way the story will end that I too often forget, "What the characters think they want isn't always what they really want."


Fiona Hassan

Your newsletter was very interesting and gave me lots of great ideas for stories. I usually tend to skip over that element of the plot when I write, but I know I should pay more attention to it. Thanks for a great newsletter! - Fiona


Join me at the Masquerade!

It's always important to remember what you're thankful for. Your newsletter was terrific! Loved it.
Thank you also for highlighting my forum "A Time to Give Thanks"
. You're the best.



To stop receiving this newsletter, click here for your newsletter subscription list. Simply uncheck the box next to any newsletter(s) you wish to cancel and then click to "Submit Changes". You can edit your subscriptions at any time.