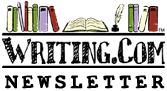 Noticing Newbies





This week: What's That Genre Mean? Part 1

Edited by: Sara♥Jean
More Newsletters By This Editor



1. About this Newsletter
2. A Word from our Sponsor
3. Letter from the Editor
4. Editor's Picks
5. A Word from Writing.Com
6. Ask & Answer
7. Removal instructions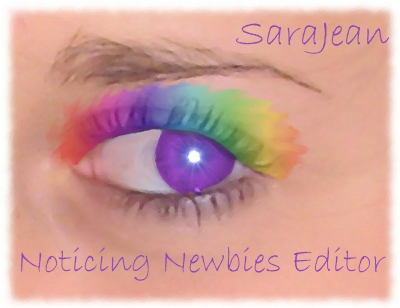 Our writing prompt generators use current events, scene elements, words, sketches, colors, genres and writing types, unleashing endless random bits of fantasy to fuel your muse. Plus, we've included our database of 600 creative writing prompts so you've got them right at your finger tips!

Get it for Apple iOS, Android or Kindle Fire.
Creative fun in the palm of your hand.





What's That Genre Mean? Part 1
Every item asks you to pick a genre, but there are so many! How can you tell one from the other?



So many people have trouble understanding which genre to use for their items. Is it action? Is it drama? Is it both? To solve this issue, I'd like to describe the genres for you. This will likely take several instalments, but it's worth it, no?

Action/Adventure - This one is relatively self-explanatory. If it has action and adventure, it can be included here. Action doesn't necessarily have to mean car chases and gun fights, either. Action can fit all sorts of different genres.

Activity - This one is something that is limited to WdC in many parts. If a person can participate in it, then it is an activity. There are many items that would fall under this automatically - Interactive Stories, Message Boards, Campfire Creatives, Madlibs, Surveys, Word Searches, Crossword Puzzles, etc. They would all classify as activities because they are... yes... activities!

Adult - If the item is meant for an adult audience, then this is the genre for it. It might include some sexual type scenes, or perhaps other adult situations with crimes, gangs, etc. Something that children, specifically, should avoid.

Animal - Having a single animal as a side character in a story wouldn't really mean it should be put in the Animal genre. Is your main character an animal? Does the story revolve around an animal? Are all of the characters animals? That's when it should be put here.

Arts - Your story or article should go here if you talk about the arts - architecture, painting, sculpture, or any of the other new and interesting forms that art is taking, anymore. It could also be an actual form of art submitted to the website via the image file type.

Biographical - If it is about someone's life - a real someone's life, it goes here. As WdC does not have an autobiography section, anything about your life would also go here.

Business - If it has to do with how to run a business, investments, businessmen, a story about a corporate tycoon, etc. That sort of thing might fit in this genre.





Examples of the above genres:

Action/Adventure


Activity


Adult:
(Unfortunately, the majority of the adult genre lies within the XGC and GC content ratings, which I really won't put here. However, if you want an example of what they are like, feel free to look for items by genre on the left sidebar, and choose Adult.)

Animal:


Arts:

Invalid Item
This item number is not valid.
#1857138 by Not Available.


Biographical:


Business:







Have an opinion on what you've read here today? Then send the Editor feedback! Find an item that you think would be perfect for showcasing here? Submit it for consideration in the newsletter!
http://www.Writing.Com/main/newsletters.php?action=nli_form



Don't forget to support our sponsor!







Responses to "Noticing Newbies Newsletter (February 29, 2012)"


I agree that every writer should keep track of his/her ideas and pieces of inspiration on a regular basis, which would then provide a great alternative when the Internet stops working! This link is to a semi-blog thing I started, which basically details my rambling thoughts from day to day. It has definitely helped me a lot. - Allegro con brio




I think that's a great way to do it! Everyone ought to find their own way, really. There are so many different methods available.



Yep. I am Late again getting to the news letter. It was a good one. I find that note keeping requires as much discipline as writing. I have piles of sticky notes and notebooks. I can't find half of them. Now I do cards. I keep everything in a partitioned folder along with the printed manuscript. This could almost work. - jim1184




Haha. If it doesn't work, find something else!



I keep notebooks and stickies EVERYWHERE in my house!! I even write all of my drafts down in a notebook before I do the FINAL copy. That way, whether it's the internet, or (more common for me) the plug on my laptop not working, I don't have to panic.

I have a coworker in another department who, because of his fondness for post-its, had his entire office PAPERED with them when he went on vacation. They sent the pictures out to the rest of the company, and I laughed till I was in tears.

I am also writing with a question... an ongoing debate I've had for years. People have always told me that it's not good to work on more than one story at a time, but I find myself burning out and giving up way too easily if I force myself to follow this "rule". What are your thoughts? What's the real harm in working two stories at one time, especially for someone as ADD as me? - Missus Miranda
Are you my long lost sibling!?!?! Hehe, I love sticky notes, I have so many shapes, sizes, and colors.
I admit to working several different stories, and projects, all at one time. I can never seem to focus on one thing. >.<

To stop receiving this newsletter,
click here
for your newsletter subscription list. Simply uncheck the box next to any newsletter(s) you wish to cancel and then click to "Submit Changes". You can edit your subscriptions at any time.