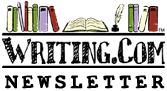 Poetry





This week: Rubliw: History and How-To

Edited by: RedWritingHood♡WDC
More Newsletters By This Editor



1. About this Newsletter
2. A Word from our Sponsor
3. Letter from the Editor
4. Editor's Picks
5. A Word from Writing.Com
6. Ask & Answer
7. Removal instructions





"Poetry is the record of the best and happiest moments of the happiest and best minds."
Percy Bysshe Shelley (1792-1822)
One ought, every day at least, to hear a little song, read a good poem, see a fine picture, and if it were possible, to speak a few reasonable words.
Johann Wolfgang von Goethe (1749 - 1832)

Our writing prompt generators use current events, scene elements, words, sketches, colors, genres and writing types, unleashing endless random bits of fantasy to fuel your muse. Plus, we've included our database of 600 creative writing prompts so you've got them right at your finger tips!

Get it for Apple iOS, Android or Kindle Fire.
Creative fun in the palm of your hand.








Rubliw: History and How-To




Last month I talked about the epistle poetry form. I thought this month I would continue on this theme and talk about the rubliw, which is similar to the epistle. While the epistle is a letter, the rubliw is a message in a stricter form.

BRIEF HISTORY

This form was created by Richard Wilbur. He was born in 1921 and was named the Poet Laureate of the United States in 1987 (www.english.illinois.edu). The name of the form is his last name in reverse. This strict form is similar to the cinquain in that each line increases to a midpoint and then decreases in the same pattern (Turco).

MUST HAVES

--Make it a message to someone. Traditionally the first line is the opening of your message (eg. Dear_____).
--Use mono-rhyme (each line rhymes with all the other lines).
--Nine lines.
--Traditionally the meter is iambic and follows this pattern: Lines 1 and 9 are monometer, lines 2 and 8 are dimeter, lines 3 and 7 are trimeter, lines 4 and 6 are tetrameter, and line 5 is pentameter.

COULD HAVES or WHAT IS THE POET'S CHOICE IN ALL THIS?

-- Write it to anyone (or anything, for that matter).


SOURCE NOTES:

Turco, Lewis. The Book of Forms. 3rd. Lebanon, New Hampshire: University Press of New England, 2000.
http://www.english.illinois.edu/maps/poets/s_z/wilbur/bio.htm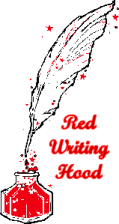 Theme: One rubliw (slightly different than described here) and some cinquains













Have an opinion on what you've read here today? Then send the Editor feedback! Find an item that you think would be perfect for showcasing here? Submit it for consideration in the newsletter!
https://Writing.Com/main/newsletters/action/nli_form



Don't forget to support our sponsor!








Have a question, answer, problem, solution, tip, trick, cheer, jeer, or extra million lying around?

If so, send it through the feedback section at the bottom of this newsletter OR click the little envelope next to my name RedWritingHood♡WDC
and send it through email.


Comments on last month's newsletter:


By: troy ulysses davis

Comment: Thanks again for your valued research.


By: Steve adding writing to ntbk.

"Invalid Item"

Comment: Epistles are also found in the Bible. They are letters of the disciples to the reader then and to us even today. Paul is among the more prolific in the Bible.
Thank you for your historical view of the origin of the Epistle poem. Christmas day marks the 25th wedding anniversary of myself and my Purple Princess, Rhonda who is present in much of my writing. I am inspired by this newsletter to write an anniversary Epistle to my beloved. You are important to God; your family; the WdC and Copenator out!


Thank you for your feedback. Keep it coming! :)





To stop receiving this newsletter, click here for your newsletter subscription list. Simply uncheck the box next to any newsletter(s) you wish to cancel and then click to "Submit Changes". You can edit your subscriptions at any time.