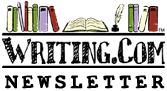 Drama





This week: Embracing the Classics

Edited by: Scaredy Kitti
More Newsletters By This Editor



1. About this Newsletter
2. A Word from our Sponsor
3. Letter from the Editor
4. Editor's Picks
5. A Word from Writing.Com
6. Ask & Answer
7. Removal instructions





When the classics were written, society was different. Some aspects may, therefore, seem alien at first glance. Still, upon closer examination, the issues addressed in them are still relevant, and some themes are likely to last through the ages.

This week's Drama Newsletter is all about the enduring appeal of those books and characters.

kittiara



Our art prompt generators use various mediums, time periods, art styles, colors, sketches, genres and words, unleashing an endless supply of fantasy to fuel your muse. Now you can have instant artistic inspiration and ideas right at your finger tips, whether online or off!

Get it for Apple iOS.
Creative fun in the palm of your hand.



This is the time of year when, for some reason unknown to me, I feel like reading the classics. Perhaps it's because of the dresses, the balls, and the relative innocence of some of those novels. Consider a novel like Emma, by Jane Austen. There is a distinct lack of gore, and what drama there is surrounds a piano and some very questionable matchmaking.

I only arrived at the classics later in life. It is my understanding that many kids are forced to read them in English class, but those of us who studied English as a second language were treated to Flowers for Mrs. Harris and The Secret Diary of Adrian Mole, aged 13 ¾, with the most challenging reads consisting of Of Mice and Men and The Catcher in the Rye.

I can understand why we weren't handed a Jane Austen novel back then. It was bad enough when I picked up the Lord of the Rings trilogy as my first "just for fun" English work. That was a challenge for someone coming to grips with the language, and it's still more of a contemporary read with more straightforward English than Pride and Prejudice. It is natural that the meaning of words and expressions changes over time, but age 15 or 16 I would have been mightily confused! Now, though, I love it. It is one of my favourite novels, truly comforting.

Like so many women - don't judge me - I also love the BBC adaptation of the book. Yes, the one with Colin Firth. I'm so unoriginal. He makes a perfect Mr. Darcy, though, just like Jennifer Ehle makes a perfect Elizabeth Bennet.

Why does Pride and Prejudice still capture the imagination of readers around the world? I can only share my own perspective. It opens the door to another era, and to many issues that at first glance seem alien to me, but on closer examination are not that unfamiliar after all.

There is the issue of money, for example. The Bennet family are not poor, but their situation is considered far beneath that of the Bingleys and the Darcys. This is one of the reasons why the ladies are deemed unsuitable for marriage to Charles and Fitzwilliam. Naturally, the romantic in me resists that notion. Why should money matter in the affairs of the heart? But then, how often in these days does a wealthy man marry a relatively poor woman, or a wealthy woman marry a relatively poor man? The not so wealthy woman would be considered a gold-digger, whether justified or not, and the not so wealthy man would not judged much better.

Class and manners, too, are an obstacle Elizabeth and Jane have to overcome. Especially the manners of some of their family members. Whilst Mr. Bingley is not so hung up on class, Mr. Darcy is, at first, and so is Elizabeth when judging him in turn. This is not so uncommon in contemporary Britain. There is still a class division, with each supposed class judging the other, and that judgement does not tend to be flattering, or fair.

Women were in a bit of a sticky situation in those days. The means to have some stability and security in life was through marriage, and this is certainly the case for the Bennet sisters, because they do not have a brother to inherit their father's property and look after them. They are dependent on men. It is fortunate that things have changed in that respect, at least in a good amount of countries and cultures. However, it is still a common line of thought that women must be after marriage, whilst jokes about "the old ball and chain" refuse to die out, as though men should feel less keen to form such an attachment. And the pressure on men remains to be the breadwinner, to earn more than his partner, to protect her, to, well, "be manly". I think it will take a while for that to fade.

One of the main sources of drama in this novel is the elopement of two characters, with the guy not actually intending to marry the girl. Judgement of him is harsh - he is the villain - but the girl's actions are seen to affect her whole family. She could bring ruin upon all and her sisters would struggle even more to find a partner of their own, because who wants to get involved with a family like that? Extramarital relationships are no longer seen in such a bad light, but a woman's innocence in relationships is still valued higher than that of a man.

So, things have changed, yet are recognizable to some extent. And the love for a Mr. Darcy continues. Not, as some feel, because of his wealth, and the position of power he finds himself in. Not for me, anyway. The appeal of a Mr. Darcy is that he is a man who is steadfast in his affections, once won. He is not afraid to examine his character and improve himself when he realizes he has his flaws. He corrects his mistakes and does not fear going against his family and against his class out of love for Elizabeth. Of course such a love appeals.

Yes, I think it is time to pick up the book. Or watch the adaptation. Happy days
.

kittiara







Here are some of the latest offerings in the Drama Genre. Hope you will enjoy them!




Invalid Item
This item number is not valid.
#1908625 by Not Available.
Invalid Item
This item number is not valid.
#1908510 by Not Available.
Invalid Item
This item number is not valid.
#1907838 by Not Available.
Invalid Item
This item number is not valid.
#1907820 by Not Available.



Have an opinion on what you've read here today? Then send the Editor feedback! Find an item that you think would be perfect for showcasing here? Submit it for consideration in the newsletter!
https://Writing.Com/main/newsletters/action/nli_form



Don't forget to support our sponsor!






The Drama Newsletter Team welcomes any and all questions, suggestions, thoughts and feedback, so please don't hesitate to write in!



readsalot - OKay, Stephenie Meyer wrote a science-fiction romance novel. I think that is what everybody needs to figure out, first. Nobody is a perfect writer, and if you think that is so then you haven't read a good book by lets say Charles Dickens. He is a famous literal person okay and look there must be one person that doesn't like his novels. Even Romeo and Juliet I know plenty of people who hate that novel. I just started writing a few months ago so I'm not perfect and I know that. Meyer isn't perfect either but it is worth the story. The question is do you like science-fiction romance novels? If not your not going to like the story!It is just a matter of common sense. If someone doesn't like spinach are they going to eat spinach? Probably not.

I agree, I don't think the perfect writer exists. Some of the novels lauded in the press I consider to be pretentious twaddle. I am sure you know the type. Every sentence seems to scream out the self-importance of the author.

My favourite author is Terry Pratchett, but I would not call his novels flawless. I am sure he wouldn't, either. And as for my own work, I would actually be happy if I ever reach the level of "mediocre".

It's a good thing that there's something out there for everyone and that if there isn't, that someone can start writing it.

I would not have read all the Twilight novels, had I not enjoyed them on some level. They do have a certain appeal
.

~~~

LJB
- I have to agree with you, no only about the Twilight Series, which I absolutely hate, but concerning the numbers of best selling novels, the author's which cannot write. I get my books on exhibit at the library, before I invest any money in them. I don't like Stephen King either. In King's case though, I don't like horror. I'm not a kid anymore, either, so if I am going to read a novel of the genre, it's going to have to be classified as exceptional. I read Mystery, Crime, Drama, and Historical Fiction, David Baldacci, Vince Flynn, and Brad Thor. These are well-written best-sellers with a punch. Their characters and situations are credible, and I can picture myself as part of the plot. This makes the story good. LJ.

I pick up a lot of novels from the second-hand bookstall in my nearby town. By doing so, I have discovered several authors I had not read before, but now rate quite highly. Michael Connelly was one of them. I now have nearly all his novels, all but the first one bought new. He is a crime writer, and his characters are strong, his plot lines interesting and credible. I will have to check out those authors you mentioned, thank you
.

~~~

Jeff
- I think that a lot of people tend to go to one extreme or another (it's either amazing or terrible) when evaluating something. Just look at user reviews on Amazon and it's remarkable how many are from people either extolling or eviscerating the product; fewer people weigh in when they're not in love or completely hate something. On Amazon, more than 75% of the Twilight mass market paperback's nearly 5,500 ratings are either 5-star or 1-star!

And I think you're right about the reason why Twilight is so popular. I didn't find the books to be particularly well written and I do have a lot of issues with the series, but I also think Stephenie Meyer managed to do one thing very well, which is capture the turbulent emotions and angst of many young relationships, which is what I think so many people respond to in the books.

I think you are right. When people feel "meh" or "it was alright, I suppose" about something, they are less likely to write about it/review it. They simply don't feel strong enough about it.

The complete hate of something amuses me, though
. They are usually the funniest reviews. I don't think I have ever read a book or watched a movie that I hated so completely, because if I don't take to it, I stop reading it or watching it, and if the work is of a kind I know beforehand that I am unlikely to enjoy, I don't bother in the first place.

Saying that, the Twilight movies were rather terrible, in my opinion. All that chemistry, all that emotion that made the books work were sucked out of it, and all that remained was blandness... I did sit through those because of a sister who loves "Edward", and who would not be best pleased with that judgement as she loves them
.

~~~

Tina's TEN YR Anniv
- I agree, personal preference. I couldn't get past chpt 2 of Twilight. Yet friends loved them, escapism and one or two friends love it and the word is passed around. It was film (pt1) at a friends woods. You need to hook the kids first they are the target of choice.

My sister is a lot younger than I am (15 years younger) and yes, she loves the movies, mainly because she fancies the guy who plays the vampire. Not that I can judge her for that, because I still fancy "Spike" from Buffy the Vampire Slayer
.

You are right, word of mouth is what gets people reading things and watching things. I have recommended books and writers to others, and have also looked into recommendations made to me.

~~~

Fyntastic!
- Funny, didn't really think it was 'my' kind of thing either...but anytime someone sells THAT many books, I check it out! A 74 year old friend of mine was 'embarrassed' to buy it, but loved it...though I wonder if she shares those thoughts with others in her senior citizen community! *grin* The fact that they are selling it on the grocery store shelves speaks volumes!

Alright, alright, I will have to check it out now
. I can blame it on the need to investigate new material, right? Well, that is my excuse anyway
.

Your friend sounds awesome, by the way!

~~~

Wishing you a week filled with inspiration,

The Drama Newsletter Team








To stop receiving this newsletter, click here for your newsletter subscription list. Simply uncheck the box next to any newsletter(s) you wish to cancel and then click to "Submit Changes". You can edit your subscriptions at any time.