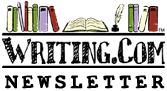 Romance/Love





This week: Firsts

Edited by: Crys-Busy Bee
More Newsletters By This Editor



1. About this Newsletter
2. A Word from our Sponsor
3. Letter from the Editor
4. Editor's Picks
5. A Word from Writing.Com
6. Ask & Answer
7. Removal instructions





Hello! My name is Crys-Busy Bee
and I am the editor for the Romance/Love Newsletter this week! Enjoy!



Our writing prompt generators use current events, scene elements, words, sketches, colors, genres and writing types, unleashing endless random bits of fantasy to fuel your muse. Plus, we've included our database of 600 creative writing prompts so you've got them right at your finger tips!

Get it for Apple iOS, Android or Kindle Fire.
Creative fun in the palm of your hand.





Firsts



Life is full of "firsts." Not surprisingly, many of these firsts are related to our love lives. First kiss, first date, first love, first time having sex. . .

In my experience with romance writing, the "firsts" always seem so perfect. The couple leans in to kiss each other, and fireworks go off. They somehow know how their lips fit together and everything goes smoothly. In real life, of course, we all know that things never go that well the first time around. When you're just getting to know someone, anything can turn awkward or messy. Take, for example, your first kiss. Or, for that matter, your "first" kiss with a new boyfriend or girlfriend. Chances are, it didn't live up to Hollywood standards. I have never once seen fireworks in my life that weren't in celebration of a national holiday or a winning baseball team.


That's where romance novels and other romantic writings come in. The Romance genre, just like our fantasies, is where we can experience the "perfect" love life. Of course, there are still struggles in romance novels. That's often what causes the couple to get together in the first place. But those troubles soon go away, and life goes on in a world where every kiss is "the" kiss that makes the main character weak in the knees.

Regular readers of my newsletter know that I am not a big fan of traditional romance novels. Part of the reason why I'm not is because I like to see characters struggle and overcome obstacles on their own, without the need of a romantic partner. I also appreciate seeing characters who are like me- they struggle, have imperfections, and ultimately end up happy or unhappy depending on the choices they make. And their love lives aren't perfect, because really, whose is?

So, while I think there's certainly a place for those "perfect" love moments in books, I also think there's a place for the realistic ones. Because sometimes I want to fantasize and sometimes I like to feel understood.






Have an opinion on what you've read here today? Then send the Editor feedback! Find an item that you think would be perfect for showcasing here? Submit it for consideration in the newsletter!
https://Writing.Com/main/newsletters/action/nli_form



Don't forget to support our sponsor!






Thank you to everyone who wrote in about my last Romance/Love Newsletter! I love hearing when something really hit home for you!

IMO, from a sister who used to read tons and tons of romance novels, as I being eight years younger than her, as had dabbled into some of her books, (yet I prefer my Science Fiction, Biography, based on truth books), no one has really written a good Romance tale; something that is too more realistic in revealing lots of FYI's that the general public should be informed about if and when in a sincere relationship is a significant other...I am still waiting (although I have my own screenplays written in lieu of Romance, but unwilling to share with with the public) for someone to write or at least develop a good quality story line as for "Romance". -CreativebyNature


Hi Crys,

Thanks for highlighting my poem in the romance newsletter. I found the topic interesting. I love a good romance but I never really thought about the genres. Harlequin romances are not really my favorites but I do love a romance that has depth and an interesting plot that fills in the story.

Blessings,
-hebxii




To stop receiving this newsletter, click here for your newsletter subscription list. Simply uncheck the box next to any newsletter(s) you wish to cancel and then click to "Submit Changes". You can edit your subscriptions at any time.