Printed from https://www.writing.com/main/newsletters/action/archives/id/10336-What-to-Do-With-a-Quadrilew.html
Poetry: August 26, 2020 Issue [#10336]




This week: What to Do With a Quadrilew

Edited by: RedWritingHood♡WDC
More Newsletters By This Editor



1. About this Newsletter
2. A Word from our Sponsor
3. Letter from the Editor
4. Editor's Picks
5. A Word from Writing.Com
6. Ask & Answer
7. Removal instructions



"I decided that it was not wisdom that enabled poets to write their poetry, but a kind of instinct or inspiration, such as you find in seers and prophets who deliver all their sublime messages without knowing in the least what they mean."
Socrates
"Poetry is a deal of joy and pain and wonder, with a dash of the dictionary."
Khalil Gibran

| | |
| --- | --- |
| ASIN: 197380364X | |








What to Do With a Quadrilew




I've been dedicating myself to creating first a garden and eventually a permaculture food forest. One of my new trees is called a Jaboticaba. It took awhile to figure out how to pronounce it but once I did, it became rather fun to say.

So, as I was working on this newsletter, I found that saying Quadrilew was rather fun, too. And so this was what based my decision to feature this poetry form today. I hope you have as much fun in creating one as I have in saying it's name




Quadrilew


This form is the invention of C. G. V. Lewis. It's one of the many forms that utilize repetition. Remember: repeating lines have an added impact to poetry, so make them count.



MUST HAVES


--line count: 4 per stanzas for a total of 16

--meter: syllabic. Either 5656 or 6565

--rhyme: ABAB

--number of stanzas: 4

--Repetition: Line two/stanza one becomes line one/stanza two, Line three/stanza one becomes line one/stanza three, Line four/stanza one becomes line one/stanza four.




COULD HAVES or WHAT IS THE POET'S CHOICE IN ALL THIS?


--topic, theme



SOURCE NOTES:


http://www.shadowpoetry.com/resources/wip/quadrilew.html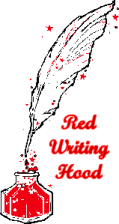 Theme: Quadrilew


















Have an opinion on what you've read here today? Then send the Editor feedback! Find an item that you think would be perfect for showcasing here? Submit it for consideration in the newsletter!
https://Writing.Com/main/newsletters/action/nli_form



Don't forget to support our sponsor!




| | |
| --- | --- |
| ASIN: 1945043032 | |





Have a question, answer, problem, solution, tip, trick, cheer, jeer, or extra million lying around?

If so, send it through the feedback section at the bottom of this newsletter OR click the little envelope next to my name RedWritingHood♡WDC
and send it through email.


Comments on last month's newsletter: None, so I shall ask a question this month.



What is your favorite poetry form that utilizes repetition?




| | |
| --- | --- |
| ASIN: B083RZ2C5F | Kindle |



To stop receiving this newsletter, click here for your newsletter subscription list. Simply uncheck the box next to any newsletter(s) you wish to cancel and then click to "Submit Changes". You can edit your subscriptions at any time.



Printed from https://www.writing.com/main/newsletters/action/archives/id/10336-What-to-Do-With-a-Quadrilew.html