Printed from https://www.writing.com/main/newsletters/action/archives/id/10895-Summertime-Poetry.html
Poetry: July 28, 2021 Issue [#10895]




This week: Summertime Poetry

Edited by: RedWritingHood♡WDC
More Newsletters By This Editor



1. About this Newsletter
2. A Word from our Sponsor
3. Letter from the Editor
4. Editor's Picks
5. A Word from Writing.Com
6. Ask & Answer
7. Removal instructions



"There is not a particle of life which does not bear poetry within it."
Gustave Flaubert
"A good poem creates a world that somehow touches the reader. That world is built of images that come to the reader through vivid sense details and the music of vivacious language."
Paul Janeczko

| | |
| --- | --- |
| ASIN: 0997970618 | Book |








Summertime Poetry




I've experienced the heat of summer in several different places: Michigan, Germany, Arizona, Florida and more.

Michigan and Germany were similar. It gets hot, but a fan, popsicle or water hose does the trick, most days.

Arizona. They say it's a dry heat, but I'd describe it more as a burny heat. I walked around and thought I might just burst into flames at any moment.

In Florida it is stifling hot and humid when not near air conditioning. If you've never experienced the Florida heat, it's like stepping from breathing normally into breathing this heavy liquidy air. It surrounds you and can drench you if you're not quick enough moving from AC to AC. There's a reason tourists don't tend to come during the summer months and if they dare come then, they hang out at the beach, which is usually cooler due to the breezes found there.

Today I want to challenge you to write a poem that reflects your summer experience—any experience from the heat to the fun to the nature found during this time. We all have different experiences due to the region in which we live to how we perceive them--so share them! Choose the form I share with you below or another, or no form at all--just write!



Dizain


The dizain has been around for at least 400 years or so. It is from Europe (France and England, mostly).



MUST HAVES


--Line count: 8 or 10

--Rhyme: ABABCDCD or ABABBCCDCD (depending on the number of lines chosen)

--Number of stanzas: 1 unless making a dizain chain



COULD HAVES or WHAT IS THE POET'S CHOICE IN ALL THIS?


--Word count.

--Topic/theme

--Meter: Any but many are Iambic pentameter or tetrameter. Historically eight or ten syllable lines—but still all the poet's choice. Whatever you choose, just make it consistent with each line.

--Alignment



SOURCE NOTES:


The New Princeton Encyclopedia of Poetry and Poetics. Edited by Ales Preminger and T. V. F. Brogan. 1993.

Turco, Lewis. The Book of Forms. 3rd. Lebanon, New Hampshire: University Press of New England, 2000.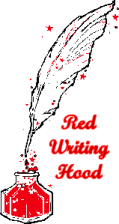 Theme: Dizains and some summer poetry

















Have an opinion on what you've read here today? Then send the Editor feedback! Find an item that you think would be perfect for showcasing here? Submit it for consideration in the newsletter!
https://Writing.Com/main/newsletters/action/nli_form



Don't forget to support our sponsor!




| | |
| --- | --- |
| ASIN: B01CJ2TNQI | |





Have a question, answer, problem, solution, tip, trick, cheer, jeer, or extra million lying around?

If so, send it through the feedback section at the bottom of this newsletter OR click the little envelope next to my name RedWritingHood♡WDC
and send it through email.


Comments on last month's newsletter:


From: Monty

Comment: Thanks you for an interesting News Letter.


From: JCosmos

Comment:

Screen of Death Color Writing Com

Microsoft unveils new screen of death color
The dreaded blue screen of death

Now instead it will be a black screen of death
Microsoft unveils new screen of death color

Not sure that this is an improvement
Microsoft unveils new screen of death color

The screen of death still hides my computer's screams
Microsoft unveils new screen of death color


From: Breezy Love

Comment: I like they way the words round about the thought as if I can visually see the picture inside my head. It is like dancing to music without any sound. Light and vibrant as it vividly paints a memory inside my soul. You are very gifted. Thank you for sharing such outstanding visual art. Master piece!


Thank you all for sharing! It really makes my day :e:delight}




| | |
| --- | --- |
| ASIN: B01FST8A90 | |



To stop receiving this newsletter, click here for your newsletter subscription list. Simply uncheck the box next to any newsletter(s) you wish to cancel and then click to "Submit Changes". You can edit your subscriptions at any time.



Printed from https://www.writing.com/main/newsletters/action/archives/id/10895-Summertime-Poetry.html