Printed from https://www.writing.com/main/newsletters/action/archives/id/11749-Writing-Resolutions-into-Goals-Done.html
Poetry: January 11, 2023 Issue [#11749]




This week: Writing Resolutions into Goals Done

Edited by: RedWritingHood♡WDC
More Newsletters By This Editor



1. About this Newsletter
2. A Word from our Sponsor
3. Letter from the Editor
4. Editor's Picks
5. A Word from Writing.Com
6. Ask & Answer
7. Removal instructions



"I wrote some of the worst poetry west from the Mississippi River, but I wrote. And I finally sometimes got it right."
Maya Anjelou
"There is not a particle of life which does not bear poetry within it."
Gustave Flaubert

| | |
| --- | --- |
| ASIN: B01DSJSURY | |




Turn Poetry Writing Resolutions into Accomplishable Goals by Being SMART and Using SWOT




It's that time of year again when we all decide if and what type of resolutions we might adopt to accomplish our goals for ourselves and our lives.


Most, if not all, of us know what SMART goals are (Specific, Measurable, Achievable, Relevant, Time-bound), so I won't go into that part—BUT you can use it to better effect after a SWOT analysis. What's a SWOT analysis you ask?


S: Strengths
W: Weaknesses
O: Opportunities
T: Threats


So, let's say your goal is to write one poem a day (or week or whatever would be an achievable and relevant goal for you). If you have also written down what your strengths and weaknesses are. If you have thought of some opportunities you can take advantage of, and threats that might keep you from attaining that goal, you are one step closer to attaining that goal due to the strategies you can use to assist you on your journey. For example, if you know that you are addicted to Tik Tok and that is an identified threat to your goal, you could choose to use that knowledge to assist you. You could do this by telling yourself that as soon as you write your poem, then you'll go on Tik Tok. Using this as a treat for your goal met is better than allowing it to be a distraction that gets in the way of your goal.

SMART goals are great but paired with a SWOT analysis you can be unstoppable.


Happy goal-making! I'd love to hear if you created any poetry goals for yourself—regardless of whether you used SMART and SWOT to help you.



Trolaan


I picked this form because reaching goals are a step-by-step process and this form is created in a specific step-by-step process when creating it (see the requirements for how each line is to begin).


Valerie Peterson Brown is the poet that came up with this newer* poetry form.


*Forms created within the last 25 years or so are forms that I consider newer



MUST HAVES


--Each stanza must begin with the same letter. Each line of the first stanza begins with the same letter that begins the first line. Each line of the second stanza begins with the second letter in the first line of the first stanza. The third stanza lines begin with the second letter of the first line of the second stanza, and the final stanza lines begin with the second letter of the first line of the third stanza.

--Amount of lines per stanza: 4.

--Amount of stanzas: Usually 4.

--Rhyme: ababcdcdefefghgh.



COULD HAVES or WHAT IS THE POET'S CHOICE IN ALL THIS?


--Topic.

--Meter.



SOURCE NOTES:


http://www.shadowpoetry.com/resources/wip/trolaan.html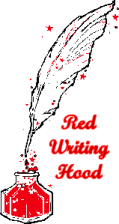 Have an opinion on what you've read here today? Then send the Editor feedback! Find an item that you think would be perfect for showcasing here? Submit it for consideration in the newsletter!
https://Writing.Com/main/newsletters/action/nli_form



Don't forget to support our sponsor!




| | |
| --- | --- |
| ASIN: B07RKLNKH7 | Kindle |


Have a question, answer, problem, solution, tip, trick, cheer, jeer, or extra million lying around?

If so, send it through the feedback section at the bottom of this newsletter OR click the little envelope next to my name RedWritingHood♡WDC
and send it through email.


Comments on last month's newsletter:


From: Monty

Comment: I wished upon a star and for a new car


Not a bad zeugma. Were you able to use it in some poetry?

| | |
| --- | --- |
| ASIN: B07K6Z2ZBF | |



To stop receiving this newsletter, click here for your newsletter subscription list. Simply uncheck the box next to any newsletter(s) you wish to cancel and then click to "Submit Changes". You can edit your subscriptions at any time.



Printed from https://www.writing.com/main/newsletters/action/archives/id/11749-Writing-Resolutions-into-Goals-Done.html