This week: Pick Your Favorite!

Edited by: StephBee Salutes 2 Service
More Newsletters By This Editor



1. About this Newsletter
2. A Word from our Sponsor
3. Letter from the Editor
4. Editor's Picks
5. A Word from Writing.Com
6. Ask & Answer
7. Removal instructions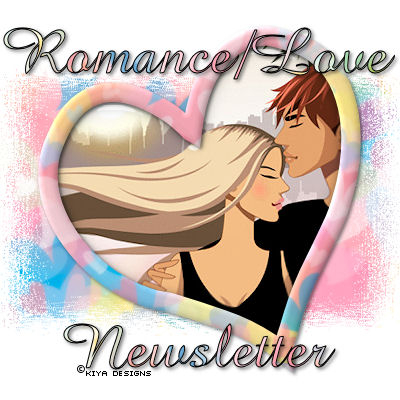 Being deeply loved by someone gives you strength, while loving someone deeply gives you courage. – Lao Tzu

Where there is love, there is life. – Mahatma Gahdi

There's always something going on in March. Let's face it, March is never dull. While St. Patrick's Day has come and gone for this newsletter, we all enjoy dressing up in our favorite greens, and Irished out for the day. The first day of spring this year is 20 March. Daffodils are usually the first flowers of spring, indicating change is on the way. Most of us changed to Daylight Savings Time. The Oscars have come and gone. BUT you can find romance any time of the year!

The thing I love about March is the start of spring. I'm ready for the Earth to come alive with leaves on the trees. Flowers will be growing soon. It's a cheerful time. Taking that theme and applying it to this newsletter, it's a good time to take a fresh look at some of our favorite subgenres of romance and finding a new appreciation for them.

If you have a chance let me know your favorite!

Your Favorite Romance Genre (E)
A poll about your favorite romance genre
#

2272941

by StephBee Salutes 2 Service

| | |
| --- | --- |
| ASIN: B000FC0SIM | |

Romances come in all shapes and sizes. Simply put, a romance is where two people meet, face a challenge, and as they work through that challenge, they in love. Romance stories embrace the happy, and honestly, that's the allure – knowing there's a happy ending for the couple that just faced one of the toughest challenges of their lives.

Here are some popular subgenres in Romance:

CONTEMPORARY:
A contemporary romance is any romance that occurs after the 1970's. A romance might considered "vintage" if the setting is between 1945-1970. These types of romances are usually popular as they deal with contemporary issues and are usually in more modern settings, making them easily relatable to the reader. Settings can include the challenge of finding love in the workplace, an empowered heroine, or dealing with modern topics.

HISTORICAL
Historical romance deals with romances that occur in the past. Some popular time periods are regencies, the American Civil War, and the Australian Outback. Historical romances require a lot of research compared to Contemporary romance. How were romances conducted in historical times? Where romances arranged marriages? What were the customs? Good research will pay off with characters and a setting true to the time period.

YOUNG ADULT
This romance is geared for young adults – 16-22 years and mainly deals with that first time or an impossible love a young adult feels for another. The appeal of young adult romance is the first time discovery of love and passion. The challenge is embracing the young adult and ensuring their actions ring true to a young adult. Mistakes are made, misunderstandings are often. The best way to approach writing young adult romances is to remember when you, the writer, were a young adult.

ROMANTIC SUSPENSE
This romance blends elements of the suspense/thriller genre with romance. Usually this involves solving a crime or investigating a secret with escalating high stakes. As the suspense builds, so does the romance. The appeal is the danger intertwined with the romance.

INSPIRATIONAL ROMANCE
In this type of romance, spiritual or religious beliefs play a big role in the love story. Usually one of the main characters has a crisis of faith, or perhaps they could be finding their faith. Typically, the "sexual" act of romance, culminates in a kiss or a less graphic depiction of love making.

EROTIC ROMANCE
With erotic romance, it's about the sex. The main characters meet and enjoy. The sex scenes depicted are usually very graphic and arousing. Steamy sex scenes are fundamental to building the plot. The challenge with erotic romance is that through the sex, the main characters come together and find love.

PARANORMAL ROMANCE
This is a genre in-and-of itself. This includes, paranormal stories such as vampires and werewolves, or it could include time travel. GOTHIC romance and STEAMPUNK romance have grown out of this subgenre as well. The challenge with paranormal romance is that you, the writer, get to build the world that the main characters interact in. That said, you must be consistent your rules for your world. Paranormal romance allows for creativity and imagination, but you've got to keep your world grounded and usually that's done by tapping into the emotional power of falling in love.

ROMANTIC COMEDY
Usually this romance is depicted through a comedic lens. They're usually light and heartwarming reads. Troupes involved in romantic comedy usually include enemies becoming lovers, best friends falling in love, or families disapproving of the couple in love.

What's your favorite type of romance? Write and share!




Burning issue (18+)
A story of intrigue, romance and betrayal in 19 th century Paris.
#

2292436

by Sumojo
Requited Love (13+)
A Romance. Possibly sad. 4650 words. New-ish genre for me.
#

2292435

by Steven (PLEASE BUY MY BOOKS!)
Ingredients for Romance (E)
Missing ingredients for picnic recipes draws two people together
#

2288645

by Graywriter
Regency/Contemporary Romance Christmas (E)
A woman of the present meets a ghost of a man in England and realizes she has lived before
#

2287064

by Princess Megan Rose 21 WDC
Happy Rain (E)
Rain brings a couple closer.
#

2285010

by Bikerider
Follow His Heart (13+)
Romance Story
#

454093

by ♥HOOves♥
Behind Hazel Eyes (18+)
A summer trip to Japan, as a teacher, becomes a lesson in love and life for a young woman.
#

1064646

by iKïyå§ama
The Price of Royalty (GC)
The Sequel of "The Flames of Madeoc"
#

1011816

by StephBee Salutes 2 Service



Have an opinion on what you've read here today? Then send the Editor feedback! Find an item that you think would be perfect for showcasing here? Submit it for consideration in the newsletter!
https://Writing.Com/main/newsletters/action/nli_form



Don't forget to support our sponsor!




| | |
| --- | --- |
| ASIN: B07N36MHWD | Kindle |

Feedback from my Romance/Love Newsletter Dated: 22 FEB 2023:
Stik's on a Boat!


I actually prefer more abstract covers. If Colleen Hoover actually wrote good dialogue, I'd cite her as an example. Her covers have no people at all, which is great! It gives readers more leeway to picture the characters/settings as they please. Too bad I can't imagine my way out of horribly melodramatic dialogue.

A better example is Mariana Zapata. At least her English language book covers opt for a symbol of a major setting or plot device (be it a handwritten letter or a soccer stadium). Since her novels have more realism involved in them (yay!), I think this approach works well. If it became the standard, more people might give the genre a go.

}Love hearing your thoughts! I'll check out these authors for examples!
D. Reed Whittaker


I'm an old guy (76) who writes contemporary romance for seniors. For people my age. Yes, I think we still want love. For me, most of the covers I see (Overdrive) are directed at kids (anyone younger than I am). The six-packs and overly endowed don't appeal. My cover has a couple standing close together watching the sun set/rise from the sea. The theme of the 8 books is it's never too late. You get a second chance, if you want it. My MCs are 66.

} Honestly, I'm more of a couple standing close and watching a sun rise/set from the sea myself.


StephBee Salutes 2 Service
is a 911 dispatcher for LAPD. Her contemporary romance, "Christmas in Bayeux" is set on the Normandie coast in France. Aiden reunites with an old friend, but will that friendship turn to love?


| | |
| --- | --- |
| ASIN: B09JBGVT7J | Kindle |

| | |
| --- | --- |
| ASIN: B085272J6B | Kindle |



To stop receiving this newsletter, click here for your newsletter subscription list. Simply uncheck the box next to any newsletter(s) you wish to cancel and then click to "Submit Changes". You can edit your subscriptions at any time.