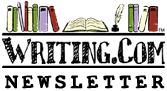 Romance/Love





This week: A Mother's Love

Edited by: Crys-not really here
More Newsletters By This Editor



1. About this Newsletter
2. A Word from our Sponsor
3. Letter from the Editor
4. Editor's Picks
5. A Word from Writing.Com
6. Ask & Answer
7. Removal instructions





My name is Crys-not really here
and it's my pleasure to be your editor for the Romance/Love Newsletter this week!



** Image ID #1654495 Unavailable **





| | |
| --- | --- |
| ASIN: 197380364X | |





A Mother's Love




I bet everyone can think of a strong female in their lives, whether it's a mom, a step-mom, a grandmother or an aunt. She's a woman who has cared for you when you were sick, guided you through life, and still stands by you as an adult. A mother's love is a special kind of love— it has no conditions or expiration date. One of the best things about being a woman is the ability to be a mother, a caregiver. These days, mothers do more than ever, from holding jobs, to being involved with the PTO, taking care of the house, and running children to and from practices— mothers are full-time super heroes!






[Sonnets are full of love, and this my tome]


by Christina Rossetti

Sonnets are full of love, and this my tome
Has many sonnets: so here now shall be
One sonnet more, a love sonnet, from me
To her whose heart is my heart's quiet home,
To my first Love, my Mother, on whose knee
I learnt love-lore that is not troublesome;
Whose service is my special dignity,
And she my loadstar while I go and come
And so because you love me, and because
I love you, Mother, I have woven a wreath
Of rhymes wherewith to crown your honored name:
In you not fourscore years can dim the flame
Of love, whose blessed glow transcends the laws
Of time and change and mortal life and death.




Here are some other great poems about mothers. Why not send one to the mother figure in your life? Or, better yet, write an ode to your own mother!

"Kaddish" by Allen Ginsberg


"Portrait"

by Louise Glück


"Clearances"

by Seamus Heaney


"Mother 'o Mine"

by Rudyard Kipling


"Mother, Summer, I"

by Phillip Larkin


"Medusa"

by Sylvia Plath


"To My Mother"

by Edgar Allan Poe


"From Childhood"

by Rainer Maria Rilke


"To My Mother"

by Christina Rossetti


"To My Mother"

by Robert Louis Stevenson


"My Mother on an Evening in Late Summer"

by Mark Strand



She Had to Endure (E)
A mother's love and devotion to her children.
#

1402271

by Magoo
When Life Gives You Chicken Livers (13+)
A GGMother passes down wisdom while fishing w/ chicken livers.
#

1451969

by SWPoet
Invalid Item
This item number is not valid.
#

1670301

by Not Available.
A Mother's Wrath (18+)
An outcast plans devastation until... (Flash Fiction)
#

1670471

by Hyperiongate
Mother - A Pure Soul (E)
A guiding hand, a best friend and the creator of your world.
#

1671184

by Ani
Invalid Item
This item number is not valid.
#

1669130

by Not Available.
I'm a Mother (E)
Written as a rhyming children's book. Each line is a picture page of its own.
#

1668330

by Rixfarmgirl
Memo: re Mother's Day (E)
Memo/Letter written to my adult children regarding Mother's Day.
#

1667053

by MaryAnn
Autism then and now (13+)
A story about a mother's determination to beat the odds with her autistic son.
#

1667383

by Me222
Definitions Over Cheerios (E)
One of my earliest memories involving my mother.
#

1662287

by Than Pence



Have an opinion on what you've read here today? Then send the Editor feedback! Find an item that you think would be perfect for showcasing here? Submit it for consideration in the newsletter!
https://Writing.Com/main/newsletters/action/nli_form



Don't forget to support our sponsor!




| | |
| --- | --- |
| ASIN: B01IEVJVAG | |

Thank you to everyone who wrote in about my newsletter last month dealing with break ups! Good to know I'm not the only one who has grieved.
Crys, your newsletter this week on dealing with breakups was right on target. How do I know? Your comparison to the situation being similar to when a loved one dies. If you read my article on Dealing With the Loss of a Loved One (item #757634, posted "way back" on 9/28/03 you'll see how accurate your comparison really is. You gave excellent advice here. I started writing the bio of Linda and I the week after she died in 1980. You're VERY right. It's VERY therapeutic. Keep up the great work!-Incurable Romantic
Aw I hope you start to feel better. Break-ups are the worst unless you realize that it's better to have broken up so a right person can eventually come along. Even if you aren't sitting around waiting for it. -scribbler

| | |
| --- | --- |
| ASIN: B000FC0SIM | |



To stop receiving this newsletter, click here for your newsletter subscription list. Simply uncheck the box next to any newsletter(s) you wish to cancel and then click to "Submit Changes". You can edit your subscriptions at any time.