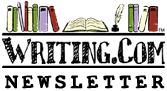 Romance/Love





This week: What is romantic to you?

Edited by: Fyn -
More Newsletters By This Editor



1. About this Newsletter
2. A Word from our Sponsor
3. Letter from the Editor
4. Editor's Picks
5. A Word from Writing.Com
6. Ask & Answer
7. Removal instructions





What greater thing is there for two human souls than to feel that they are joined... to strengthen each other... to be at one with each other in silent unspeakable memories.~~George Eliot

You will find as you look back upon your life that the moments when you have really lived, are the moments when you have done things in a spirit of love.~~Henry Drummond

You may only be one person to the world, but you may also be the world to one person.~~Anonymous

We learn only from those we love.~~Johann Von Eckermann



| | |
| --- | --- |
| ASIN: B083RZJVJ8 | |



Romantic moments are not all hearts and flowers, rose petal strewn bathtubs or candle lit dinners. Certainly these (my husband calls them 'mushy smushy' ) moments are special, but as a relationship grows beyond the new, endorphin-laden, euphoric frenzy, it is the evolving moments that can define a relationship.

We have a tiny, one-butt-kitchen. Open the fridge or a cabinet or a drawer and there is no room to maneuver. Put two people in there and someone will get stepped upon, elbowed, or have something in their hands go flying. Two sleepy people on a mission for coffee could be disaster. But we do what we call our 'early morning coffee dance.' We spin and swirl around each other getting coffee in the mugs, my sweetener, his ice, my milk. One of us grabs the container with the vitamins and takes out two, handing one to the other telling them what 'breakfast' is this morning. It is silly, and fun and we've been doing it for years. It doesn't get old. To us, it is a 'romantic moment.' I just asked him to give me a romantic 'moment' without saying what or why.. His reply was 'our coffee dance.'

The thirty something neighbor across the street answered, 'When my husband puts the kids to bed." One daughter said, "having the dishes done, or not having to make dinner. recognizing when I'm really tired and telling me to go hide and read/watch a movie is way up there too!" The other said, "When my boyfriend wants to go to garage sales with me." The guy next door answered, "honesty or a good shoulder rub when I've been hanging drywall all day." The husband across diagonally looked at me blankly for a moment, then smiled and answered, "When the kids are playing quietly and she meets me at the door with a beer. Those quiet moments to relax mean the world, I need to tell her that." (Good man!) His wife (asked a few moments earlier when he wasn't around said, " When he gets home first and makes me a fresh pot of coffee."

A WDC-er said, "Well, if I had a lot of romance in my life (LOL-yeah, okay... but anyway!) It would just be a walk together at dusk, holding hands, talking about anything & everything & looking into his eyes & not being able to picture life any other way... or sitting out on the back patio, with a drink while staring up at the stars." Another one said, "Any moment at all when we lock eyes and smile . . .for no specific reason at all!"

My folks would go out after dinner and walk down to the lake--"to make sure it was still there." Dad would shovel a path for Mom's geese in the winter. My sis-in-law simply answered, "when we laugh together." My son in Boston said it is all about
knowing before one asks that a hug is needed."

I'm seeing a pattern developing here. Most of what has been answered are moments of courtesy and caring. How romantic is that? So keep this in mind with romantic moments. The hero can do far more than prepare a candle lit bath and the heroine can do more than cook his favorite dinner. True love/romance shines in the little moments far more than the big ones!





Sent in as a result of my last newsletter.


Invalid Item
This item number is not valid.
#

1578089

by Not Available.
My Darling Angel (ASR)
Guards are sometimes exposed to unexpected life risks.
#

1555033

by Just an Ordinary Boo!


And some other editor's picks for you :)


Two Wise Women (13+)
Sid is at the crossroads of his career. Placed 1st in March 2010 Official Contest.
#

1656400

by Prof Moriarty
A Gift for Pop (E)
A special gift for my Grandfather
#

1664794

by Mia
Three Sweet Words and a Gentle Kiss (E)
The heart is easy to deceive.
#

1643452

by I Am Not Creative


Using this as well, because...it simply...fits.


So Simple (E)
So simple, really
#

1065275

by Fyn -



Have an opinion on what you've read here today? Then send the Editor feedback! Find an item that you think would be perfect for showcasing here? Submit it for consideration in the newsletter!
https://Writing.Com/main/newsletters/action/nli_form



Don't forget to support our sponsor!




| | |
| --- | --- |
| ASIN: B00KN0JEYA | |

Lauriemariepea
wrote in:hi, fyn--
i loved your newsletter featuring dogs and our love for them. wonderful! i have dogs in my life, two mutts, and am struck every day by their big, unquestioning hearts and goofy sense of humor. my dogs lift me up just by being with me, and i wouldn't give them up for anything. thanks for giving me the opportunity to gush in public over my pooches.
attached is a flash story featuring jones, a hound embodying quintessential doggyness (in my eyes.) hope you enjoy it.


and

Just an Ordinary Boo!
offers:How about a Love story from the POV of a pup? It just popped into my head and I had to shake it out. It just might interest you. Jyo

see above


selo says: Thank you for this! I love every animal that walks, swims, or flies upon this earth and dogs are no exception. Ever since I was old enough to say so, I've wanted a dog, and all my parents can handle are cats and the occasional small rodent. Animals are wonderful, priceless friends and once I have a house of my own it will be full of furry, scaly, and feathery creatures. No one should ever, ever underestimate or take for granted the joy and companionship an animal can bring into your life, canine or otherwise.

How true!


Mark
adds:And maybe, in the more romantic stories, we could try to not have that moment when the dog is watching. Done to death.

I agree completely !




| | |
| --- | --- |
| ASIN: 0910355479 | |



To stop receiving this newsletter, click here for your newsletter subscription list. Simply uncheck the box next to any newsletter(s) you wish to cancel and then click to "Submit Changes". You can edit your subscriptions at any time.