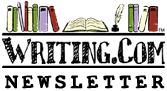 Poetry





This week: Emotions and language in Poetry

Edited by: I like big books #2233315
More Newsletters By This Editor



1. About this Newsletter
2. A Word from our Sponsor
3. Letter from the Editor
4. Editor's Picks
5. A Word from Writing.Com
6. Ask & Answer
7. Removal instructions




I'm a guest editor this week so I'd just like to share with you a couple quotes that pertain to this week's issue.

Poetry is the spontaneous overflow of powerful feelings: it takes its origin from emotion recollected in tranquility. -William Wordsworth

I think awhile of Love, and while I think,
Love is to me a world,
Sole meat and sweetest drink,
And close connecting link
Tween heaven and earth.
I only know it is, not how or why,
My greatest happiness;
However hard I try,
Not if I were to die,
Can I explain.
Excerpt from "Friendship" - Thoreau


| | |
| --- | --- |
| ASIN: B01IEVJVAG | |




"The heart is forever inexperienced." - Thoreau



The first poetry I was ever exposed to was the work of Henry David Thoreau. My mother had a framed quote on our living room wall. "If a man does not keep pace with his companions, perhaps it is because he hears a different drummer. Let him step to the music which he hears, however measured or far away." It was many years later that I realized that was from "Walden" and my love for Thoreau's work grew. Just because you can read and appreciate poetry though, doesn't make you a poet. It was three years ago a good friend of mine Kaya
told me I should try writing poetry. I told her I was no poet, I was barely a writer.
She encouraged me to try and said she thought I'd be good at it, besides the only way to learn was by doing it. I couldn't disagree with that logic and so I began what has become a collection of poems that I'm actually quite proud of. Most, if not all, of my poems could be considered emotional. I don't think I could write a poem any other way.



"I put a piece of paper under my pillow, and when I could not sleep I wrote in the dark."



I've never considered myself a "poet" although I have written poetry. I think authors and poets are cut from the same stone though and both are capable of incredibly creative word associations. Let me explain what I mean; word association is required to write creatively. You not only have to have an above average vocabulary, you have to know when to use which words and where to use them the most effectively. Simply put, just because you know what bailiwick or hypnagogic mean doesn't mean you should use them in your work unless it really fits.



"It's not what you look at that matters, it's what you see."



Okay so what should you put in your work? Well, that's subjective depending on who you ask I suppose, but this editor loves emotion in poetry. As a friend of mine once said, "Make me feel something, other than boredom."
Writing something that evokes emotions isn't always easy to do. Free writing can sometimes get your mind in the proper mode to write emotional poetry. Next time you're stuck, try this:

1. Make a list of emotions.
2. Choose one of the emotions.
3. Write any words that come to mind describing that emotion.


Can't think of many words? Try the WDC Ideanary! Don't know what that is - read this " Ideanary? What's that?"


Without actually naming the emotion, try and describe it in detail using concrete images. If you can, think of a specific time when you've experienced the same emotion. That will help you really identify with the words you're writing.

Good questions to ask yourself are: "What happened? What did I look like? Sound like? Feel like?"

You're looking for details that burn an image in the reader's mind. Poetry that uses concrete, original, and precise language chosen specifically for its impact will achieve the reaction you're looking for.



"Many men go fishing all of their lives without knowing that it is not fish they are after."



Make sure you know what you're after. Focus when you write. Focus on writing the best piece you can and choose language that ignites all the senses and engages your readers. That's what keeps them coming back.


Check out the Ask & Answer section at the bottom of this newsletter for a special challenge!

Write and Review on! ~ Brooke




Here are some wonderful poems I stumbled across in my wanderings. I hope you enjoy them as much as I did.



Excerpt:
I feel the love you have for me.
I hear the way you talk about me with others.
And I notice,
though I know not why you ever noticed me,
why you see me as you do,



~
~




Excerpt:
He had things to say which no one knew
and I was well beyond infatuation
I worshipped the knowledge he let through
and he always met my expectation



~
~




Excerpt:
the train still comes
right on time
to the middle of the night
dare I find some rest
the house to shake
windows lit as sunrise



~
~




Excerpt:
I sit with her and memories arise
floating like feathers
on a vagrant breeze.



~
~




Excerpt:
Look,
while you can.
Today's fleeting drum.



~
~




Excerpt:
She's not here right now,
so it's my time to vent.
Making me go to the mall,
with her, is "mallicious" intent.



~
~




Excerpt:
I stand beside his locker,
The bell rings, my time is now;
Steps up with a look at me,
My soon-to-be Valentine.



~
~




Excerpt:
I shrink behind my innocent shield
My smoke screen-my curtain
Protecting my vulnerable heart



~
~



Have an opinion on what you've read here today? Then send the Editor feedback! Find an item that you think would be perfect for showcasing here? Submit it for consideration in the newsletter!
https://Writing.Com/main/newsletters/action/nli_form



Don't forget to support our sponsor!




| | |
| --- | --- |
| ASIN: B004PICKDS | |


I'm a Guest Editor so I have no official feedback this week. Also, since this is my very first Poetry NL, I thought I'd offer readers a challenge instead.


My husband and I are celebrating our tenth wedding anniversary and fifteen years since our first 'date' on March 21st this year. In honor of this occasion, I'd like to offer a Merit Badge to the best emotional poem sent to me through this survey:



If you lose track of this survey, yes you can email me your entry in bitem link.

RULES


This poem must be newly created for this challenge.

If you've used a specific form, please note it somewhere in your item so I know.

Any size is fine but don't write me a novel length poem please.
Let's keep the rating 18+ or under.

One entry per person.

Deadline is March 21st at midnight WDC time.

HINTS ... to win the judge's heart

I say emotional and yes, repulsion is technically an emotion. However, that's really not the goal I have in mind.

Take more than fifteen minutes to write it. I don't care what anyone says, yes, people can tell.

I like expressive words, not words that no one will ever use in a conversation/article/story anywhere except your poem.

DISCLAIMER

I reserve the right to award more than one Merit Badge if I fall in love with more than one poem ... because that's just how I roll.


Have fun!!




| | |
| --- | --- |
| ASIN: B07NPKP5BF | Toy |



To stop receiving this newsletter, click here for your newsletter subscription list. Simply uncheck the box next to any newsletter(s) you wish to cancel and then click to "Submit Changes". You can edit your subscriptions at any time.