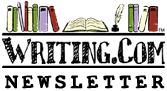 Romance/Love





This week: Romance's Revolving Door

Edited by: Fyn -
More Newsletters By This Editor



1. About this Newsletter
2. A Word from our Sponsor
3. Letter from the Editor
4. Editor's Picks
5. A Word from Writing.Com
6. Ask & Answer
7. Removal instructions





Find a guy who calls you beautiful instead of hot, who calls you back when you hang up on him, who will lie under the stars and listen to your heartbeat, or will stay awake just to watch you sleep... wait for the boy who kisses your forehead, who wants to show you off to the world when you are in sweats, who holds your hand in front of his friends, who thinks you' re just as pretty without makeup on. One who is constantly reminding you of how much he cares and how lucky he is to have YOU... The one who turns to his friends and says, that's her...~~~UNKNOWN

You learn to like someone when you find out what makes them laugh, but you can never truly love someone until you find out what makes them cry. ~Author Unknown

Love looks not with the eyes, but with the mind,
And therefore is winged Cupid painted blind.
~William Shakespeare, Mid-Summer Night's Dream, 1595


Life has taught us that love does not consist in gazing at each other but in looking outward together in the same direction. ~Antoine de Saint-Exupéry, Wind, Sand and Stars, 1939, translated from French by Lewis Galantière





| | |
| --- | --- |
| ASIN: B000FC0SIM | |



My husband and I have recently been reintroduced to the wonders, madness and dizziness of teen romance as one of our granddaughters has moved in with us for the remainder of the school year. For two people who first 'found and lost' each other over twenty years ago and then found and married each other a few years back, the wonder and dizziness of it all applies to us!

If men are from Mars and women are from Venus, I think teens are from another galaxy. To be sure, the feelings --ups, downs, deliriousness and misery for her are all too real, we have given up trying to keep track of this week's or even today's current 'name.' Although we, as grandparents, are mystified, she 'falls in love' at least three times a week. We are there for the tears and heartbreak, being supportive, and trying to let her know that if the boy doesn't appreciate her and treat her right, she neither needs nor should want him.

Remember when Clark Kent looked for a convenient phone booth and couldn't find one and went to the revolving door instead, making it spin madly and emerged as Superman? Sometimes it appears that the teen concept of love, dating, togetherness, break-up and heartache spins equally fast. Obviously, this doesn't apply to all teens. But it certainly does to the whirling dervish that is our granddaughter.

It gives me pause as it is so completely different than from when we were kids and even from when our kids were kids. Why, I wonder the intense rush to 'be grown up' rather than the way (dare I say it?) it used to be? Is my (our) memory faulty? Why the need to scurry right on past all the fun parts of dating? The taking of time getting to 'know' the other? The finding out of what makes them tick, what makes them giggle and what scares them silly? How can they 'be in love' in thirty seconds? How do you explain that when the entire 'romance' lasts a day that it really, really was not 'love' but a rather inflated 'like?' How can, according to FB, one go from 'single' to 'in a relationship' and then back to 'single' in the announcements in a day or two? When does the dating with switch to relationship (?) and doesn't that take time? Am I (or we) just hopelessly old-fashioned, out of the loop and clueless?

She is quite secure in the love of her folks and all the sets of grands. She is lovely, smart, slim, and could make any model drool and feel inadequate. She's also runs the gamut between sullen and hyper, excitable and silly, helpful and inconsiderate. She has certainly been a plethora of emotions and behaviors. In other words, she's a teen who isn't sure of who and what she is. Or will be. Or can be.

We've gained insight into an other world. Writing a true teen character would be far more difficult than I could have imagined, and I'm thinking there's a reason I tend to avoid writing about the teen-aged years. This is clearly a case where 'been there-done that' does not apply! She'll get through these times, as will we. I can't wrap her in cotton batting (darn) and hubby keeps making the comments about hanging one of the guns in clear sight over the fireplace. But those, too, don't seem to apply anymore. All we can do is be there, listen, hug and console and slip in short doses of reality into our conversations. She's a great kids. But I wouldn't want to be a teen today for anything in the world!





Need a Good Laugh? Guaranteed to Cheer (ASR)
Humor often does more than make us laugh. At times it forces us to open our eyes.
#

589748

by Shaara
Invalid Item
This item number is not valid.
#

1155441

by Not Available.
A Dwarf in the Dark (ASR)
A dwarf goes on a date with unexpected results.
#

589305

by Ðungeon Щarden
The Dating Years (13+)
My teen years, so long ago. Ideals change, though somehow, we survive.
#

855487

by Dottie
Calling All Teens (13+)
A place for the younger 'teen' writers to hang out, share views, make friends etc
#

1195813

by Word smith says I'm Back
Kristina (13+)
You know that girl in high school that has a different guy every week? This is her.
#

853937

by Athena26



Because we all need reminders now and then.


The Dating Years (13+)
My teen years, so long ago. Ideals change, though somehow, we survive.
#

855487

by Dottie



Have an opinion on what you've read here today? Then send the Editor feedback! Find an item that you think would be perfect for showcasing here? Submit it for consideration in the newsletter!
https://Writing.Com/main/newsletters/action/nli_form



Don't forget to support our sponsor!




| | |
| --- | --- |
| ASIN: B004PICKDS | |

SHERRI GIBSON
says: As always, this newsletter is as great as the others written by you. I agree with everything about writing about family, friends, and others. Some of the best writing revolves around sentimental things, sometimes includes anger and so forth. Keep writing these great newsletters, and thank you for including one of my poems.

Adriana Noir
writes: Ohh Fyn! Your words have struck a deep chord with me. I've been so very lucky to have such a friend as this. We are sisters, not by blood, but through the heart, often blurting out the same things at the same time. Mutual friends of ours labeled us "terror twins" long before we ever acknowledged each other as such. Like you, we also met online. It's been almost 10 years now, and we talked a good 4 before meeting. It is soo worth the venture. We even discovered our boys, a month apart, are what we call 'littermates.' Nothing beats a true and unending friendship. That's love.

Mara ♣ McBain
agrees: An insightful NL that made me smile and think of my Terror Twin, Adriana Noir
. We met on the net almost 10 years ago now. We talked online and on the phone for the first 4-5 yrs before I took the plunge and drove the 4 1/2 hrs to meet her. Now we have that "would drop or do anything for you" friendship.
DRSmith
adds:Your signature of using appropriate quotes has always been interesting, but one of today's really twanged the highnote on this dude's uke: "You can always tell a real friend; when you've made a fool of yourself, he doesn't feel you've done a permanent job."~~Laurence Sterne Ain't that the bloody truth! Can't tell you how many times I've been surrounded by "best friends" when I'd been on fire with a viable biz idea or high finance; but nearly always alone when standing amidst the smoldering ashes of a gallant try.

Know the feeling, but then, that is when the true friends shine!

Molly Grace
comments:You are so right. People don't always give friendships the credit they deserve. I might just try that.

Always good to acknowledge the special friends in one's life!


| | |
| --- | --- |
| ASIN: 1945043032 | |



To stop receiving this newsletter, click here for your newsletter subscription list. Simply uncheck the box next to any newsletter(s) you wish to cancel and then click to "Submit Changes". You can edit your subscriptions at any time.