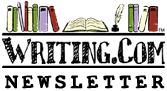 Mystery





This week: Just the bare essentials

Edited by: Lonewolf
More Newsletters By This Editor



1. About this Newsletter
2. A Word from our Sponsor
3. Letter from the Editor
4. Editor's Picks
5. A Word from Writing.Com
6. Ask & Answer
7. Removal instructions





It is my honor and privilege to grace your Mystery Newsletter this week. I am Lonewolf
and I do hope that you are able to find something useful in what I have to share.





| | |
| --- | --- |
| ASIN: 0995498113 | |



I have always been drawn to the mystery genre if I was not reading it I was writing it. However, it cannot be just anything, what I read has to draw my attention, and from my experience mysteries should be alluring and dramatic. The conflicts and plots are a major part of the stories. If you throw a lot of elements into your story, you will keep your reader from becoming bored, and personally for me it all starts with the opening sentence.

For example: "You do see, don't you, that she's got to be killed?"

The question floated out into the still night air, seemed to hang there a moment and then drift away down into the darkness towards the Dead Sea.

On of my favorite mysteries was written by Agatha Christie the book is one of her Hercule Poirot novels called "Appointment with Death" it has one of those endings you don't see coming. I won't spoil the ending for you if you have not had the opportunity to read the book yourself, but I highly recommend this book for everyone to read especially if you are looking for a good mystery novel to lose yourself in.



Appointment with Death



Impassioned archaeologist Lord Greville Boynton, accompanied by his universally despised wealthy second wife Lady Boynton, is in zealous pursuit of a major artifact in Syria. A curious array of onlookers has also gathered in the unforgiving desert heat - among them the tormented Boynton children, a psychiatrist, a nun, a travel writer and a cerebral but not exactly rugged Belgian detective, Hercule Poirot. When most of the camp returns from an expedition, they find Lady Boynton has been stabbed to death. How can Poirot make sense of a murder when most of the suspects weren't even present at the time of death?

A good mystery to me has a combination of the following:


1. The exposition. The exposition gives the reader background information about the story, such as the setting and the main characters. It sets the tone, and lets the reader know what type of story to expect. While reading the exposition, the reader can generally tell whether this is going to be a funny story, a historical story, a Western, a fantasy story, or another type.

2. The rising action. This part of the story often shows the main character involved in a struggle of some sort. He or she experiences problems and complications.

3. The climax. The climax (or crisis) is often short, but it is the most exciting part. The main character's struggles come to a head.

4. The falling action. The falling action occurs as a result of the climax or crisis.

5. The resolution. The resolution is the conclusion of the story.


I originally jumped into campfire writing because of the mysterious aspect to it, not knowing who was going to do what, or where the next addition was going to take the storyline, just writing about this now has me fired up and ready to add to one of my numerous campfires, or possibly starting up a "Who dun it" interactive maybe something based on Clue. Below you'll find a poll about what makes a good Mystery story for you. Perhaps in my next Newsletter I'll have a campfire or interactive ready for everyone to take part in should they so wish.



[Linked Poll's access is restricted.]



Until next time readers

Wild Black Roses Prologue (13+)
A plague ravaged England is home to a romance that was as destined as it was inevitable.
#

1678306

by Thylacine
Demon with a Child's Name (13+)
A boy who goes back in time and learns of his demon heritage.
#

1724383

by Anitta Bae
They Can't Kill Us All (13+)
You'll never get rid of us.
#

1403720

by Nomar Knight
Invalid Item
This item number is not valid.
#

1632527

by Not Available.
Invalid Item
This item number is not valid.
#

1485800

by Not Available.
A Cereal Killer (18+)
A crazy look at serial killers.
#

526807

by The Milkman
Another Storm (13+)
Storms and nightmares foretell horror.
#

848247

by Vivian
NURSERY RHYMES (13+)
A detective cracks a case thanks to a parrot
#

521973

by Joy



Have an opinion on what you've read here today? Then send the Editor feedback! Find an item that you think would be perfect for showcasing here? Submit it for consideration in the newsletter!
https://Writing.Com/main/newsletters/action/nli_form



Don't forget to support our sponsor!




| | |
| --- | --- |
| ASIN: B07N36MHWD | Kindle |


| | |
| --- | --- |
| ASIN: B07N36MHWD | Kindle |



To stop receiving this newsletter, click here for your newsletter subscription list. Simply uncheck the box next to any newsletter(s) you wish to cancel and then click to "Submit Changes". You can edit your subscriptions at any time.