Printed from https://www.writing.com/main/newsletters/action/archives/id/4729-I-Am-Thankful-for-You.html
Romance/Love: November 22, 2011 Issue [#4729]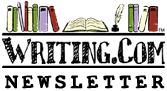 Romance/Love





This week: I Am Thankful for You!

Edited by: Crys-not really here
More Newsletters By This Editor



1. About this Newsletter
2. A Word from our Sponsor
3. Letter from the Editor
4. Editor's Picks
5. A Word from Writing.Com
6. Ask & Answer
7. Removal instructions







** Image ID #1654495 Unavailable **


Hello! My name is Crys-not really here
. Welcome to this week's Romance/Love Newsletter!



| | |
| --- | --- |
| ASIN: B07YXBT9JT | |





I Am Thankful for You!



When was the last time that you told the ones you loved that you were thankful for them? It may seem kind of cheesy, but that's exactly what Thanksgiving is about. After the turkey and pumpkin pie is devoured, at the end of the day what really matters is the friends and family that you shared it with.

I don't have a large biological family; It's just me, my mom and my dad. We don't really interact with distant relatives. However, I'm lucky enough to have my "family away from home," with whom I am always welcome to have Thanksgiving dinner. I also have my Writing.com family, which includes all of you who read my newsletters, and some members I've met in person once or see all the time!

Finally, I am thankful for the friends I've made through AmeriCorps, school, and the various jobs I've had. No matter where I've lived, I've always had at least one person who I could call when I just needed to talk.

This Thanksgiving, be thankful for all of those people who make your life special. Each one of them adds a little bit of love to your life every day.






Have an opinion on what you've read here today? Then send the Editor feedback! Find an item that you think would be perfect for showcasing here? Submit it for consideration in the newsletter!
https://Writing.Com/main/newsletters/action/nli_form



Don't forget to support our sponsor!




| | |
| --- | --- |
| ASIN: 1542722411 | Book |



Thanks for the feedback on my last newsletter "Couples Who Game Together Stay Together"!

Fantastic newsletter!
It hit a bit of a personal note. Me and my guy are both avid gamers (World of Warcraft specifically), and we're always hearing about couples who have trouble because one of them games and one of them doesn't. Games like D&D or MMOs can be consuming, and it's not a good thing when one member in a relationship feels like they always have to compete with a game. It can lead to a lot of resentment. (I hear the term "wife aggro" a lot LOL). On the other hand, we have a few online friends who's significant others have gotten into gaming because their partners played, and they wanted to be part of something fun together. Thank you for this newsletter! I'd love to read your Nano novel when it's complete.
-davbenet


| | |
| --- | --- |
| ASIN: B00KN0JEYA | |



To stop receiving this newsletter, click here for your newsletter subscription list. Simply uncheck the box next to any newsletter(s) you wish to cancel and then click to "Submit Changes". You can edit your subscriptions at any time.



Printed from https://www.writing.com/main/newsletters/action/archives/id/4729-I-Am-Thankful-for-You.html