Printed from https://www.writing.com/main/newsletters/action/archives/id/5001-What-is-in-a-name.html
Short Stories: April 18, 2012 Issue [#5001]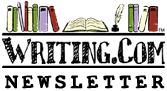 Short Stories





This week: What is in a name?

Edited by: Lonewolf
More Newsletters By This Editor



1. About this Newsletter
2. A Word from our Sponsor
3. Letter from the Editor
4. Editor's Picks
5. A Word from Writing.Com
6. Ask & Answer
7. Removal instructions





These weeks' newsletter will focus on names. We all have that sudden idea for a character with the plot and layout of what we want to write, but there are times when the character's name is just out of reach. Sometimes we have an idea for a name, but may not come off right given the character's ethnicity, background, family lineage, or style. Hopefully, in my newsletter, I may shine some light to help those who suffer from this as I do.

I am Lonewolf
and it has been an honor to be your Short Stories editor this week.



| | |
| --- | --- |
| ASIN: 0910355479 | |



What is in a name? It isn't simply just a title or a way to address people. It is more than that. A name is an essential part of a person's life. A name can also shape how a person is perceived. Character names, just like every other element in a screenplay or novel, should serve multiple functions. A good character name is distinctive and memorable. A great character name, in addition to being distinctive and memorable, also works to help tell your story.

Choose your characters name wisely. Think about their personalities and try to find a name that captures the character. You can pick names from any culture and use them. For example; say that you want to write about a Russian character; you would want the name to be as authentic as you could make it. A name like Jason wouldn't work in that situation. One might want to consider a name like Stanislav or Yakov.

From what I have gathered Russians typically have three names. The first name, or given name is chosen by their parents. The second name is called "patronymic" and is the name composed by the first name of the father plus the suffix -ovich for males and -ovna for females (there can be some phonetic variations to these suffixes according to the ending of the father's name). For example, if your father's name is Ivan, and you are a girl your patronymic will be "Ivanovna." The third name is the family name, and gender does change the last name. For example: "Kolev" becomes "Koleva" if you are a woman

There are a multitude of websites that can provide names for you to choose from that also include the meaning behind the name. I always find it to be interesting to know what a name means before using it for my character. If you do decide to write about a character that has a name that isn't English, be careful to make sure that it is easy to pronounce. Hard to pronounce names can mess with the flow of your writing and make the reader stumble every time they see it.

Fellow writer beware of making a name change halfway through your novel or short story. The problem with this is that when you go back to change the names, you may forget to change one back. It will be confusing for your audience if you're reading about a guy named Ethan, but then suddenly Ethan is called Peter. I have seen this done many times, and must admit I too, have made this mistake. It is okay to change the name of a character though. At first, you might have decided that your character seemed like a Susan, but now she seems more like a Gabriella, and that's okay. Just make sure you go back and edit all the places where her name was different.

If you can, get someone else to read over your work. Usually, they catch things in your writing that even your proof reading misses. Furthermore, depending on what program you are using to write your piece you may be able use "Find and Replace" to catch all the names you may have missed.



Letting go (13+)
One-hundred and twenty seconds
#

1818521

by Tiggy
Invalid Item
This item number is not valid.
#

1659145

by Not Available.
A Brush With Ombeline (E)
For "What a Character" - introducing Ombeline via an inanimate object.
#

1849913

by Cappucine
The Mirror (18+)
Nobody knows her quite like I do...
#

1846188

by blue jellybaby
Invalid Item
This item number is not valid.
#

1833475

by Not Available.



Have an opinion on what you've read here today? Then send the Editor feedback! Find an item that you think would be perfect for showcasing here? Submit it for consideration in the newsletter!
https://Writing.Com/main/newsletters/action/nli_form



Don't forget to support our sponsor!




| | |
| --- | --- |
| ASIN: B01MQP5740 | Kindle |


| | |
| --- | --- |
| ASIN: 0996254145 | |



To stop receiving this newsletter, click here for your newsletter subscription list. Simply uncheck the box next to any newsletter(s) you wish to cancel and then click to "Submit Changes". You can edit your subscriptions at any time.



Printed from https://www.writing.com/main/newsletters/action/archives/id/5001-What-is-in-a-name.html