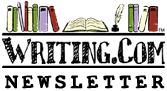 Horror/Scary





This week: Kidnapped! Edward Lorn Speaks!

Edited by: I like big books #2233315
More Newsletters By This Editor



1. About this Newsletter
2. A Word from our Sponsor
3. Letter from the Editor
4. Editor's Picks
5. A Word from Writing.Com
6. Ask & Answer
7. Removal instructions




Welcome to the Horror Newsletter. It is our goal that Writing.com members of all ages can find useful information and entertaining articles within. If you have specific questions, try visiting "Writing.Com 101"
or emailing the editor.



Meet The Horror Full-Time Newsletter Editors I like big books #2233315
,
Kate - Writing & Reading
and
darkin
This newsletter contains excerpts of the full interview. To see the entire interview or view it without links, please visit
: "
Invalid Entry
"

| | |
| --- | --- |
| ASIN: 0910355479 | |




"Alone. Yes, that's the key word, the most awful word in the English tongue. Murder doesn't hold a candle to it and hell is only a poor synonym." - Stephen King



As a new F/T Horror Newsletter editor, I wanted to develop a series of editorials that would be interesting as well as engaging. I've decided that each month, I will kidnap an author who has chosen to write in the Horror/Scary genre. In order to be released, he or she will have to answer a handful of questions for you, the voracious readers of their fine fiction. The questions will be chosen randomly from a database of questions I've developed that hopefully you will find interesting and thought-provoking. - I like big books #2233315
Kidnapped! Edward Lorn Speaks 04.25.12


This month, my victim is elorn who is widely known as a talented, published author. Although Mr. Lorn has said there is no need to feature any of his work, I encourage you to check out his port and perhaps look over his "Invalid Item"
Also, take a moment to check out the items we've featured below.
I hope you enjoy getting to know him as much as I did.


Author Douglas Winter stated, "Horror is not a genre, like the mystery or science fiction or the western. It is not a kind of fiction, meant to be confined to the ghetto of a special shelf in libraries or bookstores. Horror is an emotion." Do you agree with this and share your thoughts on this quote means to you.
Horror is subjective, as are emotions. What scares me, may not bother you in the slightest. Moreover, what makes you cry, might possibly make me laugh. So, yes, I agree. I would add that I do not believe there are any other genres but Horror. The greatest authors of all time juggled constantly with terrifying material. Look at Of Mice and Men: ($9.99 from Amazon.Com) and One Flew Over the Cuckoo's Nest: ($4.95 from Amazon.Com) Both of those literary masterpieces are scary, but no one classifies them as horror.
Tell us something about you that would surprise us?
Is horror more likely to appeal to male readers, e.g. men like violence while women do not? Why? What are your thoughts on horror as an anti-feminist genre since women are often victims?
Okay, here you've struck a nerve. I assume you're talking about "slasher" movies. If you are, I would pose a question to you: Who normally overcomes the stalking, masked behemoth at the end? I think horror empowers women. Sure, there are exceptions, but in most of those movies, just as many men are targeted as women. You're not a victim if you can defeat the evil that's hunting you. You're a survivor.

I think horror appeals more to women, than men. I have far more female readers, than I do male.
What are you reading right now? Are there any authors (living or dead) that you would name as influences?
What did you want to be when you grew up?
A writer. And a pirate. Who hasn't wanted to be a pirate? I mean, come on!
How have social networks such as Twitter and Facebook changed your life as a writer?
I'm distracted a lot more, I can tell you that much. I am fascinated at the faux sense of closeness people receive from these sites-how they are destroyed when you don't Like their page or follow their posts. Also, it's getting harder and harder to write horror in this technologically advancing world. Rather difficult to convey a sense of isolation and atmosphere, when everyone's running around with cell phones and tablets and are able to connect 24/7. Keeps you on your toes, though, so I don't mind so much. I'm all for a good challenge.
What do you do when you are not writing?
I spend time with my family, and read. I really live a pretty banal life.
What relationship, if any, do you see between violence in real life as reported in the mass media and interest in horror fiction? Between horror film and horror books?



Mass media is terrifying. They're professional fear-mongers. The nightly news is more upsetting than any story ever told in fiction. These are our friends and neighbors they're talking about. I could write until the end of the world, and never instill the same fear in my reader as News At 10. I'm really kind of jealous.

As far as the relationship between literary horror and horror cinema, it's a matter of apples and oranges. I have an affinity for both, because they both taste great. It all depends on what I'm looking for. Do I want visuals thrust upon me, or do I want my imagination to work out the details.



I hope you enjoyed this look into the mind of a fellow author. I encourage you to read the entire interview here : "Invalid Entry"
.

If you'd like to keep up with this talented author, bookmark his blog E: Ruminating On
.

If you would like to share your thoughts, please send me a note using the box at the bottom of this newsletter.

Write and Review on! ~ Brooke

[Related Links]
Here are some Horror/Suspense writing challenges to test your skills.
"Invalid Item"
[] by A Guest Visitor

"Invalid Item"
[] by A Guest Visitor

"Sins of the Poet - CLOSED"
[13+] by WyrdNaos Trippin' on Yello
"Invalid Item"
[] by A Guest Visitor

"Scary Animal Tails"
[GC] by Danger Mouse
Published work from the talented
elorn
is right here
Check it out!

~
~
Kidnapped Author's Freedom Five
~
~

All my kidnapped authors must choose five horror stories to be released.




Excerpt:


It appeared on the wall in front of Steve's eyes as he watched. One moment there was nothing and the next there was a large brown wooden door with a brass knob and a lion faced knocker of the same colour.

The door he would usually use to leave the room was gone, disappeared. It wasn't because he couldn't see it in the dark, the room was well lit. It wasn't there anymore, the place where it was now had a coating of peach wallpaper matching the rest of the empty room.





~
~



Excerpt:


George Tareyton, just like the cigarette--Us Tareyton smokers would rather fight than switch--was losing the fight. George would have liked to blame the popular slogan and highly visible advertising campaign (featuring celebrities like Martha Stewart with black eyes) for his current condition. But the fact of the matter was he started smoking Tareyton cigarettes in 1954 years before any of the ads came out because he felt cool smoking his namesake.





~
~



Excerpt:


The weightless form of Captain Thorpe floated gracefully in the void of space as the last ray of sunlight disappeared behind the Moon's horizon. A corona of light, hypnotic in its beauty, shone with a concluding display of spectacular radiance before finally disappearing and leaving him in the shadows of the dark side of the moon.
He shivered at the sudden drop in temperature but like always, watching the sun set in outer space was worth it. Especially as the sun would not emerge again for another fourteen days.





~
~



Excerpt:


He saw the vase fall and shatter from the corner of his eye, the speedy flutter of yellow wings aiding the destructive little fairy's escape by window. The toy maker just shrugged and let it go, and even though he didn't see many faeries with yellow wings anymore, he hashed a plan. His collection was devoid of yellow-winged fairies, and he even double-checked his drawer. Seven pairs of blue wings, three pink, two red...and no yellow. He would fix that tonight after work.





~
~



Excerpt:


"Mama!"

The word screams through my brain, plays on my tongue, but leaves my throat in a strangled gurgle. Troubled eyes scan the darkened corners of my room, probing the comforting shadows that have become home. A cold trickle of sweat creeps down the back of my neck and the memory of my nightmare remains as vivid and haunting as that cursed day.




Published work from the talented
elorn
is right here
Check it out!
| | |
| --- | --- |
| ASIN: 0000000000 | |
~
~
~
~
Editor's Choice - The Trio of Terror
~
~
~
Classic Chiller
~



Excerpt:


He slipped the pill into his shirt pocket and replaced the lid on the prescription bottle, sliding it back into the medicine cabinet. The family was waiting downstairs. He looked in the mirror, straightening his black tie and brushing the lint off the padded shoulders of his black suit. He leaned forward, his face almost touching the glass, to stare at the blond freckles sprinkled on the bridge of his nose. He noticed two new ones.

Downstairs, he mingled with the crowd, mostly family, that had gathered for support. It had been three days since the sudden death of his wife, Kathy, and he still couldn't believe she was gone. Several times he walked into the kitchen and forgot why. He reminded himself to be careful because it was critical for him to be alert at a time like this. He still had to take care of the children.





~
Modern Macabre
~



Excerpt:


Valerie stood at the door of her apartment, looking down, confused. Jutting from under the door, was a blue piece of paper she hadn't noticed until now.

The morning had started off bland enough: Up by six, showered by six-thirty, coffee and muffin by seven, then out the door by seven-forty-five. Perhaps it was her daily routine that had blinded her to the odd package under the door. It could have just been slid under there only moments ago. Then again, it could have been there since she locked herself in after work last night. No telling, really.

She bent down and pulled it from its resting place. It became much more than just a blue corner. In fact, that blue corner was just the beginning of a rather beautiful interpretation of a sky that was looking down on a rather odd looking scene.





~
The Future of Fright
~



Excerpt:


My current victim has no idea that I have been watching, that I am watching her this very second. She has no idea that I lurk outside her window, creeping through the darkness, to gain the best view of her and to observe her every move. Stealth movements, silent, invisible like a soft breeze.

I gain access to her place through a back window. So easy, cut the screen with a razor-knife and pry the window open with a screwdriver. I let the screwdriver fall to the ground outside, something for my adversaries to ponder over, inspect, worship. I look at the razor-knife... sharp, precisely crafted, reflecting a spot of light from its fine edge like a twinkling star in the night sky. It has more work to accomplish tonight.





~
~
~
Bonus Selection
~

One of our Most Viewed Horror Stories - with 449 ratings!




Excerpt:


I'm John Young. My NetLink number is 635769-22-1. I'm all alone now, and I only have a short time left to write my story. The clock on my desk softly ticks away the seconds, reminding me of my destiny.

It's just past midnight, so technically I'm beginning the celebration of my forty-second birthday. However, we haven't honored such occasions recently. I'm not looking for sympathy. I just want to document what's happened to me and my family.





~
~



Have an opinion on what you've read here today? Then send the Editor feedback! Find an item that you think would be perfect for showcasing here? Submit it for consideration in the newsletter!
https://Writing.Com/main/newsletters/action/nli_form



Don't forget to support our sponsor!




| | |
| --- | --- |
| ASIN: B07YXBT9JT | |


I received the following fiendish feedback to my last newsletter [#4974] "Quarterly Horror Interview Wrap-Up"
and I'm being blackmailed into sharing it with you.

From billwilcox
Thanks for the plug, Brooke. I'll put this one down as another great newsletter.

You're very welcome Bill. Always enjoy your work.
Appreciate you dropping me a note.

From LJPC - the tortoise

Hi Brooke! I really like the fact you highlight Horror groups with links at the end of your NL. I'm now going to steal that great idea and do it in mine!

~ Laura

Thanks Laura.
I hope you get some great feedback from it also.
Thanks for writing in.

| | |
| --- | --- |
| ASIN: B07N36MHWD | Kindle |



To stop receiving this newsletter, click here for your newsletter subscription list. Simply uncheck the box next to any newsletter(s) you wish to cancel and then click to "Submit Changes". You can edit your subscriptions at any time.