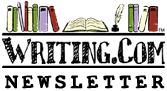 Mystery





This week: Behind Locked Doors

Edited by: Arakun the Twisted Raccoon
More Newsletters By This Editor



1. About this Newsletter
2. A Word from our Sponsor
3. Letter from the Editor
4. Editor's Picks
5. A Word from Writing.Com
6. Ask & Answer
7. Removal instructions





Quote of the week:
"We are in a detective story, and don't try to pretend otherwise."
~Dr. Gideon Fell in John Dickson Carr's "The Three Coffins"



| | |
| --- | --- |
| ASIN: B083RZ2C5F | Kindle |



All mystery stories are puzzles, and no puzzle is more challenging for the reader or the writer than a locked room mystery. In a locked room mystery, a crime is committed inside some type of sealed chamber, with no obvious indication of how the criminal got in or out.

Mystery writer John Dickson Carr was well known for locked room mysteries. In one of his most famous stories, "The Three Coffins" his detective, Dr. Gideon Fell, gives an impromptu lecture describing common scenarios of locked room mysteries.

Here are a few examples:


A murder victim is found inside a room that is locked from the inside.


Something is stolen from a supposedly impregnable vault or safe.


A character escapes from an escape proof prison.

For more examples, check out Dr. Fell's famous "locked room lecture" in chapter 17 of "The Three Coffins".

In all of these examples, the locks are still intact, and there is no apparent evidence of a security breach. In locked room mysteries, the question is not only whodunit, but how.

Many classic locked room mysteries have fantastic solutions that the average reader is not likely to figure out. This is probably because detectives in many of these stories are the "eccentric genius" type, such as Sherlock Holmes and Dr. Fell. Detectives of this type have almost superhuman powers of deduction and observation, and pulling complex solutions out of the air is part of their charm.

Although the solution to a locked room puzzle may be unusual or even farfetched, it should be possible without the use of magic or other supernatural powers. However, rules are made to be broken, and one of my favorite locked room mysteries does have a supernatural solution. I won't tell you the name of the story, because I don't want to spoil the surprise if you haven't read it!


Classic locked room mysteries often involve more thought and dialogue than action. Often the murder or other crime occurs "off camera" and the rest of the story consists of characters discussing or thinking about the crime until it is solved. Readers who like intellectual puzzles love these stories, but they may move too slowly for action fans. If you do include a locked room in your story, you might also want to work in some action scenes, to appeal to more readers.

Something to try:Think of a scenario involving a crime committed in a locked room. Make sure the solution is logical.



Invalid Item
This item number is not valid.
#

1069196

by Not Available.
Invalid Item
This item number is not valid.
#

1849773

by Not Available.
Invalid Item
This item number is not valid.
#

1145488

by Not Available.
His Mother's Eyes (13+)
A dying old man confesses everything to his son
#

867807

by W.D.Wilcox
Invalid Item
This item number is not valid.
#

1791528

by Not Available.



Have an opinion on what you've read here today? Then send the Editor feedback! Find an item that you think would be perfect for showcasing here? Submit it for consideration in the newsletter!
https://Writing.Com/main/newsletters/action/nli_form



Don't forget to support our sponsor!




| | |
| --- | --- |
| ASIN: B01CJ2TNQI | |



Question for this week: What is your favorite type of mystery?

Comments for last month's newsletter:

Olivia's mourning RIP Jürgen
Interesting newsletter! I admit that when I incorporate a villain of flesh and blood it's the realistic villain as those people are capable of committing unspeakable things. However, the
"villain" I find the most thrilling is a "thing" rather than a person opposing the MC. In my current novel in progress "Bound" (no pure mystery, but with a detective as MC) it's mental illness. As I'm affected myself, I find it most intriguing to explore what this kind of thing can do to someone. In the sequel "Inflamed" (a pure mystery
) there's a victim and his ransacked and burned down apartment, but the solution's a twist that may even be worth placing in the Twisted Tales contest.
I'd love to read it!
Arakun the Twisted Raccoon


platinumbwordsI really enjoyed this newsletter entry! It was nice to read about different kind of villains, but I notice you left out one big one: the femme fatale! a sexy siren who brings about the downfall of men, perhaps even the detective of men. (who often ends up being blamed for actions that involve those of a male villain, as well)

That's right! She's one of the most devious villains, and often the hardest to catch!
Arakun the Twisted Raccoon
Joto-Kai
Recently learned how important knowing your villain's heart is in "Keep Your Chin Up." Helen had to be viciously, relentlessly macho yet still worthy of Harvey. Couldn't finish till I figured that out...





| | |
| --- | --- |
| ASIN: B07N36MHWD | Kindle |



To stop receiving this newsletter, click here for your newsletter subscription list. Simply uncheck the box next to any newsletter(s) you wish to cancel and then click to "Submit Changes". You can edit your subscriptions at any time.