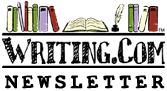 Horror/Scary





This week: Scary Folktales

Edited by: LJPC - the tortoise
More Newsletters By This Editor



1. About this Newsletter
2. A Word from our Sponsor
3. Letter from the Editor
4. Editor's Picks
5. A Word from Writing.Com
6. Ask & Answer
7. Removal instructions



Sage Quotes:

"I'm usually working on my own mythology, my own realm of created characters. Stories in mythology inspire me, though I may not be conscious of it."
~ Anne Rice, author

"Legends die hard. They survive, as truth rarely does."
~ Helen Hays, actress

"Most of the monsters... are based on some sort of mythology. Every culture and even some geographical areas have monsters and mythology that is their own."
~ Laurell K. Hamilton, author

"When the legends die, the dreams end -- there is no more greatness."
~ Tecumseh, Native American



| | |
| --- | --- |
| ASIN: B083RZ37SZ | |

Folklore for Inspiration



Many people enjoy reading about vampires, werewolves, and serial killers. They've been popular monsters since the early 1800s, and there are a ton of stories, books, and movies about them.

But for those who want something more unusual, international folktales are a great place to find creepy stories and legends. You can use the monster legends themselves or take inspiration from them to create your own terrifying creatures and stories.

Here are some creepy folktale monsters as examples:





** Image ID #1924409 Unavailable **
El Petizo



El Petizo is a shadow creature that is known for attacking people in a northern area of Argentina. It finds people who are walking alone, drags them off the path, and beats them. Several people have been medically treated for wounds received during their El Petizo encounters.

Found at: http://monstropedia.org/index.php?title=Main_Page
(See monster list on left under "Navigation")
For Spanish speakers, try:
http://ahduvido.com.br/50-lendas-urbanas





** Image ID #1924410 Unavailable **
Jorōgumo



Jorōgumo, a creature of Japanese folklore. According to stories, a Jorōgumo is a spider that can change its appearance into that of a seductive woman. In the stories, a beautiful woman enticed a man into a quiet shack and began to play a Biwa. While the man was distracted by the sound of the instrument, she bound him in silk spider threads and ate him.

Found at: http://www.smashinglists.com/10-famous-folklore-skin-walkers-shape-shifting-mons...





** Image ID #1924408 Unavailable **
Domovoi



A Domovoi is a house spirit in Slavic folklore. It's typically masculine, small, and sometimes covered in hair all over. According to some traditions, the domovoi takes on the appearance of current or former owners of the house and has a grey beard, sometimes with a tail or little horns.

Traditionally, every house is said to have its domovoi. It does not do evil unless angered by a family's poor keep of the household, profane language or neglect. The domovoi is seen as the home's guardian, and he sometimes helps with household chores and field work.

Found at: http://masterrussian.net/f25/russian-folklore-fairy-tale-creatures-14745/





** Image ID #1924407 Unavailable **
Anka



An Anka is an enormous, Arabic bird with a wingspan said to be the breadth of five elephants. It's supposed to live 1700 years, and it's aggressive if it hasn't eaten for a while. This magical bird is said to have a highly prized plumage that can be used as a medicine. They are usually passive and can be domesticated. Once tamed, the Anka could take you anywhere you want

From WDC's own Tania Walsh who has lots of info on her site:
http://tfwalsh.wordpress.com/mythology/





** Image ID #1924411 Unavailable **
Letiche



In the bayous of Louisiana, steer clear of the Letiche, an abandoned, illegitimate child who was reared by alligators and now has lizardlike skin, webbed hands and feet and a very large chip on his scaly shoulder.

Found at: http://www.azcentral.com/arizonarepublic/ae/articles/0401childsplay0401side.html...




You can also find links by Googling specific countries, like "Korean Folklore."

Also look in Wikipedia: http://en.wikipedia.org/wiki/List_of_legendary_creatures_by_type




Do you have a favorite folktale or legendary monster? Write the newsletter and tell us all about it!
Until next time: Let the horror bleed onto the pages with every word!

Here are some stories with unusual monsters for your reading pleasure!
Invalid Item
This item number is not valid.
#

1710004

by Not Available.
Invalid Item
This item number is not valid.
#

531743

by Not Available.
The Lights in the Basement (13+)
Prompt A new family moved in down the street and they don't quite "fit in"
#

1151413

by millhouse
Invalid Item
This item number is not valid.
#

1154839

by Not Available.
Fear Without a Face (13+)
How do you stand against a monster without a face? A small girl is forced to do just that.
#

1115820

by Alexander Willing
Invalid Item
This item number is not valid.
#

1343816

by Not Available.
Invalid Item
This item number is not valid.
#

220456

by Not Available.
Genesis (18+)
Something's coming for Harry, something with teeth.
#

713218

by OldDog
Invalid Item
This item number is not valid.
#

1652392

by Not Available.



Have an opinion on what you've read here today? Then send the Editor feedback! Find an item that you think would be perfect for showcasing here? Submit it for consideration in the newsletter!
https://Writing.Com/main/newsletters/action/nli_form



Don't forget to support our sponsor!




| | |
| --- | --- |
| ASIN: 0996254145 | |

Your full time Horror Newsletter Editors:

I like big books #2233315
Kate - Writing & Reading
billwilcox
and
LJPC - the tortoise
.


To my delight, some writers took the time to comment on my last newsletter: "Motion and Emotion"
Thank you!
Comments listed in the order they were received.
Vampyr14
writes: This is great! I've never really thought about using memory to convey emotion, but that's genius!

Thanks! I hope it helps.
Nixie
writes: Wow! I am so happy I received this newsletter. Showing emotion can get trite. Our heart pounds in fear, excitement, nervousness. . .

Your suggestions about using back story of memories will cause ripple effects throughout all my work. Absolutely brilliant suggestion. Thank you!

You're right, things can get trite if you don't change them up. Glad I helped!
BIG BAD WOLF 34 on June 3
submits: "StarCraft Scene Spoof"
writes: Nothing like trying to scare a guy as payback for a prank.

Thanks for commenting, BBW.
Taniuska
writes: As always, very informative newsletter post. It is so easy to sometimes forget about emotions when writing, especially action scenes. But I find the more I practice adding emotion, the better it gets... I think it gets better:)

Yes, Tania, it's better -- you're way better than you think!
JubeCube ~ SSDGM
submits: "Invalid Item"
Thanks for writing to the newsletter!
Scarlett
writes: Thank you for featuring my story 'Perfect' in your Newsletter. Very much appreciated. Your letter contained great advice about characters and emotion which we all need reminding of in order to improve our writing. Thanks again.

You're so welcome. I enjoyed your story very much. Thanks for commenting.


k-9cooper writes: I believe all aspects of life should have a bit of comedy. From our most tragic to our most horrific moments. The one thing that can be found is humor.

k-9cooper

I completely agree. I love some comedy with my horror.

| | |
| --- | --- |
| ASIN: B085272J6B | Kindle |



To stop receiving this newsletter, click here for your newsletter subscription list. Simply uncheck the box next to any newsletter(s) you wish to cancel and then click to "Submit Changes". You can edit your subscriptions at any time.