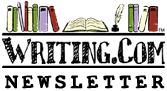 Noticing Newbies





This week: The Secret to Being a Successful Author

Edited by: I like big books #2233315
More Newsletters By This Editor



1. About this Newsletter
2. A Word from our Sponsor
3. Letter from the Editor
4. Editor's Picks
5. A Word from Writing.Com
6. Ask & Answer
7. Removal instructions




The Noticing Newbies Newsletter's goal is to make the newer members feel welcome and encourage them with useful information and/or links to make navigating Writing.com easier. Writing.com members of all ages and even veteran members can find useful information here. If you have specific questions, try visiting "Writing.Com 101"
and/or "Noticing Newbies"
.

Meet The Noticing Newbies Full-Time Newsletter Editors

| | |
| --- | --- |
| ASIN: B07YJZZGW4 | Kindle |





Want a good body? Work at it. Want to be a success? Work at it. Want to be truly exceptional? Be a touch insane . . . You need a little bit of insanity to do great things. - Henry Rollins



Now that I have your attention, are you ready to hear the secret?



Determination



You could call it hard work, perseverance, persistence, stamina, tenacity ... you get the picture. To be a success at anything, you have to work hard and stick with it. The secret? Simply don't give up. Part of writing is understanding that you don't start out perfect. Your work, well, needs work. Everyone started off that way. Some of the most popular and/or most famous writers in the world started where you are today. The difference between them and unsuccessful writers? They kept going. After getting multiple refusals, they kept at it, kept improving and kept submitting their work. You deserve the same opportunity to succeed, don't you?



"If you're just starting out as a writer, you could do worse than strip your television's electric plug wire, wrap a spike around it, and then stick it back into the wall. See what blows, and how far."



One of the most repeated pieces of advice I've seen is never stop writing. It may be said in several ways but they all mean the same thing. Develop your own 'writing time' and don't let yourself down. Turn off that television and spend that time writing instead. Need some inspiration? Take a walk or simply go somewhere and people watch. Go to the library and sit at one of their tables and open your eyes. Ask yourself questions about those around you. Why are they there? What is their story? Your mind is treasure trove of inspiration just waiting to be opened.



"If you want to be a writer, you must do two things above all others: read a lot and write a lot."



The second most repeated advice is useful as well. Read. If you don't have time to read, you don't have the tools to write. Read, read, and read some more. Read every single day. Read what interests you and also read what doesn't. Why? Because published writers are doing something right - reading their work will help you understand what it is. It could be their language, their characters, their plot or even their scene setting. If they're really good, it may even be a combination of all of the above. As a writer, you have the ability to see beyond the words and to analyze the story itself.



"We need to experience the mediocre and the outright rotten; such experience helps us to recognize those things when they begin to creep into our own work, and to steer clear of them."



I'm not saying everything that is published is amazing but you can learn something from every piece. What can you learn from the bad stuff? Simple - what works and what doesn't. Is the book you're reading not satisfying you? Why isn't the story working for you? Learn from that author and find the reasons it doesn't work while paying attention for the parts that did. Both are going to help you grow as a writer and improve. Whether you realize it or not, the more you write and review, the more you learn. Critiques and reviews (giving and receiving) will help you learn these same lessons and expand your mind. Reading is crucial to growing as a writer.

Does anyone know who is the successful author of all three quotes above? Let me know in the comments.


Write and Review on! ~ Brooke

Do you have an author platform? This article might interest you.


Do you have a Twitter profile? Twitter hashtags every writer should know
Interested in expanding your knowledge? Why not start with this?
| | |
| --- | --- |
| ASIN: 0312436475 | Book |
[Related Links]

This month's links are to some groups around the community.


If any of you signed up for Coursera classes after reading my last newsletter [#5626] "
Never Stop Learning
"
I hope you'll consider signing up for the first group linked below.
"Invalid Item"
by A Guest Visitor
Group for Wdc members who are taking classes through Coursera.org


"P.E.N.C.I.L."
by Gaby ~ Simply Wicked 💋

Looking for novel reviews? You've come to the right place!


"Invalid Item"
by A Guest Visitor
The Silver Rose a support group to help everyone deal with Dyslexia. Welcome all writers.


"Invalid Item"
by A Guest Visitor
Supporting writers with projects. Looking for active writing members.




This month, I'm featuring work from members that sent in feedback to the last newsletter and I thought it would be nice if you'd give them a peek.


Excerpt:


"Hello Guys, I am Scrungy. I am new to this place. Er – is this a colony? " said dejectedly, the recently thrown crushed paper ball to fellow dumped paper balls.
"Hi,I am StainedBoy, 137 hours old and the senior most crumpling here. Yes it's a temporary colony. We garbage people stay here near the dustbin before we attain – Ouch, who is this?" said he, a badly crimpled paper ball, to the recently thrown crumpled paper which hit his head.




~
~



Excerpt:


"Your world is ending as we speak," said the tall stranger barring Elliott's passage from her room.

There wasn't much she could do about it, really. At five-foot-four and a hundred and fifteen pounds, she had no chance of escape through main force. She'd tried- the stranger hadn't even had to move to knock her back. She had felt a familiar sort of thrumming energy in that moment, a sure expression of power, constructing a solid, unseen barrier without visible effort.

As a mage herself, she knew any contest of skill would inevitably turn explosive. Magic interacting with magic was a recipe for disaster, sure to wake the entire house and cause a scene. She would have to talk the stranger down.




~
~



Excerpt:


"It was the best of times it was the worst of times" one of the world's most renown phrases and I believe it applies to this particular prompt. We live in the time of technology in abundance, and to me, this has turned out to be the greatest downfall of modern society.

Technology without a doubt benefits our daily lives or even saves our lives, yet I believe our modern generation has come to be too dependent on technology and cannot function without it. You find a potential partner on the internet; you order food, furniture and much more through your iPhone. Contact with other humans crumbles at a rapid speed.




~
~



Excerpt:


This wasn't the first time that Jason Hunt had wandered into a damn 'dead zone', leaving his ability to communicate with his office in the dark; this time, in the middle of one of their most important client conference calls. He wondered just what the words, 'state of the art' meant nowadays.

The communication device that he was using was touted to be reliable from outer space if need be, yet it had failed him not more than 13 miles from his main office. It could talk, walk, show video, record, do dynamic statistical analysis at the speed of light with a .999999 degree of accuracy, access anything on the 'net within seconds, and provide nearly anything his heart desired, but apparently, only when it wanted to.




~
~



Excerpt:


If ever a child has been planned, Daphne was. Her parents, Curtis and Janie, made all the right choices. They completed their six year stent with the Coast Guard and their education at the University of North Carolina in Charlotte, compliments of the GI Bill. When it was time to send out resumes, one priority was above all others. Where should they raise their family?

The rural mountains of Western North Carolina seemed like the perfect place. The population was miniscule when compared to the thriving metropolis of Charlotte. No more traffic jams, bustling city streets, blaring sirens or crowded shopping malls.




~
~



Excerpt:


The Oxford dictionary claims that justice is "the quality of being fair and reasonable and the administration of the law or authority in maintaining this". Justice is widely disputed and often classed as not fair. So if it's not fair, how can it be justice?

The Oxford dictionary claims that in injustice is "lack of fairness or justice". The exact opposite of justice. They are so closely related and so often people claim that something isn't justice, that they state it's unjust. What's the point of trying to find justice, when every single time someone is going to complain about it?




~
~



Excerpt:


Tesla was born at the stroke of midnight on July 10th in 1856 with the most violent thunderstorm and electricity on the sky of Smiljan Lika, small alluring mountainous village in Croatia. (It is known as Yugoslavia today, which consist of Slovenia, Macedonia, Croatia, Serbia, Montenegro, Kosovo, and Bosnia)His childhood was spent playing in the woods, and fields in the company of animals. In 1862 when Tesla was six years old; the family moved to Karlovac. (It is a city in central Croatia) where Tesla went to school. He showed notable aptitudes for mathematics and science. At the age seventeen Tesla enrolled in Polytechnic Institute in Graz, Austria. Later the young man transferred to the University of Prague. He wanted to specialize in physic and mathematics, but later he became fascinated with electricity.




~
~



Excerpt:


It's 2013 Ladies, and it is time we take our seats. What do I mean? Our toilet seats.

Do you believe men must put the toilet seat down for you, Ladies? Are there arguments in your house about the seat position? Do you walk into the bathroom, see the seat left up and walk right back out to find the male culprit? Have you sat down on the cold rim in the middle of the night and your first thought was to blame your husband? If so, you might not want to read any further. If you must read on, I ask you to keep an open mind.




~
~



Excerpt:


When Bryce and Carrie met in 1972, she was 14 and he was 13. Neither one realized they had met each others soul mate. They met through Carrie's best friend Dora, who was Bryce's sister. They hated each other initially and it took several years for cupid's arrow to find them. They started dating three years after meeting and it was an intense relationship. Having both come from highly dysfunctional families, they had no idea how to form a healthy relationship. They fought and argued furiously, to the point where it would get physical. Bryce had grown up in an alcoholic household and had seen his parents fight endlessly. Carrie's parents were divorced but she had seen them fight and argue many times before they split up. Since both had grown up feeling unloved, they clung to each other and the love they felt for one another.




~
~



Have an opinion on what you've read here today? Then send the Editor feedback! Find an item that you think would be perfect for showcasing here? Submit it for consideration in the newsletter!
https://Writing.Com/main/newsletters/action/nli_form



Don't forget to support our sponsor!




| | |
| --- | --- |
| ASIN: B004PICKDS | |


I received some wonderful feedback to my last newsletter [#5626] "Never Stop Learning"
and I'm proud to share it with you.

From Kanish ~ we got this!

Thank you so much. I would definitely go through the courses and if I can fit them in with my 9 hour work job I will....I think I will.

Thanks :)



I hope you can find the time. Thanks for writing in!


From Naraxes
with submitted item: "Pandemonium"

Thank you kindly for featuring me in your newsletter! Brings a warm glow (and abject terror) to my heart, knowing a few more people will take a look at my work. Still, critical review is the way we grow, eh?

If I may be so bold, I am submitting another piece of mine for your consideration- if I still count as a newbie by your next issue, that is.

Again, thank you so much! My work's inclusion means a great deal to me. Day has been successfully made!



You're very welcome. I have included your item you requested. I hope it brings you some reviews.


From Natechia dos Reis

I enjoyed this newsletter. I am taking English composition 1 and 2 through www.saylor.org they give college courses similar to coursera. I do my psychology through coursera. You can also try www.alison.com they also provide many courses including an English writing diploma.



Thank you so much for the info. I checked out those sites as well and they look great!



From Hatsuda

Brooke,

If you ever decide to "to start a group and create a place for all participants to discuss the assignments and correspond if they would like to", count me in.

Truth be told, at my age I've been very fortunate to discover WDC, and the encouragement that I've received by the 'pros' and the amateurs alike on this site has kept me cranking away much longer than I'd ever expected.

Regards,

H -
Here you go, spread the word! "Invalid Item"
Wdc has been an amazing addition to my life and helped me grow as an author as well.



From Shaye💻

Signed up for Basic Writing. Can't wait to see what it's like!
I did also. I hope you'll consider signing up for the group I created linked above and share your thoughts with other Wdc members who are participating.


From 2serious

I signed up for Coursera. It is difficult to believe that college faculty have the time and resources to devote to a project of this type. This opportunity seems too valuable to pass up. Thanks for sharing.



I agree completely. I think everyone should participate! I hope you consider joining the Wdc group for coursera students I created and linked above. It's going to be quite enjoyable to hear what everyone thinks of the class.



From Zheila

Hi Jace;

I like to take the course under your supervision, and work with other suthors to improve my English writing for free because rith now I am in tight monetary situition. Anytime you want to start the class please drop me a line. Thank you so very much for your time.

Sincerely,

Zheila



Hi there. Jace is one of the other editors, my name is Brooke and I'm not running the class. It's being held through https://www.Coursera.org. I have created a group here so members that are participating in the offsite class can communicate though. "Invalid Item"


From Coco

Thanks so much for the information on Coursera. I signed up for 2 courses, Crafting an Effective Writer: Tools of the Trade (to help me become a better writer) and Introduction to International Criminal Law (I have a BS in Criminal Justice and it sounds interesting). I didn't know that there were free courses available online so this was a great surprise for me.



That's great! They have so many great courses. I wish I had more time.
If you're interested I've created a group for all the coursera students on Wdc. "Invalid Item"


From Remembering

What an informative Newsletter!
I have signed up for the Basic Writing Class that begins May 13th 2013.

I would hope that this newsletter would become an educational article so other people can find it. I have a link to it on my desk top.



Aww, thank you! I sure hope many people found in interesting and useful. I'm glad you joined up to take the class. If you'd like to visit with other Wdc members who are taking classes, I created a group for them. "Invalid Item"


From AbbyReed

Loved your newsletter. I've been signed up for a few business and history courses on Coursera - still waiting on them to start. Thanks for the reminder about the writing class. I signed up! IMHO, everyone can use a little brush up on grammar.

I'm considering that poetry offering. I have always been intimidated by poetry. The language is often so symbolic and often disjointed that I get lost in the words trying to make sense of what I am reading. I need more words to make sens of it all! But, I would like to like poetry. It seems something that is worthy. Great minds that I have admired throughout time have loved poetry. We shall see.

Thanks for all the links to the good stuff to read. I've got a lot to keep me busy.

Thanks - Abby



I agree! I think it would be a great class for all authors to take to brush up on their basic skills. Hope to see you visiting to the rest of the Wdc members at "Invalid Item"

| | |
| --- | --- |
| ASIN: B07YJZZGW4 | Kindle |



To stop receiving this newsletter, click here for your newsletter subscription list. Simply uncheck the box next to any newsletter(s) you wish to cancel and then click to "Submit Changes". You can edit your subscriptions at any time.