Printed from https://www.writing.com/main/newsletters/action/archives/id/5882-Young-Adult-ActionAdventure.html
Action/Adventure: September 11, 2013 Issue [#5882]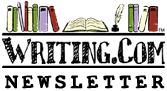 Action/Adventure





This week: Young Adult Action/Adventure

Edited by: Lonewolf
More Newsletters By This Editor



1. About this Newsletter
2. A Word from our Sponsor
3. Letter from the Editor
4. Editor's Picks
5. A Word from Writing.Com
6. Ask & Answer
7. Removal instructions



Young readers are a fast-growing audience and a good target for aspiring writers. Capture your reader's attention right from the start. A good way is to open in the middle of an action-packed scene or intriguing dialogue.

| | |
| --- | --- |
| ASIN: B004PICKDS | |

When writing for an audience of a younger generation it is best to keep it simple. Start with a conflict that they understand. Capture your reader's attention right from the start. A good way is to open in the middle of an action-packed scene or intriguing dialogue. Once you have your readers hooked, sustain their interest throughout your story with fast-paced action and lots of suspense. End with an exciting climax and a satisfying conclusion.

Write in the active voice, and use plenty of action verbs. Your story must zip along, so cut out all unnecessary description; it's quicker and better to leave details to the reader's imagination. There's a big difference between writing about a thirteen-year-old main character and a seventeen-year-old main character. It can be helpful to decide early on exactly how old your main character is and then figure out what that means for his/her life. How much freedom do the characters have (and want)? What kind of responsibilities do they have (and want)?

One of the things that makes the teenage years so memorable is the intensity of things. It could be a friendship gone wrong, a fight with a family member, or discovering something important about yourself or the world around them. It can be very easy to dismiss a young person's reaction to certain events, but they do matter. The teenage years are a time for developing a unique identity. It is also a time of peer pressure. Your characters probably won't behave the same way at home as they do at school, for example. Figuring out the different variations of their persona can tell you a lot about the kind of person they are.

The best way I have found to get in the mood to write a young adult fiction is to use music, or something from your past that invokes the feelings you felt as a teenager. In my opinion, music is the best motivator for such an act.

The Spitting Contest (ASR)
"I can spit further than anybody you know."
#

702736

by W.D.Wilcox
Chapter One in The Rise of the Shar (13+)
The first book in the Guardian of the Gates Trilogy.
#

1157185

by sgbiehler
Invalid Item
This item number is not valid.
#

509763

by Not Available.
Demon Rising (GC)
Can a 16 year old boy stop the most powerful demons ever from taking over the world?
#

1176263

by The Premier Author of Action
The Tree on the Dike - chapter 1 (E)
A high school student experiences a series of events that lead her into a mystery.
#

581429

by Ðungeon Щarden
The Swords of Unity (E)
Knights, Kings, Sisters, Wars, Peace, Treaties, magic swords, and more. work in progress.
#

1200853

by And Stuff



Have an opinion on what you've read here today? Then send the Editor feedback! Find an item that you think would be perfect for showcasing here? Submit it for consideration in the newsletter!
https://Writing.Com/main/newsletters/action/nli_form



Don't forget to support our sponsor!




| | |
| --- | --- |
| ASIN: 0996254145 | |


| | |
| --- | --- |
| ASIN: B07YXBT9JT | |



To stop receiving this newsletter, click here for your newsletter subscription list. Simply uncheck the box next to any newsletter(s) you wish to cancel and then click to "Submit Changes". You can edit your subscriptions at any time.



Printed from https://www.writing.com/main/newsletters/action/archives/id/5882-Young-Adult-ActionAdventure.html