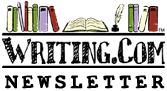 Horror/Scary





This week: Suffering Defeat

Edited by: LJPC - the tortoise
More Newsletters By This Editor



1. About this Newsletter
2. A Word from our Sponsor
3. Letter from the Editor
4. Editor's Picks
5. A Word from Writing.Com
6. Ask & Answer
7. Removal instructions



This newsletter is about feeling defeated by rejection.

Sage Quotes:

"By 17, I was submitting to publications and collecting my first rejection slips."
~ Laurell K. Hamilton

"I had immediate success in the sense that I sold something right off the bat. I thought it was going to be a piece of cake and it really wasn't. I have drawers full of - or I did have - drawers full of rejection slips."
~ Fred Saberhagen

"I took all of my rejection letters - there must have been thousands of them in a huge box - and I went out on the curb and burned them all, crying."
~ Janet Evanovich

"For over a year I continued to submit ms's, and have them rejected - the last few with rejection letters indicated the story was pretty good, but I was American."
~ Nora Roberts




| | |
| --- | --- |
| ASIN: 1945043032 | |

Suffering Defeat



At year's end, we often reflect over the year's successes -- and the disappointments. That story we entered in the contest that didn't win. The submission we sent out that was rejected. Even the review we got that seemed overly critical.

It's easy to become disheartened.
That story or novel came from your blood, sweat, and tears. Why didn't the judge, agent, or reviewer love it as much as you do?

Because writing is subjective, like any art. If you ask people who their favorite singer is, you'll get a lot of different answers. It's simply a matter of taste. If you've done your best to learn writing technique and received help on revising your work, but certain people still don't like your story, it's not you, it's them. Don't let their judgments get to you.




Surviving Rejection



You'll be shocked when you read this list from a blog post by agent Natalie M. Fischer
.

Putting Rejection into Perspective

If your manuscript gets rejected, consider the company you are in when you get rejected by an agent or publisher who lacks the foresight to see just how great your work may be. The following list is compiled from Michael Larsen's book, "Literary Agents."

The Good Earth by Pearl S. Buck was returned fourteen times, but it went on to win a Pulitzer Prize.

Norman Mailer's The Naked and the Dead was rejected twelve times.

Patrick Dennis said of his autobiographical novel Auntie Mame, "It circulated for five years through the halls of fifteen publishers and finally ended up with Vanguard Press, which, as you can see, is rather deep into the alphabet." This illustrates why using the alphabet may be a logical but ineffective way to find the best agent or editor.

Twenty publishers felt that Richard Bach's Jonathan Livingston Seagull was for the birds.

The first title of Catch-22 was Catch-18, but Simon and Schuster planned to publish it during the same season that Doubleday was bringing out Mila 18 by Leon Uris. When Doubleday complained, Joseph Heller changed the title. Why 22? Because Simon and Schuster was the 22nd publisher to read it. Catch-22 has become part of the language and has sold more than 10 million copies.

Mary Higgins Clark was rejected forty times before selling her first story. One editor wrote: "Your story is light, slight, and trite." More than 30 million copies of her books are now in print.

Before he wrote Roots, Alex Haley had received 200 rejections.

Robert Persig's classic, Zen and the Art of Motorcycle Maintenance, couldn't get started at 121 houses.

John Grisham's first novel, A Time to Kill, was declined by fifteen publishers and some thirty agents. His novels have more than 60 million copies in print.

Thirty-three publishers couldn't digest Chicken Soup for the Soul, compiled by Jack Canfield and Mark Victor Hansen, before it became a huge best-seller and spawned a series.

The Baltimore Sun hailed Naked in Deccan as "a classic" after it had been rejected over seven years by 375 publishers.

Dr. Seuss's first book was rejected twenty-four times. The sales of his children's books have soared to 100 million.

Louis L'Amour received 200 rejections before he sold his first novel. During the last forty years, Bantam has shipped nearly 200 million of his 112 books, making him their biggest selling author.

If you visit the House of Happy Walls, Jack London's beautiful estate in Sonoma County, north San Francisco, you will see some of the 600 rejection slips that London received before selling his first story. If you want to know how much easier it is to make it as a writer now than it was in London's time, read his wonderful autobiographical novel, Martin Eden. Your sufferings will pale compared to what poor Martin endured.

British writer John Creasy received 774 rejections before selling his first story. He went on to write
564 books, using fourteen names.

Eight years after his novel Steps won the National Book Award, Jerzy Kosinski permitted a writer to change his name and the title and send a manuscript of the novel to thirteen agents and fourteen publishers to test the plight of new writers. They all rejected it, including Random House, which had published it.



So don't give up! A rejection doesn't mean you're a bad writer. Keep going until you find the right spot for your writing.
Addendum to My Last NL "Publishing Horror"


After my last newsletter, Michael Thomas-Knight
and Pepper
brought to my attention that some publishers and magazine editors consider stories that appear online to be "published" and will not accept their submission.

Although you aren't allowed to put your writing up on a blog or a publicly accessible site, you are allowed to put your work into an online critique group -- and WDC can be considered a critique group if you keep your work from being publicly accessible.

How do you keep your work from being considered published?

Here are four ways to do that when you create or edit an item in your port:

In "Section 2. Content and Access Control Settings"



Do NOT leave the access like this:



Access Restrictions: Make PUBLIC, Allow EVERYONE

Membership Restrictions: No Restriction, Allow Everyone

Instead, change the setting to one of these four:


HIGHEST RESTRICTION
Access Restrictions: Keep PRIVATE, for my eyes only!
Membership Restrictions: Basic Membership or Higher
Passkey:

(Choose a number and ONLY give it to those you want to read your work)




HIGH RESTRICTION
Access Restrictions: Group Only – (Name of your group)
Membership Restrictions: Basic Membership or Higher


(Only members of the group can access the item)




GOOD RESTRICTION
Access Restrictions: Registered Authors and Higher only
Membership Restrictions: Basic Membership or Higher


(This allows only WDC members who are Authors and have something in their portfolio to see your work)




FAIR RESTRICTION
Access Restrictions: Registered Users and Higher only
Membership Restrictions: Basic Membership or Higher


(This allows only WDC members to see your work.)




To see if your work is on the net where the public (and editors and agents) can find it, simply put your item's title into a search engine (Google, Yahoo, etc.) to see if anything comes up. If nothing does, you're safe. If you get links that people can click on to, change your settings. (If you've recently changed the access restriction, it may not disappear from the search engines for several weeks because it's "cached." Keep checking.




Good News!



If you're searching for markets that want horror (or any genre) short stories, novellas, novels, etc., there's a new search engine called The Grinder. It's great and it's FREE!
http://thegrinder.diabolicalplots.com/thegrinder/Search.aspx



Until next time: Let the horror bleed onto the pages with every word!




Here are some review groups to help you polish your stories!
WdC SuperPower Reviewers Group (E)
Join the fun! We inspire reviewers through kindness and learning! Winner of six Quills!
#

1300305

by Maryann
Sisco's Good Deed Group (E)
A group dedicated to good deeds and helping the W.Com community!
#

1648068

by ~ Santa Sisco ~
SIMPLY POSITIVE GROUP (E)
A group whose mission is to spread positivity.
#

1384154

by Simply Positive
Showering Acts of Joy Group (E)
On indefinite hiatus
#

1499415

by Pat ~ Rejoice always!
The Review Spot (18+)
Free, honest, and in-depth reviews.
#

1848419

by Max Griffin 🏳️‍🌈
The WDC Angel Army (ASR)
Dedicated to promoting positivity, encouragement, and support to the WDC community.
#

1188309

by iKïyå§ama
The Newbies Academy Group (E)
Need assistance and guidance. Stop on by!
#

1949660

by ~ Santa Sisco ~
The Rockin' Reviewers (13+)
~Quality reviews given in a positive and encouraging manner
#

1630911

by Osirantinous
WDC Addicts Anonymous (E)
Are you addicted to WDC? Join us!
#

1924186

by Elle (she/her)
Circle of Sisters (13+)
Not all sisters are flesh and blood ~ some are those of the spirit. We are those.
#

1188431

by Tornado Day
P.E.N.C.I.L. (E)
Looking for novel reviews? You've come to the right place!
#

1916109

by Gaby ~ Simply Wicked 💋
The Coffee Shop for the Fantasy Society (E)
The best fantasy writing group ever! We won Best Fantasy 2012! CLOSED TO NEW APPLICANTS
#

1693553

by Matt Bird MSci (Hons) AMRSC



Have an opinion on what you've read here today? Then send the Editor feedback! Find an item that you think would be perfect for showcasing here? Submit it for consideration in the newsletter!
https://Writing.Com/main/newsletters/action/nli_form



Don't forget to support our sponsor!




| | |
| --- | --- |
| ASIN: B083RZJVJ8 | |

Your full time Horror Newsletter Editors:
billwilcox and
LJPC - the tortoise
have published --
** Image ID #1969199 Unavailable ** ** Image ID #1969200 Unavailable ** ** Image ID #1969201 Unavailable **
Soul Cutter--Lexa Cain (Amazon)
The Watercourse--W.D.Wilcox (Amazon)
Possession--W.D.Wilcox (Amazon)



To my delight, some writers took the time to comment on my last newsletter: "Publishing Horror"
Thank you!
Comments listed in the order they were received.
dejavu_BIG computerprobs
writes: Another awesome and helpful newsletter, LJ!! And hugs and congratulations on your publication of Soul Cutter, it sounds amazing and I will definitely be awaiting the buy links, please say it's also a print book....
Thanks! I'm so glad the NL helped you. Soul Cutter won't be a print book until early next summer. Consider a Kindle or tablet -- I read everything on a tablet now. That little guy can hold hundreds of books!
Danger Mouse
submits "The Amulet"
and writes: Hahaha, Good newsletter, thank you Laura. Now I know what's wrong with my story. It has "Dennis Hopper Syndrome."
http://www.sfwa.org/2009/06/turkey-city-lexicon-a-primer-for-sf-workshops/

Well, at least if you know what "syndrome" your story has, you can find a "cure"!
Thanks so much for commenting, Vickie!
Angus
writes: Hi Tortoise!
That was an excellent and informative Newsletter. You covered it all, but that part about reading the guidelines was the most important one, in my opinion. Kee ponw ritin gon, and I look forward to your next Newsletter!

Thanks so much, Angus! You're right about the guidelines, and I'm glad the NL was helpful to you!
Vampyr14
writes: Great tips on getting published! Reading the guidelines is SO important!

Exactly! Why put all that work into writing if the author gets a rejection for not reading the guidelines?
Thanks for commenting!


billwilcox writes: Whoop, there it is! Precise, and perfectly explained. If you ain't published yet, you haven't read this newsletter. Thanks Laura!

You should know all about publishing, Bill -- I've seen your name on Amazon for The Watercourse (on Amazon)
and Possession (on Amazon)
Go you!
Jeff
writes: What a great list of resources and suggestions for those who are looking at having their word published. Awesome NL this week!
Thanks very much! I'm so pleased you were happy with the NL.
Quick-Quill
writes: I hate to say this but this NL scares me. I'm keeping it for the day I take that leap and begin the submit-to-publish process. Just reading about it my inner fears come to the surface and I wonder will I be able to do all this in the right order and to the correct specs? What will it take to get this novel I've birthed accepted and published? (Big Sigh) I have to keep the main thing the main thing and go from there.

I'll tell you how to do it: one step and a time. My friends and I all started barely knowing what an adverb was. But we got in good groups and learned. Then we submitted stories to WDC contests before growing bolder and subbing those stories to ezines. Finally we tackled novel-writing and the dreaded query process. I know a bunch of authors who are agented and/or published now. If we can do it -- you can do it.
Michael Thomas-Knight
submits "Invalid Item"
and writes: Great tips Lexa! You might want to mention that if the story has been posted on WDC it may be considered a reprint when you send it to an editor. I usually include a sentence such as, "The story had been previously posted on writing.com for the purpose of critique and grammar corrections. It is no longer on the site." As a courtesy I take the story down and tell people if they want to read it to go to the website, magazine or publication to read it. Editors want an exclusive at least for a short time, perhaps six months to a year.



Thanks so much for the appreciation and the great tip. You're listed with my thanks above!




Pepper
writes: This has to be one of the most useful newsletters I've seen to date. Thank you for putting together such a comprehensive package on getting published. I would only add that readers should be aware that some publishers consider anything posted on-line, including WDC, to have been previously published. Just something to keep in mind.



Thanks so much for the appreciation and the great tip. You're listed with my thanks above!




BIG BAD WOLF 34 on June 3
submits "Monster Cowboys The Book"
writes: The Horror/Western has been done- I would know. Of course, there's plenty of room.

Very good point!

| | |
| --- | --- |
| ASIN: B000FC0SIM | |



To stop receiving this newsletter, click here for your newsletter subscription list. Simply uncheck the box next to any newsletter(s) you wish to cancel and then click to "Submit Changes". You can edit your subscriptions at any time.