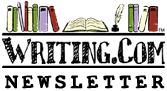 Horror/Scary





This week: Bad to the Bone

Edited by: LJPC - the tortoise
More Newsletters By This Editor



1. About this Newsletter
2. A Word from our Sponsor
3. Letter from the Editor
4. Editor's Picks
5. A Word from Writing.Com
6. Ask & Answer
7. Removal instructions



This newsletter is about how to write an anti-hero.

Sage Quotes:

"What fans love about Wolverine is his more uncompromising approach to life. He is who he is. He's not always a nice guy. He has got edge. He's an anti-hero. And, there's also a vulnerability in there. There is conflict and battles going on in there."
~ Hugh Jackman, actor

"I'm drawn to the classic antihero, the guy who's probably made a bunch of mistakes and really has the capacity to go either way. That's the most interesting type of character for me to watch, to see what decisions they'll make. There's a lot of gray area there for a writer to explore."
~ Kurt Sutter, screenwriter, "Sons of Anarchy"

"I like underdogs, I like anti-heroes - people that have a hard time overcoming things in life."
~ Matthias Schoenaerts, actor




| | |
| --- | --- |
| ASIN: B083RZ37SZ | |

Bad to the Bone



What is an Anti-hero?



An anti-hero is a leading character who lacks many of the traditional heroic qualities, like altruism, idealism, courage, nobility, and moral goodness, but does have some good characteristics. An anti-hero is not the same as a villain. The basic difference is that an anti-hero is conflicted about doing wrong as opposed to a villain, who may have some good qualities, but doesn't feel genuine guilt or remorse about doing wrong. However, lines between traits of anti-heroes and villains can blur, which makes anti-heroes so intriguing.


Because anti-heroes have deep flaws, they are often more interesting and surprising than regular heroes, and that appeals to many readers (and viewers).

Examples of famous anti-heroes:

The Noir Anti-Hero:
Sam Spade
Phillip Marlowe
"Dirty Harry" Callahan

The Cynical but Endearing Anti-Hero
Hellboy
Shrek
John McClane (Die Hard)

The Cursed or Involuntary Anti-Hero
Angel/Spike
Dexter
The Werewolf (the original, and many modern ones)

The Immoral but Hilarious Anti-Hero
Beetlejuice
Jack Sparrow
Barney Stinson (How I Met Your Mother)

The Vigilante
Charles Bronson (many of his characters)
The Crow
Darkman




Why Write an Anti-Hero Instead of a Hero?



The antihero is a reflection of today's complicated world. When good and evil are not so easy to separate, when motivations and results aren't perfectly black and white, then morality and ethics become judgment calls. Even a "good" protagonist can have faults and damning secrets. The golden hero of yesterday, innocent and perfectly altruistic, doesn't exist in today's world. Modern readers/audiences demand complex characters who face the same challenges, temptations, and questions they do -- ones who can do bad things and still be considered good, just like them.

Also, conflict and tension are crucial to any story. When making the main character an anti-hero, his inner struggle between good and evil, and the reader's uncertainty as to how far over the line he may go, provide much of that conflict and tension even without a plot line.




How to Make the Anti-Hero Palatable



I've read many stories on WDC written from the POV of the villain. Writing a main character who's

bad to the bone

appeals to many new writers, but these characters generally aren't interesting enough to be memorable to readers. They lack the redeeming qualities and inner conflicts that make the reader simultaneously love and hate them.

Writing a true anti-hero is difficult, but the complexities will push you as a writer. With more thought, you can create multi-dimensional characters your readers won't forget.

Here are three suggestions to make the reader root for your anti-hero while still making him the devilish character
you want him to be.


Evil is Relative

If the anti-hero exists in a world full of evil, darkness and corruption, a dangerous world where chaos reigns or seethes just below the surface, then the anti-hero will seem heroic -- or at least sympathetic -- by comparison. The same with the villain. If the villain's shown as far more twisted and despicable than the anti-hero, the reader will root for the anti-hero. So either create a gritty, noir world where only the hard and ruthless can survive, or a villain who is so frightening that even a "bad guy," anti-hero is preferable.


Good Points Outweigh the Bad

Make the anti-hero's good traits either outnumber his bad traits or create good ones that are more important than his bad ones. For instance, he may do the wrong things, but he does them for the right reasons. Make sure to show the reader the anti-hero's good points, even play them up, so that his bad points pale in comparison.


Just Too Funny and Adorable to Hate

This is a little more difficult to pull off, since this needs the ability to go past snarky sarcasm and write witty comedy. You need to write a character who delights in doing wrong!
Silly quirks and a great sense of humor will make this anti-hero shine.



Until next time: Let the horror bleed onto the pages with every word!



Here are some stories featuring anti-heroes for your reading pleasure!
Valentine's Day (13+)
69-word story
#

1215416

by ⭐Princette♥PengthuluWrites
Invalid Item
This item number is not valid.
#

1652392

by Not Available.
Invalid Item
This item number is not valid.
#

1959041

by Not Available.
Hands of Chaos (18+)
A tale of vengeance, where fate and choices twist and mold our hero.
#

1515593

by Tnyo
Vos Returns (13+)
This here is a short story I cooked up while day dreaming about a potential anti-hero.
#

1350466

by BlackMirror
I'll Make Your Skin Crawl (13+)
The true anti hero, a reluctant monster.
#

1184679

by W.Voyles
Death's Dance (13+)
Short Story very weird tale
#

1451380

by Scott M Sylvester
The World's Choice (13+)
Finally elected, and she has a plan to change the world. Forever.
#

1825153

by Corbin
The Girl in the Red Leather Coat (13+)
Of all the trains in the city she just has to catch mine . . .
#

1723681

by Molly Cule
Invalid Item
This item number is not valid.
#

1699760

by Not Available.
Horror Writers -- Try out this great contest!
Invalid Item
This item number is not valid.
#

1801607

by Not Available.



Have an opinion on what you've read here today? Then send the Editor feedback! Find an item that you think would be perfect for showcasing here? Submit it for consideration in the newsletter!
https://Writing.Com/main/newsletters/action/nli_form



Don't forget to support our sponsor!




| | |
| --- | --- |
| ASIN: B07P4NVL51 | |

Your full time Horror Newsletter Editors:
Arakun the Twisted Raccoon
billwilcox
and
LJPC - the tortoise
have published --
** Image ID #1969199 Unavailable ** ** Image ID #1969200 Unavailable ** ** Image ID #1969201 Unavailable **
Soul Cutter--Lexa Cain (Amazon)
The Watercourse--W.D.Wilcox (Amazon)
Possession--W.D.Wilcox (Amazon)



To my delight, some writers took the time to comment on my last newsletter: "Your Worst Enemy"
Thank you!
Comments listed in the order they were received.
Barry52
writes: Very sound advice. My excuse for NOT writing is...I'm too lazy. I always think I have something else to do but really, I don't. Just too lazy to write. That's scraping the bottom of the barrel on my part. Thanks for the push.

Barry

Yes, laziness and inertia are also the enemies of writing. I hope you decide to write a little something, even if it's flash fiction. I used to love participating in these two activities
"Daily Flash Fiction Challenge"
and

"The Writer's Cramp"
-- the prompts are fun and so is reading other people's entries, and winning is AWESOME!!
Wishing you good luck, Barry!


dreamofsleep writes: Thanks for bringing up a good point. I have a story I've been working on finishing while revising at the same time and my progress has been halting at best. When I write something I generally have a pretty good idea of what I want the story to be about of course, but I never know exactly what's going to happen, so there is definitely some inevitable make it up as you go along and this can be daunting because you never know when this can lead you completely off track. As you said, it's best to get it down, and I think I will definitely take your advice and finish my short(ish) story, "Invalid Item"


If I mess up a little bit, at least I'll have made some progress.

Thanks again!

Don't worry about messing up -- we all mess up. That's why there are such things as reviewers, critique partners, and revisions (personally, I do tons of revisions). No artist creates perfection on the first try, so just go for it!


billwilcox writes: I'm not afraid to write, I'm just really-really SCARED!
Thanks for yet another fantastic Horror Newsletter,
-Bill

I bet the only thing you're scared of are the frightening monsters you create in your awesome stories!
Mandy
writes: Hi Laura! You've done a wonderful job on this interesting and funny article.
I most definitely agree with your thoughts on not making excuses for a lack of productivity. You make the point that overthinking can be a dampener on creativity, and that's true. If we worry about getting it right the first time and how others will perceive what we're creating, we would keep obsessing over every little detail. That's what a first coat of paint is for! You offer heaps of motivational and concrete advice to keep the doubt monsters at bay. I love the quote by Stephen King, and I have to agree. The possibilities are endless when the muse is firing.
"Once you overcome your fears and WRITE, then the fixing and polishing can commence, and you'll make that story SHINE! "

This is perfect! Great job on the newsletter.
Thank you so much for reading and commenting on the NL, Miss Bee! I'm so glad you feel it was a worthwhile read.
Red Barron
writes: THANK YOU. I WILL! WRITE ON!!

Thank you so much for your enthusiastic response! With that attitude, I know you'll be writing up a storm!
Michael Thomas-Knight
"Corn on the Macabre"
and writes: Great advice Lexa. I always look at a story idea as a big lump of clay. You have to keep squeezing, punching, pushing and pulling it until it looks like something. Then you have to add and subtract from it, and work on details until it looks like something great.

Michael, that's a perfect analogy of how we have to go about writing and rewriting until it works (or until our critique partners can't take it any more and tell us to send it off already!
)
BIG BAD WOLF 34 on June 3
submits "Anthros Versus Zombies"
and writes: Just keep ready for a fight.

You're right about that, BBW -- it sometimes feels like we have to "fight" to get our ideas out and then make them the best they can be.
Vampyr14
writes: Great newsletter! I'm a great believer in the shitty first draft. And usually a shitty second draft too, just slightly less so. Writing something great means doing a lot of re-writing.

Yes, after a LOT of re-writing, it'll be great! (I'm doing my best to convince myself of that every day.
)

| | |
| --- | --- |
| ASIN: 1945043032 | |



To stop receiving this newsletter, click here for your newsletter subscription list. Simply uncheck the box next to any newsletter(s) you wish to cancel and then click to "Submit Changes". You can edit your subscriptions at any time.