Printed from https://www.writing.com/main/newsletters/action/archives/id/6247-Reviewing-for-Writings-Sake.html
Noticing Newbies: April 09, 2014 Issue [#6247]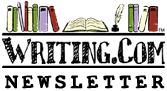 Noticing Newbies





This week: Reviewing for Writings Sake

Edited by: ember_rain
More Newsletters By This Editor



1. About this Newsletter
2. A Word from our Sponsor
3. Letter from the Editor
4. Editor's Picks
5. A Word from Writing.Com
6. Ask & Answer
7. Removal instructions





As a Newbie, I struggled to find my place here. It took a couple of tries. Then I found a group and a friend that put a smile on my face and made me want to be here. I want to be that friend for all of you. So grab a cup of tea and have a nice read as I help you find your ways through the ends and outs of Writing.com.

The best thing about this place... Even Dyslexics like me, that like to tilt at windmills, have a chance for greatness. If you find a grammar or spelling mistake accept my apology now. Spell and Grammar check just doesn't get them all.



| | |
| --- | --- |
| ASIN: B004PICKDS | |



The most common fear I have heard voiced when talking to site newbies: I don't know how to review. What if I upset someone? Maybe I should just stick to what I know, writing.

That's all fine and good. I, however, want to point something out that may have never crossed your mind.



Readers make great writers.



You knew that though. You've been reading for as long as you can remember, at least most of you have. If your like me then reading might not have come all that easy. In my case reading was easy because no one told me it was suppose to be hard. It was spelling that drove me nuts. It still does. I have improved by leaps and bounds since I came to WDC. Once upon a time I couldn't have told you the difference between the words Collage and College. I just didn't see it... No, I couldn't see it. Then someone put them side by side for me and voila, I had it. If I didn't read, I would never be able to write. My curiosity and imagination just wouldn't be what they are today. So what does reading have to do with reviewing? Well to review you have to read...

Readers make great writers. Reviewers must be readers. Therefore, reviewers are greater writers. So how do you get started and become a great reviewer as well as a great reader and an awesome writer?

Step One: Do a review for a Moderator or a Preferred Author you have met. Letting them know you are a newbie can often get you guidance on how to do a better review without leaving you feeling as though you can't review.

Step Two: Look at the top of the left side of your screen. Do you see the space between the two boxes? One of the top line it says create * Review. Click on the review link. It will give you a random item to review., plus it will give you a few extra gift points for reviewing it. They will come in handy if you ever want to participate in some of our activities or purchase a membership.

Step Three: At the top of the Second Box is a link title Things to do and Read. If you scroll over it you will find an option called Read a Newbie
Click on it and read a newbie. All of you have a lot to teach each other. You don't have to depend solely on those of us who have been here a long time. This is your chance to make friendships, improve your reviewing, and help someone else improve their writing.

But this is suppose to improve your writing... Right... I forgot to mention how that works didn't I?



How it works



Once upon a time, nearly every review I received told me that I repeated words to closely together and too often. As I struggled to find those incidents in my own work, I started noticing them in the work of other people. By pointing them out to others I was reinforcing the Idea in myself. Currently, I am working on passive voice. If you receive a review from me don't be surprised if I hone in on the only passive sentence in your whole piece.

Passive voice is harder to remove from your writing than repeat words. It may take years to train myself away from it, but I know that it will take longer if I don't do reviews that help form the rules and ideas of active voice in my mind. When it does, then I can thank Reviewing for making me a better writer.









Newbies to Review



Invalid Item
This item number is not valid.
#

1984732

by Not Available.
Silent Morning (E)
He wakes up in a morning, to his usual rituals, but something is different...
#

1984715

by Heather Hawkins
Prankster (E)
daily flash fiction challenge 300 words
#

1984681

by D. NuMont
the one thing that got away (E)
the April fools prank that went wrong
#

1984575

by Lula-Lady of the angels
Invalid Item
This item number is not valid.
#

1984623

by Not Available.



Groups and Activities you might find helpful or just fun


The Newbies Academy Group (E)
Need assistance and guidance. Stop on by!
#

1949660

by ~ Sisco ~
Invalid Item
This item number is not valid.
#

1761045

by Not Available.
Good Deeds Get CASH! (E)
Write reviews to win cash prizes!
#

1908150

by Writing.Com Support
Invalid Item
This item number is not valid.
#

1982321

by Not Available.
Newbies ONLY Short Story & Poem Contest (13+)
OPEN for September submissions.
#

1873271

by ~ Sisco ~



Have an opinion on what you've read here today? Then send the Editor feedback! Find an item that you think would be perfect for showcasing here? Submit it for consideration in the newsletter!
https://Writing.Com/main/newsletters/action/nli_form



Don't forget to support our sponsor!




| | |
| --- | --- |
| ASIN: B01DSJSURY | |

Challenge: Pick at least three of the items above and do reviews for them, or hit that random review link. Who knows you might even get a review in return.

| | |
| --- | --- |
| ASIN: 0996254145 | |



To stop receiving this newsletter, click here for your newsletter subscription list. Simply uncheck the box next to any newsletter(s) you wish to cancel and then click to "Submit Changes". You can edit your subscriptions at any time.



Printed from https://www.writing.com/main/newsletters/action/archives/id/6247-Reviewing-for-Writings-Sake.html