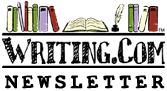 Romance/Love





This week: Writing Realistic Romance

Edited by: Lonewolf
More Newsletters By This Editor



1. About this Newsletter
2. A Word from our Sponsor
3. Letter from the Editor
4. Editor's Picks
5. A Word from Writing.Com
6. Ask & Answer
7. Removal instructions



Not only can a romance liven up your characters, but they add realistic drama and emotion to your story. If done correctly, they contribute real depth. It's the idea that when two people meet, they change each other. For better? For worse? Either one can be great to your characterization.

| | |
| --- | --- |
| ASIN: B01CJ2TNQI | |

A great romance is about the people, not just the plot. It's about the growing relationship between two individuals. Besides, loving someone is about loving their personality, and everything else that comes with it. You want your characters to struggle and fail and ultimately succeed just as much as real people do—even in their love lives. People in relationships grow independently and collectively. Show that. Your character can grow and change without their partner's influence just as much as your character can grow and change due to their partner's influence. Agreements, disagreements, similarities, differences. They're never going to be static, for they too will change. After that, write their relationship like any relationship between two people.

There should be a voluntary consensus between the people involved, even if it's not explicitly said. This doesn't mean that a relationship should be perfect. There's bantering about who's cooking dinner tonight to full-blown ignoring each other for a week, moments of disagreements and tension can be used to improve any relationship if used correctly. Meaning they're not solely for the sake of creating drama. And as much as many shows and books would like to say otherwise, most people in a close relationship share more similarities than differences. Generally, we are attracted to people who are, to a certain degree, similar to us; we prefer times when our partner would support us than oppose us. Thus, while differences are great and stimulating, don't forget that your characters should have similarities that can help strengthen or even start their relationship.

So what interests or hobbies do they share? In what ways do their views clash? What makes the characters attracted 'mentally, physically, etc' to each other? What repulses the characters about each other? How do they settle their differences or make peace after an argument? Are they stubborn or are they flexible when it comes to their beliefs? Build on their characteristics separately and then connect them together.

Once you have the core aspects of their relationship, add the romantic traits into it. What is romantic to you? Most importantly, what is romantic according to the characters involved? Romance in general is interpreted differently in many cultures and upbringings, so it's important to focus on what your characters deem as romantic. As long as romance delivers, as long as romance is believable, for the characters involved, then your readers will pick up on that.

Settle that and add them sparingly throughout the characters' romantic relationship. Maybe one is a daydreamer with high standards when it comes to romance. You can write that as them going through a lot of relationships, all of which are ended by them. How about if one is not the touchy type unless they're comfortable with their company? You can have them slowly closing the distance between them and their potential partner(s) after each successful date. The romantic scenes really depend on the characters and how they cope with such feelings. Don't bother with what your readers would think as romantic focus on the characters and the story.



Invalid Item
This item number is not valid.
#

1096500

by Not Available.
Invalid Item
This item number is not valid.
#

1931175

by Not Available.
SECRET BEHIND THE WALLS.... (13+)
A secret that should be out, a secret that will change their lives forever...
#

774140

by teena.
Tassy's Butterfly (E)
A couple fall deeply in love. She mysteriously vanishes yet her essence lives on.
#

1344257

by Redtowrite
What Happened to Danny? (E)
A romance on a movie set comes to a mysterious end.
#

1783648

by Redtowrite
Invalid Item
This item number is not valid.
#

805996

by Not Available.
Invalid Item
This item number is not valid.
#

1212128

by Not Available.



Have an opinion on what you've read here today? Then send the Editor feedback! Find an item that you think would be perfect for showcasing here? Submit it for consideration in the newsletter!
https://Writing.Com/main/newsletters/action/nli_form



Don't forget to support our sponsor!




| | |
| --- | --- |
| ASIN: B083RZ37SZ | |


| | |
| --- | --- |
| ASIN: B07P4NVL51 | Toy |



To stop receiving this newsletter, click here for your newsletter subscription list. Simply uncheck the box next to any newsletter(s) you wish to cancel and then click to "Submit Changes". You can edit your subscriptions at any time.