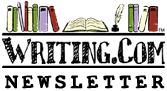 Romance/Love





This week: Communication Breakdowns and Conflict

Edited by: Crys-not really here
More Newsletters By This Editor



1. About this Newsletter
2. A Word from our Sponsor
3. Letter from the Editor
4. Editor's Picks
5. A Word from Writing.Com
6. Ask & Answer
7. Removal instructions





Hello! My name is Crys-not really here
. I'm the editor of the Romance/Love Newsletter this week. This week, we're talking about communication breakdowns and conflict.



| | |
| --- | --- |
| ASIN: B07YXBT9JT | |





** Image ID #1654495 Unavailable **




Communication Breakdowns and Conflict



Communication breakdowns happen in all kinds of relationships, whether they are romantic or familiar. Sometimes, they're humerus misunderstandings. Other times, they surround more serious instances. No matter what, they can make a great source of conflict in your writing.

What is conflict?

Conflict is a struggle between two apposing forces. Those forces can be external (such as a disagreement between two people) or internal (such as a character trying to make a moral decision.)

Why do we need conflict in our stories?

Without conflict, our stories would make for very dull reading. Imagine reading a story where everything goes right for a young couple. They meet, fall in love, get married, and have children, all without a single disagreement or obstacle thrown in their way. It's the stuff of fairy tales... but it's also unrealistic and boring. How long could you read a novel after it became predictable?

Communication Breakdowns... Yup, They Happen!

In my opinion, one of the most realistic ways of adding conflict to a relationship is with some sort of communication breakdown. Let's face it, they happen in all relationships at some point. Even the smallest arguments like where to go for dinner add some tension to an otherwise mundane life.

Misunderstandings in communication can also be very serious, or very humerus, depending on what kind of story you're writing or conflict you're looking for. For example, if your story involves a couple whose relationship is slowly falling apart, heading for a break-up or divorce, you may want to start with a series of small arguments before building up to the incident that "breaks the camel's back" and ultimately leads to dissolving the relationship.

Even in a comedy, conflict is the key to keeping the humor flowing. Imagine what would happen if your young couple disagreed about whether or not to have a baby. Say the woman wants a child right away and the man doesn't, so he gets her a puppy instead. The woman is angry until she realizes how funny it is and falls in love with the puppy. Conflict doesn't have to necessarily end in disaster!

Think about all of the misunderstandings that have happened in your own relationships, both big and small. Any one of them can be used to add conflict to your writing and make your stories more interesting!






Have an opinion on what you've read here today? Then send the Editor feedback! Find an item that you think would be perfect for showcasing here? Submit it for consideration in the newsletter!
https://Writing.Com/main/newsletters/action/nli_form



Don't forget to support our sponsor!




| | |
| --- | --- |
| ASIN: B07RKLNKH7 | Kindle |



Thank you to everyone who commented on my recent newsletters! I loved that so many people had an opinion on the short description area.

It's important to differentiate between jealousy and envy. Jealousy is about something you own: you guard this object or person which is important to you and manifest insecurities about someone or some event taking it/them away from you. Jealousy in romance is a battle to keep a lover's attention and fend off perceived threats to the relationship.
Envy is about something someone else owns: an object, a person, a personality trait, a physical trait. You get envious about something you wish you had, and maybe you even want to take that thing away from another person because "if I can't have it no-one can!". Envy in romance is desiring a relationship, or desiring a relationship with a specific person. Maybe the heroine's hated rival is with the man she wants, or it's her best friend and she struggles between wanting her friend to be happy and knowing that the friend stands in the way of her own happiness. -Tileira


The short description area is actually one of my favorites because it's a really small space. It's kind of like Twitter. You have a very limited amount of space to captivate passers-by, and you have to make it count. It's also helpful if anyone searches for things by keyword (which is what I did back in my newsletter editing days). Perhaps another thing writers can consider when composing the short description is including a keyword that's pertinent to the piece. -Elisa the Vaccinated Stik


That is an excellent point! I tend to forget about searching by keywords.

Hi there! Just popping in to thank you for featuring my poetry in your newsletter.
It's always nice to see something I wrote highlighted in another member's activity or publication, so thank you! Also, your advice on "getting noticed" is most helpful for anyone creating new static items or refreshing the old.
-Mandy


Excellent advice, Crys! I think having a good intro line to attract a reader is incredibly important. I always try to include a few words about the concept/story, as well as denoting if it's an entry for a particular activity so that a reader gets a clear view of what the piece is about and what (if anything) it was written for. I find that helps both attract readers and avoids a lot of the review comments where someone makes a suggestion that isn't consistent with the contest guidelines (like, for example, suggestions to add more detail when you're clearly at the maximum word count allowed).
-Jeff

| | |
| --- | --- |
| ASIN: B004PICKDS | |



To stop receiving this newsletter, click here for your newsletter subscription list. Simply uncheck the box next to any newsletter(s) you wish to cancel and then click to "Submit Changes". You can edit your subscriptions at any time.