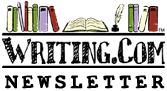 Mystery





This week: Knitting up a plot

Edited by: ember_rain
More Newsletters By This Editor



1. About this Newsletter
2. A Word from our Sponsor
3. Letter from the Editor
4. Editor's Picks
5. A Word from Writing.Com
6. Ask & Answer
7. Removal instructions





The first story I ever read by myself was a mystery. My first short story I ever wrote was a mystery and of course, the first novel I ever tried to write--I really need to finish it--was a mystery. Life itself is just one good mystery waiting to reveal itself just around the corner of time. Life would be boring without it and that is why I occasionally do this newsletter--to remind myself that everyone needs a little mystery.



| | |
| --- | --- |
| ASIN: B07N36MHWD | Kindle |



A couple of weeks ago my son spent some time with my mother, who is a huge Agatha Christie buff. While he was there he discovered a podcast that he really enjoyed. I think its a comedy one. There were two problems with that. One, we are still on dial up due to the phone company choosing to take their own sweet time about getting us high speed internet. We would switch to cable but don't ya know, the cable company isn't down our little country lane either. Two, he doesn't have his own cellphone. So, I allowed him to download the app on my phone.

Since it was there I started using it. There are many on writing I am going to try out. Where I automatically went to first was knitting. I knew Knit Picks had a podcast and I was curious. Listening to the earliest of their pod casts I heard a lot about knitting in public--which I do--and how socks are the best project for it. I have only ever made one attempt at making a sock. It was knitted from the top down and when I put on the first one to make sure I got it right, I completely stretched out the top. My ribbing didn't hold its elasticity and there was no point in knitting it's twin.

I was listening to a podcast about socks and ribbing on that very problem when it dawned on me, my current novel, the one I have been working on for the last three years, was just a sock with bad ribbing. The elasticity of the plot wasn't elastic enough. It couldn't bounce back to find its shape well enough for me to smoothly pick up a different plot thread. My story was a badly knitted sock.

I have some wool and cotton blend yarn that I have tried to do something with several times and always end up ripping it out. It just doesn't work up the way I want it to in the patterns I have tried it with, kind of like some plot lines you try to throw in to add a twist sometimes turn out dull or worse--over done. So thanks to these podcasts I decided to give socks another chance, only this time, I am knitting them toes up. In plotting terms that means I'm starting myself at the end and working my way back to the beginning.

The biggest problem I have with my mystery stories is that I don't know who did it anymore than anyone reading it does. I like to discover my stories as I go along. The problem is by the middle I kind of need to know the who, what, when, where and why, possibly even the who with. But since I knit my stories from the top down I never really know if they are going to work till I tie off the toes and try it on. Usually, I am left with one poorly knitted plot that needs a lot of help, like my socks.

So How do I fix my poor plot? I start toes up and discover the plot backwards. Then, when it's time to add in a new thread, I am adding it in from the point where I am 'tying up loose ends'. When knitting socks the way you would do it would be to make a loop with the string running under the bottom and just laying it over my needle to create an increase or extra stitch in my pattern.

At some point in time, I have to put the part of the sock that goes over the top of your foot on hold to make the heel, focusing on just one section of the sock. Sometimes in plotting you have to do this as well. The story between your characters become more important than the mystery. It is the strength of your characters and their relationships that will make or break your story. In socks, the parts that gets the most wear and tear and needs your undivided attention is the heel and toes. You reinforce the 'toes' of your story by starting with the ending first. You then reinforce the 'heel' of your story but including information about your characters and their relationships that might not have anything to do with the mystery itself.

As you finish shaping up the heel you join it back to the top of the sock bringing character development and mystery back together to form what could be an ankle sock if you want to stop there but, then you would lose most of your twists and turns. No, we must continue on up the leg of the sock. You could go right into ribbing if you like and rib the whole thing but your plot would be rather plain and boring. Or you can throw in some color changes that keep your readers unsure of what you're going to do next. Add twists to the plot such as a good cable stitch that twists the threads around each other creating an intricate design.

In fact if you could find a way to plot your characters, plot line and secondary threads in a code like some visual knitting patterns, you might find that what you have looks a whole lot like an unfinished sock. The ribbing or the beginning is what gets us started. It's the top, the beginning, the start of the mystery, but if you're using the toes up method then its also the end of your plotting endeavor. By the time you get to the ribbing you know where you need to increase or decrease your threads, You know where your secondary plot lines are added and that you might only want to hint at them at the top within your ribbing, perhaps with a color change. Just be careful, next to the toes and the heel, this is the most delicate part of your project. Knit it too tightly and you will have no room for the ribbing to stretch. Add it too loose and your start will be your finish as it quickly rolls down the mind of your readers never to be pulled up again. The ribbing must be able to 'stick' to your readers imagination. It must be able to capture and hold them from the very beginning or else much like a poorly knitted pair of socks, your hard work from before is for not as the top of your plot refuses to capture their minds and hearts and you find it sliding down to cover all that work you put in that is now unrecognizable.

Control of the pattern, tension and design are what make a good sock and a good plot. I am gong to go back to trying to knit a good sock and when I am done, maybe I will go work on that plot for that novel from the toes up.



One Long Day in Chicago (18+)
Private Detective Lou Ryan, 1930s Chicago.
#

1998004

by Ⱳƹ₿~ŴitcӉ
Killer Reality (Chapter 1) (18+)
Lexianne Ramsey, young real estate agent finds body in house she is showing
#

1997778

by SunnyDay
Invalid Item
This item number is not valid.
#

1978761

by Not Available.
A HOUSE ATOP THE HILL (E)
A poem about the mystery of the house atop the hill.
#

1778108

by Itchy Water~fictionandverse
Invalid Item
This item number is not valid.
#

1423208

by Not Available.
Detective's Secret (18+)
Detective comes back from the dead to find his killer and solve his last case.
#

1537073

by Quick-Quill
Invalid Item
This item number is not valid.
#

2000833

by Not Available.
Timmy (13+)
A boy becomes a legend.
#

1950538

by Scifiwizard
Invalid Item
This item number is not valid.
#

1919178

by Not Available.
What Happened to Danny? (E)
A romance on a movie set comes to a mysterious end.
#

1783648

by Redtowrite



Have an opinion on what you've read here today? Then send the Editor feedback! Find an item that you think would be perfect for showcasing here? Submit it for consideration in the newsletter!
https://Writing.Com/main/newsletters/action/nli_form



Don't forget to support our sponsor!




| | |
| --- | --- |
| ASIN: B07N36MHWD | Kindle |



Is there some type of non-writing project that has helped you with your writing?


| | |
| --- | --- |
| ASIN: B00KN0JEYA | |



To stop receiving this newsletter, click here for your newsletter subscription list. Simply uncheck the box next to any newsletter(s) you wish to cancel and then click to "Submit Changes". You can edit your subscriptions at any time.