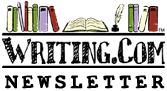 Noticing Newbies





This week: Don't Knock It 'Til You Try It!

Edited by: Sara♥Jean
More Newsletters By This Editor



1. About this Newsletter
2. A Word from our Sponsor
3. Letter from the Editor
4. Editor's Picks
5. A Word from Writing.Com
6. Ask & Answer
7. Removal instructions



** Image ID #1786860 Unavailable **

| | |
| --- | --- |
| ASIN: B083RZ2C5F | Kindle |





Don't Knock It 'Til You Try It!
Reviewing is loved by some, dismissed by others, and even others only do it when they need GPs. So, who's right?



Someone sent me an email recently (a reader of this newsletter) asking me to touch on reviewing. I figured, when better than now? September is Writing.Com's birthday, and there will be a lot of reviewing, community support, and great review rewards. So, the time to pump up and get ready for that is now! (If you really are new to the site, it will be a sight for you to see. It is one of my favorite events on the site, by far. Or, combination of events, I suppose I should say!)

The fact about reviewing is that there are many kinds. There are people who post their "right" and "wrong" ways. I have even done so in the past, I believe. Anymore, I think the only items left in my port about reviewing describe my own reviewing process, my progression in reviewing, and also how I reward reviews with GPs (what I look for). Those are both based on my personal opinions.

As a more encompassing envelope, here is what I think we all need to remember when reviewing:



1.

Make sure the comments are appropriate for the purpose.

I do see people who put comments in reviews that have nothing to do with the story or their opinion of the story itself. I have seen it, if you haven't seen it, you will.

When you write your own reviews, try to make your comments appropriate to the story or the author. This can take many forms - maybe the story reminded you of a story of your own and you want to share it with the author, or you want to tell the author they are awesome and that is why you are still reading their things. Of course, giving your opinion on the story and offering suggestions also would fall into this category.

If you have other things to tell an author that have nothing to do with reviewing itself, or nothing to do with a particular item, an email might be a better form of communication.

2.

Rate appropriately.

I have seen very low ratings given for no good reason (thus the title of the newsletter), and I have seen high ratings given to items that, in my opinion, likely still needed some improvement.

As far as this goes, I think what we all need to remember is... reviews and ratings are someone else's

opinion

. We don't have to agree with them. However, something that we should all watch for is that we make sure our review and our rating match.
If we've got a lot of edits to suggest for the author, it shouldn't be rated with 5 stars.
If we've got no edits to suggest and we loved it, it shouldn't be rated 3 stars.

And so on...

3.

Keep it positive.

Remember that text has no feeling. Unless you are writing completely in emoticons, someone is not going to see your teasing smile at the end of a teasing sentence. Be sure you keep everything positive, and when reviewing (unless reviewing a very good friend that knows better), keep your criticism constructive. There is a very large difference between, "Your grammar sucks," and "You may want to take a look at a couple parts of grammar," and then offering suggestions.

4.

Despite what people say, there is no minimum or maximum length.

Sometimes, all there is to say is that it is amazing, and it brought a tear to your eye. There is no requirement to elaborate. But please do, do, do let them know how you felt after reading it. If it didn't catch your eye, that is something they need to know just as much as if you loved it.

5.

Be honest with yourself, and with the writer of the item you are reviewing.

Read the item all the way through. Give an honest opinion, so the feedback is valuable. If you couldn't finish it, but are sending the review anyway, let them know what stopped you from being able to finish it. If we are not honest as reviewers, we are actually no help to those we are giving feedback to.



I hope this helps out!





Continuing on with the reviewing theme, here are some items that might be valuable for members to read about reviewing written by all case colors.


My Poetry Review Notes (E)
An ongoing process as help for constructive reviews.
#

1858070

by Alexander Briant
Invalid Item
This item number is not valid.
#

1581585

by Not Available.
Invalid Item
This item number is not valid.
#

1780751

by Not Available.
WDC Review Credit System (E)
Learn about Review Credits and the list of 100 Most Credited Reviewers
#

1625613

by NickiD89
Rating & Reviewing with Integrity (E)
My views on rating and reviewing at Writing.com.
#

1905410

by Ren the Klutz!
Invalid Item
This item number is not valid.
#

1374167

by Not Available.
On Reviewing (E)
an essay, my views on Reviewing.
#

889987

by spidey
Invalid Item
This item number is not valid.
#

1241331

by Not Available.
How I Rate (E)
How I rate your work. (Currently being edited and updated)
#

530362

by Veritas
My Rating Philosophy (ASR)
My view on the Writing.Com rating system.
#

668772

by Cosmikraken
Writing.Com 101 (E)
Explanations and instructions of all things Writing.Com.
#

101

by The StoryMistress



Have an opinion on what you've read here today? Then send the Editor feedback! Find an item that you think would be perfect for showcasing here? Submit it for consideration in the newsletter!
https://Writing.Com/main/newsletters/action/nli_form



Don't forget to support our sponsor!




| | |
| --- | --- |
| ASIN: B01FST8A90 | |



There was quite a bit of feedback from "Noticing Newbies Newsletter (July 16, 2014)"
, so I am going to try to share as much as I can. I loved the feedback!

The question asked was: What process do you go through when you are editing?

The Run-on King PDG Member
said, "Being what is called a panster. It means I write the whole story or novel until I'm done with it then I go back and edit it. I write a time line as I go mostly to keep track of chapter names already used, all my characters names, and who they are and where they are and their special things they do.

Once I finish the book I wait a month or two then go back to it and start editing it. Once I get it edited using tools like Ginger from http://www.Ginger.com and Hemingway at http://www.hemingwayapp.com/
I send it off to P.E.N.C.I.L. to review it for me. I let them catch the things I missed or added to it. Then I polish it according to what works in the story. Not every suggestion will work without conflicting some place in the story. What looks like a great idea can cause you major rewrites. Again up to me after all it is my work."

Wow! It looks like you have an awesome system set up!

hammer18 said, "Want to avoid all this tweaking? Outline. Want to complete that fabulous novel that came to you in a dream last winter? Outline. Want to avoid plot holes and useless padding? Outline. Know everything about your story before you start to write it, and people will begin to think that you know what you're doing. Writing is hard work; if it weren't, we'd all be on the best-seller list. Successful writers are the ones who do the work. Don't be lazy."

You are preaching to the choir! I have actually done a newsletter or two about the benefits of outlining. It takes time, but it is definitely worth it.

Jennifer L Rowlands
said, "I can completely relate to this! I have made a list of stories that I want to write, not to mention the ones I've already started! For the novel I'm currently trying to finish, The Locket (you can find the beginning chapters in my portfolio), I keep finding things to add to the earlier chapters. What I've done is make a list, as this news letter suggested. I keep moving forward with the unwritten chapters, only going back to build in my list of changes when I hit a wall with the new chapters. It helps me because, even when I can't seem to get new words on the page, I can stick with the story and in that mode until I get myself back on track enough to move forward once again."

That also seems a wise way to approach this difficult type of topic. Write and write until you hit a wall, but then tweak so you are not losing time and/or inspiration. I like it.

jdenningberg said, "Good advice, not just for Newbies! I'm terrible for re-reading and not going forward. Takes a long time to write anything like that. I do keep notes which help, but I will take myself by the scruff and give myself a shake. I must promise to write at least a page before doing anything else. Great advice! Keep up the great work."

I am terrible about it, too! Thus the newsletter. I need to learn to practice what I preach.
Doug Rainbow
said, "I believe that perfectionism is a form of insecurity that contributes to excessive editing. The insecure author does not want to put anything "out there" unless it is perfect. That author always finds (or imagines) something to make his story. That is why "perfect is the enemy of the good.""

I don't know. I think, for some, perfection is more of a security blanket in an attempt to protect against future rejection - when actually, it doesn't protect against it at all. It is an impossible goal, some say, but I have seen stories I believe are just perfect. I would not change a thing. However, I am sure the author likely thinks differently.


lawli said, "That is so me.. I'm doing it right now with my hope-to-be novel "Silent Worlds"."

Well... quit it!
Drunken Chords
said, "I mental edit. Not a good thing when you want to actually finish something. By 'Mental Edit', i mean scripting scenes for the characters without a pencil or keyboard: like when i have nothing to write with or am in the middle of another task that i definitely can't put off. It's a bad habit, i know. I used to do it during tests and classes alot in high school :D "

I would actually be interested in knowing how you remember those scenes, once you have constructed them. I have to write things down, or I will forget. I think my brain cells are starting to leak out my ears...

This week's question:


What is the most helpful feedback you can receive from a reviewer?

Remember to put your answer to the question in the "Submit to this Newsletter" section. Be sure not to just hit "reply" to the email - I will lose it in my sea of emails.

| | |
| --- | --- |
| ASIN: B07YJZZGW4 | Kindle |



To stop receiving this newsletter, click here for your newsletter subscription list. Simply uncheck the box next to any newsletter(s) you wish to cancel and then click to "Submit Changes". You can edit your subscriptions at any time.