Printed from https://www.writing.com/main/newsletters/action/archives/id/6523-Role-Reversals-and-Spinning-Stereotypes.html
Romance/Love: September 03, 2014 Issue [#6523]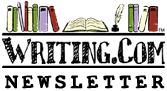 Romance/Love





This week: Role Reversals and Spinning Stereotypes

Edited by: Crys-not really here
More Newsletters By This Editor



1. About this Newsletter
2. A Word from our Sponsor
3. Letter from the Editor
4. Editor's Picks
5. A Word from Writing.Com
6. Ask & Answer
7. Removal instructions





Hello! My name is Crys-not really here
. Welcome to this week's Romance/Love Newsletter!



| | |
| --- | --- |
| ASIN: B07B63CTKX | |





** Image ID #1654495 Unavailable **




Role Reversals and Spinning Stereotypes






Many of us have seen the memes on Facebook: "What if your favorite Disney princess was a prince?" followed by cartoon illustrations of what everyone from Belle to Ariel would look like as a male. But how many of us have actually thought about twisting our stories around so that typical roles were reversed? Take Beauty and the Beast, for example. What if the male protagonist is the beauty and the female love interest is the beast?

I find the idea of a role reversal intriguing for several reasons. First of all, we've all heard that there are only so many original story lines to work with. So how do we make our romances unique and something our readers want to pick up? One way of doing that is to change our protagonist. Most romance novels I've read are from the point of view of a woman. What would happen if it were a man looking for love? How would that change the story? Personally, I'd love to see fewer "females in distress until Mr. Right comes along" stories.

Secondly, male/female role reversals challenge what we as a society have come to see as typical gender roles and gender stereotypes. We have all probably read a story about a single mother trying to balance raising a child and working. But how many of us have read that same story about a single dad? Some readers find that idea unsettling or unusual; that's probably why we don't see very many novels of that type. That's also why we should be writing more of them! Those who have followed my Romance/Love Newsletters know that I don't read traditional romance novels or those of the Harlequin nature. I find that those I have read were fairly predictable and formulaic, even stereotypical at times. Therefore, I'm all for spinning the genre on its head!

Now, imagine if we took it one step further. What if the princess was looking for another princess, or the prince was looking for another prince? How awesome would that be? LGBT relationships are becoming more common in young adult literature, and hopefully romances for adults will follow suit as well. We need more same-gender relationships that are portrayed as loving and normal in literature in order for it to become a part of the mainstream.

I hope these ideas have helped you see how you can create unique, intriguing romantic fiction. What other ideas do you have for breaking boundaries in the romance genre? I'd love to hear them in the comment section below.

Gold Ribbon (18+)
A Special treat acts as a catalyst, opening her up and changing her life forever.
#

2001756

by Somtymes
The Baby (18+)
An unexpected delivery on a cool spring morning.
#

2001470

by Osirantinous
The realisation (13+)
A very shot story about a relationship from a guy's point of view.
#

1862575

by Jennifer the daydreamer
Invalid Item
This item number is not valid.
#

2006948

by Not Available.
Invalid Item
This item number is not valid.
#

1970612

by Not Available.
The Silent Duet (18+)
It all started with an old Gibson acoustic guitar...
#

2006257

by iKïyå§ama
NaNo Prep 2011 Day 2 - CONTEST ROUND (ASR)
Protagonist's background story
#

1815356

by TopsyTurvyMumsy



Have an opinion on what you've read here today? Then send the Editor feedback! Find an item that you think would be perfect for showcasing here? Submit it for consideration in the newsletter!
https://Writing.Com/main/newsletters/action/nli_form



Don't forget to support our sponsor!




| | |
| --- | --- |
| ASIN: B01CJ2TNQI | |



Thank you to everyone who commented on my last newsletter!


Hi Crys! Thank you so much for highlighting my poem. What a privilege! I agree with your sentiments about love -- there truly is no defining it, and it's a different monster for each person. Thanks again! ~ Mandy


Defining love can be quite illusive, I agree. I think the answer might be found in common with those things capable of Love, meaning similarities of animals and humans, as I believe animals are indeed capable of love. Perhaps love is the ability to drool at what one desires even when what is desired is not present? What I am suggesting is that love is capable of changing meaning as one applies it to different life forms. -Jimminycritic

| | |
| --- | --- |
| ASIN: B000FC0SIM | |



To stop receiving this newsletter, click here for your newsletter subscription list. Simply uncheck the box next to any newsletter(s) you wish to cancel and then click to "Submit Changes". You can edit your subscriptions at any time.



Printed from https://www.writing.com/main/newsletters/action/archives/id/6523-Role-Reversals-and-Spinning-Stereotypes.html