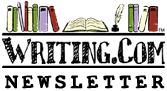 Noticing Newbies





This week: Help! I have so much to do!

Edited by: Reader? Check out 2233315
More Newsletters By This Editor



1. About this Newsletter
2. A Word from our Sponsor
3. Letter from the Editor
4. Editor's Picks
5. A Word from Writing.Com
6. Ask & Answer
7. Removal instructions




The Noticing Newbies Newsletter's goal is to make the newer members feel welcome and encourage them with useful information and/or links to make navigating Writing.com easier. Writing.com members of all ages and even veteran members can find useful information here. If you have specific questions, try visiting "Writing.Com 101"
and/or "Noticing Newbies"
.

Meet The Noticing Newbies Full-Time Newsletter Editors

| | |
| --- | --- |
| ASIN: B01IEVJVAG | |


By the time this newsletter hits the stands (your email) we will be knee deep in the site's 14th Birthday celebrations. What better time to deal with the topic of stress caused from trying to do much, too fast.



The Lucky Seven for Curbing Stress



1. Take a moment to create a to-do list. Write down everything that you need to do, and I mean everything. Label them in order of priority. Cross them off as you do them. Seeing them getting crossed off will inspire you to keep going. If you have trouble remembering things, use internet tools like Google Calendar or Wunderlist to remind you. Keep your list handy and if you need to, move items to the following day if they don't get done.

2. Stop watching TV. I will have the best of intentions and sit down to write or review and before I know it my husband has turned on the television and I'm sucked in by whatever he has on. Rarely is television actually inspirational so turn it off, leave the room - whatever it takes to get your focus back on what you need to do to get the monkey off your back. Another reason to turn off the television is to get yourself moving. Many people find exercise extremely relaxing. Run, dance, get outside, whatever you choose, it's a proven fact exercise releases endorphins and that boosts your mood, which fights those negative emotions that stress bring on. Then you can head back to your to-do list with a renewed enthusiasm and clear mind.

3. Sleep. I can't stress enough how important it is to get enough sleep. Normal average people require at least six to eight hours of rest for their body and mind to work properly. Some require more, others require less but overall six to eight hours is what it takes to get the job done. Another mistake is thinking you can run on a few hours sleep for several days and "catch-up" on the weekend. This doesn't work and it's a good way to end up with stress-induced insomnia which will ruin your productivity and even make you physically ill.

4. Music and books are important to creative people. Relaxing and listening to music can be very calming no matter what kind of music you like. I'm not talking about listening while you work on a dozen projects either. I'm talking closing your eyes and really enjoying and listening to the beat of the music. Reading can have the same benefit. You can read a new book or even one you've read before that you found enjoyable. Maybe even branch out and read religious text. Even if you're not particularly religious, expand your mind and enjoy something from another faith. You don't have to be religious to enjoy this. You may even find inspiration.

5. Take a bath or shower. That's right, take a nice, long, hot shower and just let the water beat a rhythm on your skin. Focus on the feeling instead of the activity of bathing. If you can't relax in the shower or bath because you have a subconscious fear of drowning or something, then when you get out lay down in front of a fan instead of toweling off. Close your eyes, feel the air touch your skin and just breathe in and out.

6. Spill your frustrations. Sometimes it really helps to reach out to a friend or family member and tell them that you're stressed out and you need to vent. Talking with someone in your social circle can make a world of difference. No one you feel comfortable venting to? Write in a journal and tell that imaginary person (even yourself) what you're feeling and get it out of your system. Sometimes talking it out clears your mind and you will feel surprisingly better.

7. Pray. I'm not strongly religious, so don't think I'm being preachy here. Praying is something that anyone can do because it is just recognizing a small need for some connection of spirituality. People pray a lot of different ways and all of them are okay. This is in a lot of ways similar to number six above. Sometimes we all just need a moment to speak our minds whether it be asking for peace or even thanking "whoever" for the blessings we have in our lives.

Bonus Tip: When things don't go the way you want them to, sometimes it's best to take the high road and be first to apologize. Often times when we get busy, it's easy to make mistakes or even hurt peoples feelings. Instead of letting that anger and negativity linger, make the decision to sincerely apologize and move forward. Remember that each day matters and those are real people behind those portfolios. Your words and actions matter.

Write and Review on! ~ Brooke


You are not the only being that can feel stress. Calming CD's for dogs actually work believe it or not. I own three different ones for my pups and they make a difference. -
Reader? Check out 2233315
.
| | |
| --- | --- |
| ASIN: B009NI8SQS | |
[Related Links]

Here are some items from our community that deal with this month's topic of stress.


"Poem For The Stressed And Harried"
by Horsewoman

Written from personal experience.


"Invalid Item"
by A Guest Visitor
Writing what you know is hard, isn't it? Especially when it's personal.


"De-stress Yourself"
by Nachiket V. Dhobley

This is an article that talks about stress management.


"Bite Marks"
by Joy

The bad habit of biting pencils.


"LIFE'S RECIPES"
by iKïyå§ama

Words of life and wisdom from WDC's authors.








Click the cupcake to visit the site's birthday activities!




I usually highlight our new authors, but this month I'm sharing items that can be of use to new members of the site.




~
~
~
~
~
~
~
~
~
~
~
~
~
~
~
~
~
~
~
~



Have an opinion on what you've read here today? Then send the Editor feedback! Find an item that you think would be perfect for showcasing here? Submit it for consideration in the newsletter!
https://Writing.Com/main/newsletters/action/nli_form



Don't forget to support our sponsor!




| | |
| --- | --- |
| ASIN: B07K6Z2ZBF | |


I received some wonderful feedback to my last newsletter [#6476] "Remember Death"
and I'm proud to share it with you.

I'd also like to share a contest that matches the topic perfectly:


From Cinn
with "Newbie Portfolio Project"
Great topic this week! The brevity of a death scene can add power that drawn out deaths usually lack. Very nice advise. Your editor's picks were awesome too. It's great to see so many talented new people in the spotlight.
Thank you! I appreciate you taking the time to write in and let me know your thoughts.


From Elfin Dragon - contest hunting
I'm glad you wrote this particular article. Death is not something we should be afraid to write about. It's one reason why I enjoy the Dark Dreamscapes Contest, it allows for exploration of the darker side. I also think that killing off a POV isn't a bad thing if the story written allows for it. Sometimes bad things just happen. Look at films like "Sin City". You have particular POV's dying where you would hope they keep going. But it's based on a dark comic, the film wouldn't be true if POV's didn't die.
Thank you. I agree with you completely. I appreciate you taking the time to write in.


From BIG BAD WOLF
with "Five Minutes"
The premise of my one story is that the guy only has five minutes to live, as Death had made a deal with him. He must now use that time to save some peoples' lives.
Wow, that sounds like an exciting story! Thanks for writing in and sharing it.

| | |
| --- | --- |
| ASIN: B085272J6B | Kindle |



To stop receiving this newsletter, click here for your newsletter subscription list. Simply uncheck the box next to any newsletter(s) you wish to cancel and then click to "Submit Changes". You can edit your subscriptions at any time.