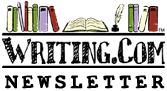 Horror/Scary





This week: Iceberg!

Edited by: LJPC - the tortoise
More Newsletters By This Editor



1. About this Newsletter
2. A Word from our Sponsor
3. Letter from the Editor
4. Editor's Picks
5. A Word from Writing.Com
6. Ask & Answer
7. Removal instructions



This newsletter is about twists and reveals.

Sage Quotes:

"Good books don't give up all their secrets at once."
~ Stephen King

"Nothing bores me more than books where you read two pages and you know exactly how it's going to come out. I want twists and turns that surprise me, characters that have a difficult time and that I don't know if they're going to live or die."
~ George R. R. Martin

"I got into reading a lot of noir and a lot of thrillers as well, and I really admired the plotting about those and the way that they can surprise you. And obviously to surprise people and to have twists in the tale, you have to plan quite carefully."
~ Joe Abercrombie, British Fantasy author




| | |
| --- | --- |
| ASIN: 0995498113 | |





** Image ID #1990206 Unavailable **
J.R. Ewing got shot?!



Soap operas are the lowly country cousins of the TV world, the ones rarely respected and often made fun of. But some soap operas have lasted 20+ years on the air. The actors and characters change, but one thing remains the same—soap operas are masters of twists and cliffhangers.

Twists, reveals, and cliffhangers shock viewers and draw them back again and again, year after year. Those techniques are used on almost all successful prime time TV shows—and in best-selling books too.

One of the best ways to keep readers glued to your stories and coming back for more is to use twists and reveals, which are basically the art of surprising the reader.




Plot Twists and Character Reveals



When a group goes into a haunted house, it's not a plot twist when they find a monster. It's pretty much expected. To write a twist, you have to set up the readers' expectations, and then put in something totally unexpected, something that will raise new problems, change the characters' plans, and send the plot in a new direction.

A twist is an iceberg hitting the good ship, U.S.S Plot.

Imagine your characters are on the ship, cruising a dark ocean, and they're worried about things that are happening onboard, like a character's disappearance, a fight between passengers, or a mutiny by the some crew members.

Then a giant iceberg appears out of the darkness and rips a hole in the side of the ship.

Nothing is the same now. Your characters have all new problems to worry about. They must focus on new plans and ideas to save themselves. The U.S.S. Plot has veered off course and is in uncharted waters—and your readers can't wait to see what happens next!


A reveal is a secret about a character that's suddenly exposed.

A reveal is often used on soap operas when characters' identities or secrets are uncovered. The bag-lady hanging around the hospital is really the doctor's long lost mother! The villain who's been causing trouble isn't really the mild-mannered kindergarten teacher—it's her evil twin no one ever knew existed!

OK, those are pretty lame.


But reveals work. Like when a good guy turns out to be the villain, a bad guy turns out to be an undercover agent and saves the day, or a character everyone thought was dead pops back up—alive!



One of the best character reveals ever:

** Image ID #2011906 Unavailable **



So keep in mind how readers love to be surprised and use Plot Twists and Character Reveals to keep them saying, "Holy cow! What will happen next?!"


Until next time: Let the horror bleed onto the pages with every word!


Here are some awarded entries to the "Twisted Tales Contest"
sponsored by Horror Newsletter Editor Arakun the Twisted Raccoon
!
The Ghost Club (18+)
My Very First Meeting...
#

1993797

by Angus
Invalid Item
This item number is not valid.
#

1981358

by Not Available.
The Choices We Make (18+)
A man gets a blast from his past
#

1981394

by Author Ed Anderson
Blood Plot (18+)
1.Marat finds writing inspiration from the oddest things.
#

1966748

by Osirantinous
Invalid Item
This item number is not valid.
#

1971956

by Not Available.
Invalid Item
This item number is not valid.
#

2002572

by Not Available.
Queen of Hearts (13+)
Written for a challenge. Had to include a playing card, a taxi and a body. Hope you enjoy.
#

1993048

by Shawlyn
Invalid Item
This item number is not valid.
#

1994623

by Not Available.
Invalid Item
This item number is not valid.
#

1997664

by Not Available.
The Secret Weapon (13+)
The use of a secret weapon to end a long lived feud.
#

1904455

by Shawlyn
Tears in the Gathering Mist (13+)
A tale of discovery and misunderstanding
#

1970647

by Escape Artist
Invalid Item
This item number is not valid.
#

1992344

by Not Available.
Watch Out for that First Step to Mars (13+)
Getting to Mars was easy, getting down there - that was the hard part. Expanded & Revised
#

1805564

by Mage



Have an opinion on what you've read here today? Then send the Editor feedback! Find an item that you think would be perfect for showcasing here? Submit it for consideration in the newsletter!
https://Writing.Com/main/newsletters/action/nli_form



Don't forget to support our sponsor!




| | |
| --- | --- |
| ASIN: 0995498113 | |

Your full time Horror Newsletter Editors:
billwilcox and
LJPC - the tortoise
have published --
** Image ID #1969199 Unavailable ** ** Image ID #1969200 Unavailable ** ** Image ID #1969201 Unavailable **
Soul Cutter--Lexa Cain (Amazon)
The Watercourse--W.D.Wilcox (Amazon)
Possession--W.D.Wilcox (Amazon)
--------------------------------------------------------------------------------

My YA Horror novel, Soul Cutter, regularly priced at $5.99
will be on sale from Oct 18 – 31 for


99 cents!!


You can't go wrong for only 99 cents!
(Available at Amazon, Barnes&Noble, Kobo, Apple i-Books)

---------------------------------------------------------------------------------




To my delight, some writers took the time to comment on my last newsletter: "Hordes, Mobs & Crowds"
Thank you!



Comments listed in the order they were received.




billwilcox writes: Interesting newsletter. "CELL' is one of my favs, but recently I've been reading about the so-called French Revolution. Pure madness. Mobs gone insane. Even when authorities surrendered, they were torn limb-from-limb and a lot of other very nasty things. Mobs are scary. We don't need fiction to see what has actually happened in truth, just history. It still amazes me that the French revile in the fact that they as a people did this. Insanity on steroids. If you want a good scare, just read about this Revolution. At the same time, America was also having a revolt, but with us there were patriots and wisdom, men who wanted freedom, not MOB RULE. God, what possessed them?

It's absolutely true that there are plenty of horrible things in history, written about in non-fiction. But fiction allows you to put a face to the suffering and show the reader how it would have felt to be there. Sometimes that's more effective than the knowledge of what really happened. Thanks so much for replying to the newsletter!
BIG BAD WOLF 34 on June 3
submits "Anthros Versus Zombies"
writes: Things will be crazy.

What do I picture Steve Martin saying that? Maybe because he was such a "Wild and Craaaazy guy!"

| | |
| --- | --- |
| ASIN: B01DSJSURY | |



To stop receiving this newsletter, click here for your newsletter subscription list. Simply uncheck the box next to any newsletter(s) you wish to cancel and then click to "Submit Changes". You can edit your subscriptions at any time.