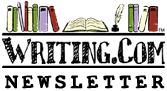 Mystery





This week: Let's write a mystery together

Edited by: Arakun the Twisted Raccoon
More Newsletters By This Editor



1. About this Newsletter
2. A Word from our Sponsor
3. Letter from the Editor
4. Editor's Picks
5. A Word from Writing.Com
6. Ask & Answer
7. Removal instructions



Quote for the week: "I think on some level, you do your best things when you're a little off-balance, a little scared. You've got to work from mystery, from wonder, from not knowing."
~Willem Dafoe

| | |
| --- | --- |
| ASIN: 1945043032 | |

Writing with a group is a great way to sharpen your writing skills. Group writing gives you the advantage of several minds to come up with ideas, but also the challenge of developing a cohesive story.

Writing.com's Campfire Creative items are a fun way for friends to write together. In a Campfire Creative, all participants must be invited by the owner. The owner starts the story, and the participants take turns adding to it. You may use a Campfire Creative to write any type of story, but they work really well for mystery stories. Writers have to react to unexpected events as if they were actually participating in the events of the story. The details of setting up, managing, and participating in a Campfire Creative are described in Writing.Com 101, so they will not be repeated here. This letter will discuss some tips for using a Campfire Creative to write a mystery story.

As the owner of a Campfire Creative mystery story, you will set up the basic premise of the story and write the first installment. You may want to manage it like a game of "Clue", assigning each participant a character to play, or let them define their own characters. With this method, you will develop a skeleton of a plot beforehand, and give each participant secret information about his or her motivation.. The "killer' should probably be aware of his role from the beginning, so that character can insert subtle clues along the way. it is a good idea to make the rule that nobody is to "kill" other characters (including themselves) without your permission.

If you want more of a challenge, you will only develop the initial scenario, and allow the characters do develop the entire plot, as if they were part of a real-life mystery. It is difficult to keep a story from descending into chaos with this method, but it could be fun for experienced writers who know each other well.

You are allowed up to 25 participants in a Campfire Creative, but you may want to keep it to a smaller group. A mystery with 25 characters can quickly become confusing unless some of them play very minor roles, which may be disappointing for them.

Nothing can ruin a Campfire Creative faster than participants taking too long to make their entries, or people who suddenly stop participating. As the owner, you can set the amount of time people have to make their entries once they are notified that it is their turn. Make sure they have a reasonable amount of time before the system skips them, but don't let them wait too long.

In order to keep the story from dragging on indefinitely, you might want to decide on a set end point before you begin. For example, the story may end after a certain number of "chapters" or after each character has made two or three entries. The killer may reveal his identity in the last chapter, or the participants may each guess who the guilty party is. The first person to guess the killer's identity and the correct motive could win a prize.

Something to try: Use a Campfire Creative to co-write a mystery story with a group of friends.



Something Wrong, Something Right! (E)
Trouble arises in the lord's absence, and his minions struggle to discover and contain it.
#

1318142

by Just an Ordinary Boo!
The Painting (13+)
Evil. Pure evil.
#

1797676

by Tiggy
Timmy (13+)
A boy becomes a legend.
#

1950538

by Scifiwizard
The Last Patient (18+)
He cursed the day Betsy came into their lives.
#

1324976

by iKïyå§ama
Invalid Item
This item number is not valid.
#

2006556

by Not Available.



Have an opinion on what you've read here today? Then send the Editor feedback! Find an item that you think would be perfect for showcasing here? Submit it for consideration in the newsletter!
https://Writing.Com/main/newsletters/action/nli_form



Don't forget to support our sponsor!




| | |
| --- | --- |
| ASIN: B07YJZZGW4 | Kindle |

Answer to last month's question: What is your favorite mystery story?
Quick-Quill
"I've read so many I don't have any one favorite. I loved all the Nancy Drew, Bobsey Twins, teen mysteries. I love the Gothic romance. Voctoria Holt's Mistress of Melyn was my first of her books and what a mystery those were. The mistress gets locked in a priest hole with the body of a dead woman from years before.... I graduated to Rex Stout, Ian Flemming, All the Sherlock Holms. There is nothing like curling up on a winter night with a good mystery. I'm sad to say there are very few good ones written now days. The demand for Wizards, things that change into other things and kill each other have overtaken crafting a good mystery."

I don't really have a favorite among modern mysteries for many of the same reasons you list. My favorite mystery is still "The Burning Court" by John Dickson Carr. It has the greatest twist ending ever! ~Arakun


Question for next time:How do you edit your stories?

| | |
| --- | --- |
| ASIN: B07B63CTKX | |



To stop receiving this newsletter, click here for your newsletter subscription list. Simply uncheck the box next to any newsletter(s) you wish to cancel and then click to "Submit Changes". You can edit your subscriptions at any time.