Printed from https://www.writing.com/main/newsletters/action/archives/id/6644-Eight-Points-of-Structure.html
Romance/Love: November 05, 2014 Issue [#6644]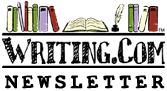 Romance/Love





This week: Eight Points of Structure

Edited by: Lonewolf
More Newsletters By This Editor



1. About this Newsletter
2. A Word from our Sponsor
3. Letter from the Editor
4. Editor's Picks
5. A Word from Writing.Com
6. Ask & Answer
7. Removal instructions



A story arc is an extended or continuing storyline in episodic storytelling media such as television, comic books, comic strips, boardgames, video games, and films with each episode following a narrative arc. All stories fall into a system that is commonly known as the 8 point story arc. The 8 point story arc breaks your story down into its component parts and analyzes how those parts fit together.

| | |
| --- | --- |
| ASIN: B083RZJVJ8 | |


Story structure is a tool, not a restriction, especially when you are just starting out. It's a good way to keep focused on where you want your story to go. It is working wonders for my NaNo this year. What are these 8-points?


Stasis

Stasis is an introduction into the world and life of the character(s) before the story really takes off. It's important to show your character in their normal setting. You want the jumping point of the plot to really grab your reader's attention and in order to do that they need to see change. They need to get to know your character(s) before and after the change that takes place. This world and this situation define everything.



Trigger

The trigger is the point where the plot truly begins to develop. The trigger is the reason and purpose for the journey about to be taken. The trigger departs from the stasis and something must be done because this trigger has set forth circumstances to propel the character(s) into something that upends the stasis and starts something previously outside the characters' experience.


Quest

The trigger results in a quest – In a contemporary love story this would be the characters getting to know each other, falling in love and spending time together. This is where a large portion of the plot takes place and to some is considered the best part of the story until...


Surpise

The Surprise is the point of our story that takes up the largest part of our story. These surprises should not be easily predictable but should make the reader surprised and thinking that they should have seen it coming all along. It's second only to the climax.

Critical Choice

The Critical Choice is comes when your character has changed because of their Quest. They've been affected by the Surprises. Now, they are at a crossroads, faced with the biggest decision of the plot. This who they are.

Until.

Climax

The climax is probably one of the more well know points of the story. This is where the critical choice made by your character comes to a head. The highest peak of tension, in your story. This is what your story has been building up to, so when you get here make sure the moment fits well.

Reversal

The reversal is the inevitable result of the critical choice and the climax. Everything changes at the reversal. It can be of positive or negative in nature, but there has to be change in your character. Nothing should happen for no reason, changes in status should not fall out of the sky.

Resolution

The resolution is a return to some form of normalcy. The characters will be wiser after their journey and they will be changed from their struggle. Resolution ties up loose ends and lets the reader leave satisfied. If you're setting up a sequel, the Resolution is the new Stasis, and the next Trigger interrupts that Stasis.


Green Eyes (13+)
A modern day love story.
#

883029

by Mitch
The Shining Specter (E)
Faced with heart-break, a lover vainly searches for a ray of hope.
#

1259089

by Crassus
Weekend of Discovery - Chapter 1 Draft 2 (13+)
One man's struggle to feel whole again.
#

1971729

by LenTaylorWrites
The Grass Is Always Greener Chapter 1 (GC)
Sara is finding out that sometimes to move forward in life you have to go backwards.
#

1931452

by MiichaleFP
Invalid Item
This item number is not valid.
#

1932484

by Not Available.
Twist of Fate (E)
For those about to cross the line.
#

1408507

by Purple Princess



Have an opinion on what you've read here today? Then send the Editor feedback! Find an item that you think would be perfect for showcasing here? Submit it for consideration in the newsletter!
https://Writing.Com/main/newsletters/action/nli_form



Don't forget to support our sponsor!




| | |
| --- | --- |
| ASIN: 1542722411 | Book |


| | |
| --- | --- |
| ASIN: B07N36MHWD | Kindle |



To stop receiving this newsletter, click here for your newsletter subscription list. Simply uncheck the box next to any newsletter(s) you wish to cancel and then click to "Submit Changes". You can edit your subscriptions at any time.



Printed from https://www.writing.com/main/newsletters/action/archives/id/6644-Eight-Points-of-Structure.html